In brief
In 2017 a Dutch family of five sold all their possessions to invest in Bitcoin.
They embarked on a world tour, that's now taken in 40 countries, to spread the word.
Their enthusiasm for cryptocurrencies remains, even though their adventure threatened to be derailed by the coronavirus crisis, and Bitcoin failed to make hoped-for gains.
Dutchman Didi Taihuttu made headlines around the world in 2017 when he sold his profitable business, his family house and cars, and even the children's toys for Bitcoin, believing he'd be a multi-millionaire by 2020. 
With no bank accounts or possessions, and all their savings tied up in highly volatile cryptocurrencies, Taihuttu, 41, his wife and three children embarked on a world-wide adventure—a quest for a "decentralized, nomad, Bitcoin life," as he described it to Decrypt on a recent call from their current base in Lagos, Portugal. 
Their journey, trailed by the world's media, has now taken in 40 countries. They've set up crypto-funded projects to help the poor; established their own Bitcoin Family brand and merchandise, and documented their journey, spreading the crypto gospel in over 200 YouTube videos. 
But Bitcoin's price has stubbornly refused to reach the giddy heights that Taihuttu predicted, and the coronavirus pandemic threatened to derail their glossy odyssey. Nevertheless, his enthusiasm for cryptocurrency remains undiminished. He told us why, and how his eldest daughter convinced him they should continue with their quest.
The Bitcoin Family hits the road
It wasn't as if they had a bad life before, said Taihuttu. He ran his own business offering computer courses in the Netherlands for 11 years.
In fact, rather than the desire to make money, it was the death of his father, combined with burnout, that prompted him to change his and his family's lives. He'd dabbled in crypto as far back as 2013, but in 2017 he suggested to his wife, Romaine that they sell everything, invest it in Bitcoin, and travel—embracing a new, anti-materialistic way of life.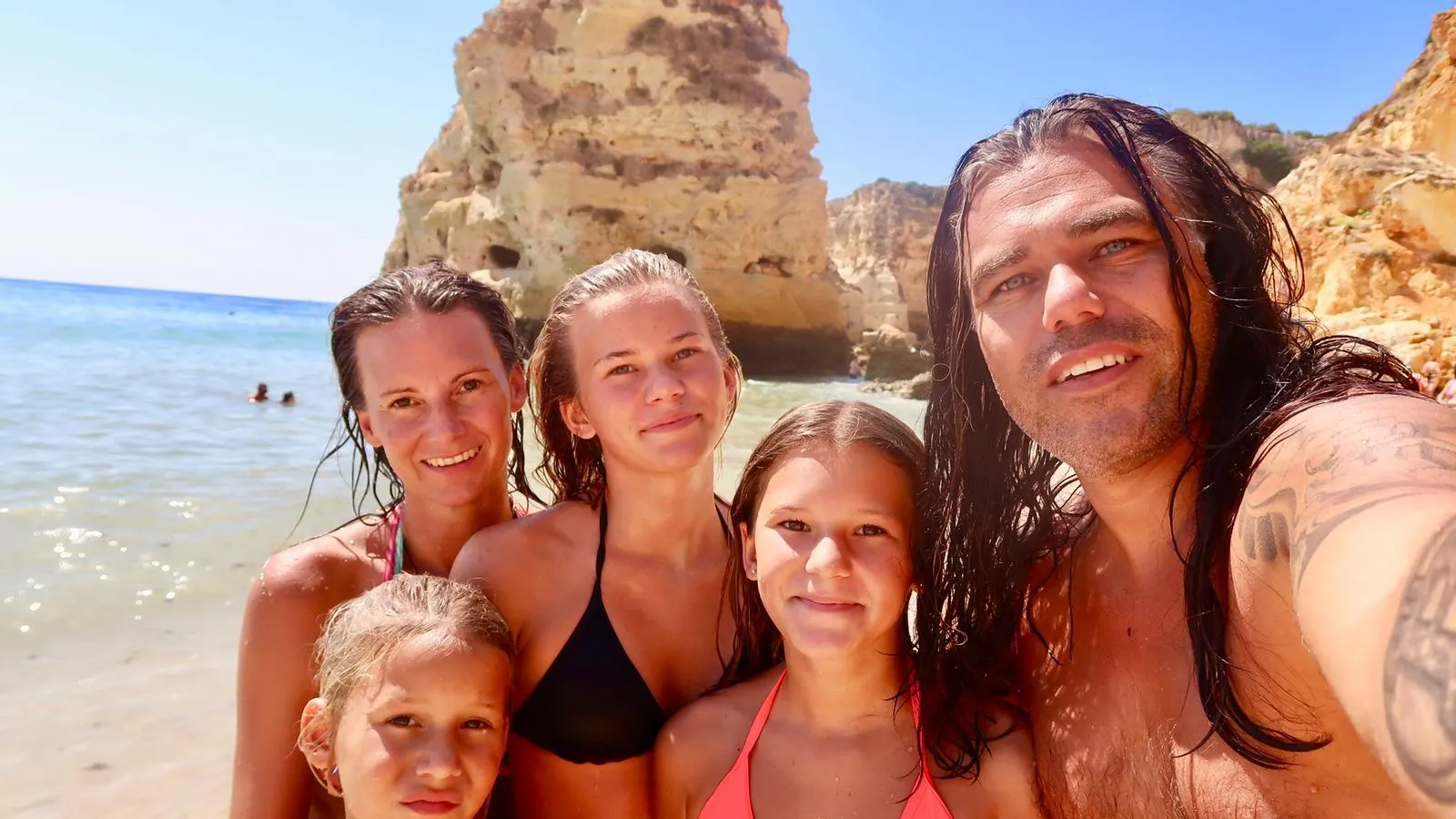 The original goal had been to cash out in 2020, and then reinvest when the price dipped again. 
Bitcoin has a four-year cycle, and the next "halving"—where its supply is cut in half, was due in May 2020. In the past three cycles, within months of a halving, there'd been a bull run, and Taihuttu, along with many others, had guessed that this year would be the same. 
The family had profited from Bitcoin's stratospheric rise after the previous bull run, which saw the cryptocurrency soar from $800 at the beginning of 2017 to an all-time high of nearly $20,000 at its end. 
At that point, the couple still retained their bank accounts, but getting sucked deeper into Bitcoin's philosophy convinced Taihuttu that they must lead by example—to show their children, but also the wider world. "Everybody talks the talk, but nobody walks the walk," he said. "We'd shown that you could invest all-in. Now we had to show that you could live all-in."
The challenges of crypto living
When they first started traveling, there was no app like CoinATMRadar, where you find places to withdraw funds, and they had to rely on word of mouth to find places that accepted cryptocurrencies.
"Mainly, in the beginning, the first two and a half years, it was really hard," said Taihuttu.
Arriving at the Turkish border, on one trip, they couldn't buy a visa, and so had to stage an elaborate workaround, with a friend accepting their Bitcoin, and transferring the funds for a visa onto a Turkish pre-paid credit card. These days, they always carry a little cash, for emergencies or treats. 
"Adoption in Asia is way ahead of Europe," Taihuttu said. Most notably, he added, it's happening faster in regions of the world where people haven't had ready access to banking. 
In the Moluccan Islands, where Taihuttu's father was born, they met locals who didn't know what a bank account was, and who were living on a mere dollar a day.
"We had been traveling with the kids through Vietnam, Cambodia, the Philippines, Australia, Indonesia—everywhere in the world, and we had the proof," he said. "I saw the truth: Bitcoin and blockchain are the tools to change this monetary system."
Taihuttu's children get a daily allowance in Bitcoin. The family learned to use Bitcoin ATMs; they turned to apps such as ExcelTrip to arrange flights; they bought coupons that could be used in supermarkets, and they made ready use of crypto exchange marketplace localbitcoins.com, which puts users in touch with local dealers willing to exchange cash for cryptocurrencies. "It's not that safe, and not that easy," said Taihuttu. 
They also began to ask hotels and shops whether they could pay with Bitcoin. (Bitcoin is accepted by half a dozen restaurants in one village on the Thai island of Koh Phangan, thanks to Taihuttu.)
Nowadays, it's much easier—with the exception of groceries, said Taihuttu. There are two European towns that stand out as particularly crypto-friendly (where he found that it was possible to live solely on cryptocurrencies:) Rovereto in Italy and Slovenia's capital, Ljubljana. 
Traveling the world on cryptocurrencies
For the past three years, the family has crisscrossed between Asia, Oceania, and Europe. They were given a van to travel around in by one crypto firm; they went to Vegas; they did a blockchain cruise from Venice, and they were invited to crypto conferences. 
Taihuttu trades every day. He's not devoted to Bitcoin alone, but it still makes up around 65% of his holdings. He also consistently holds Ethereum and Litecoin, and recently invested in DOT, the cryptocurrency of the Polkadot blockchain. Others include COTI, CTSI, EGLD, BEAM, LEND, COV, and KAI. 
He's doubtful about the true extent of decentralization within the booming field of decentralized finance (DeFi). He's made some gains there but has also heard that many have lost funds. He compared DeFi to the ICO boom of 2017/18.  
Taihuttu is also an advisor to several early-stage startups; he's involved in Bulgaria's Blockchain Valley project, and House of Dao, a co-living, co-working space where the focus is on blockchain and accelerating blockchain projects. "These decentralized communities are going to change the world," he said.
"I like that Bitcoin changes lives for poor kids all over the world and that I get an allowance in Bitcoin," Joli Taihuttu, 15, told Decrypt via Telegram. "Dad is also teaching me a bit about trading but I don't know if that is something I want to do now. I do know that dad wants my boyfriend, when I get one, to own Bitcoin [laughter emoji]."
Taihuttu's two younger daughters, Juna, 13, and Jessa, 10, told Decrypt that Bitcoin is "really cool." 
"Dad likes bitcoin a lot hihihi," wrote Jessa. "I just like being together a lot with mom and dad."
Coping with the coronavirus pandemic
When COVID-19 first hit, the family was in Spain, and they took the decision to return to Thailand, where they were then stuck for several months. Taihuttu had been promised the loan of a new van for five years, but the arrangement was pulled because of the uncertainty surrounding the pandemic. 
He decided to stay on the Thai island where the infection rate was low and the family was safe. But Joli changed his mind, reminding him that he had taught the family never to live in fear. So they flew back to Europe in July.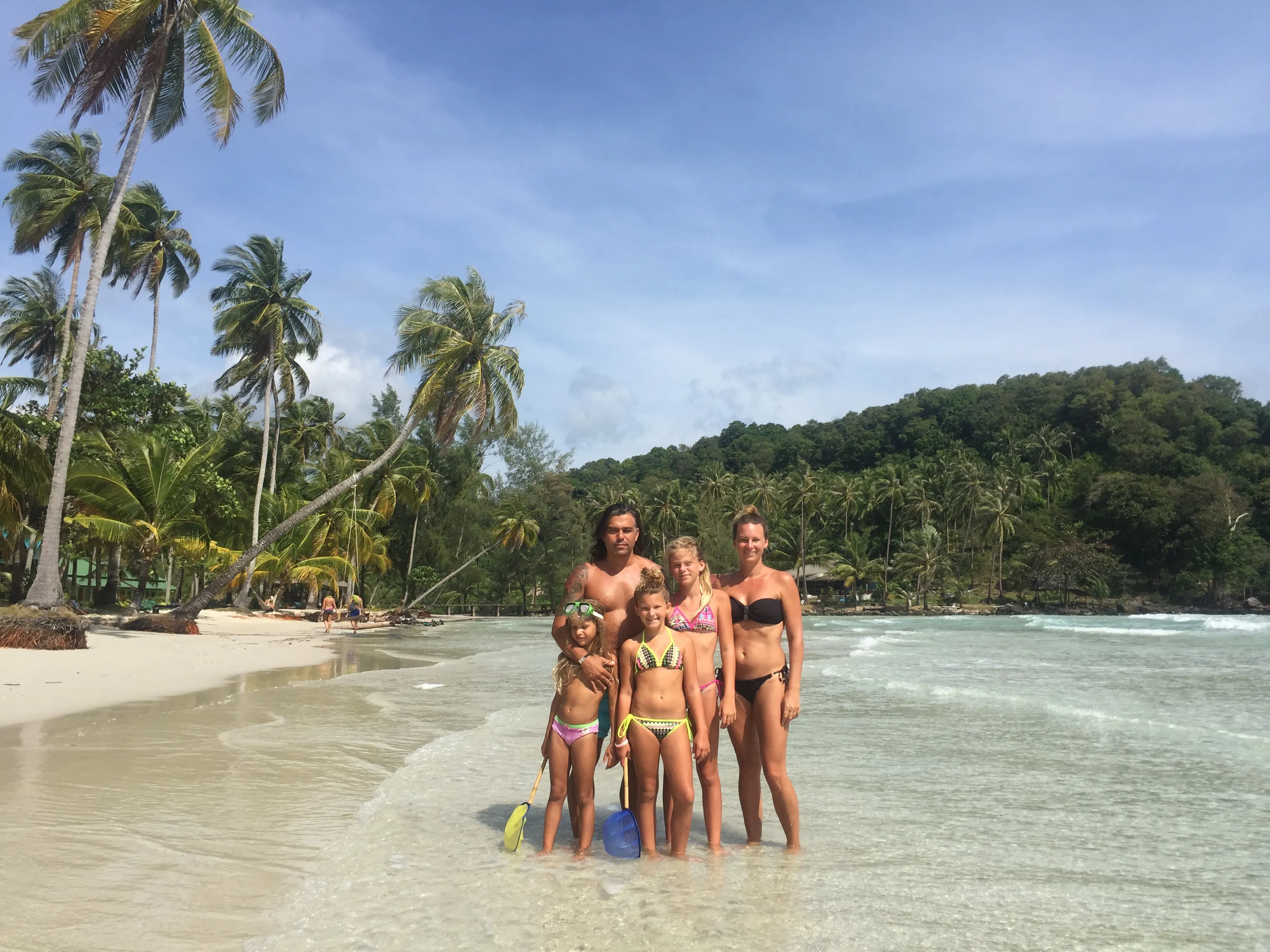 After spending time in the Netherlands, and in Spain, they decided on a new, three-to-six month tour of Portugal, to promote the idea of travel, family, and Bitcoin. Their new video series, they hope, will land them a deal with a major broadcaster such as Netflix. 
"If you want to have mainstream adoption in this world, you need to focus on everybody, not only crypto people," said Taihuttu.
By now, he's amassed some enviable contacts in the industry, so a number of companies including crypto trading bot startup MachinaTrader and trading crypto platform PrimeXBT have chipped in to help fund the trip. He's also been invited to advise various early-stage startups on strategy and adoption. "I'm almost working again," he quips.
The van they'll travel in is being painted with the logos of Bitcoin and other cryptocurrencies, and kitted out with a rooftop tent. There's no set itinerary—which is in keeping with the family's freedom-loving ethic. 
Driving Bitcoin adoption by example 
But with Bitcoin seemingly stalled at $10-11,000 for a while now, has the family ever regretted not cashing out more of their savings while it was at its peak when they first started their journey? 
"Of course, we considered it, and of course we cashed in a little bit at that point," Taihuttu said. But he went on to explain that, as Bitcoin plunged over the first six months of 2018, what started off as an idea to make money quickly evolved into a mission to live life as fully as possible. 
"We really needed to change life," Romaine Taihuttu, 41, told Decrypt via Telegram. She has no regrets but can imagine settling down again one day, by the beach.  
According to Taihuttu, cryptocurrencies are a long term investment, and in the interim, "You need to zoom out on crypto, and zoom in on life."
Bitcoin's price was at $4-6,000 at the time the family bought in, so even at today's rates, their funds have doubled. But that's nothing compared to the life experiences they've gained.
And in respect of Bitcoin adoption, the key advice he has to impart is: "It's almost impossible to push people into Bitcoin, you need to show them—leading by example, and then they will understand. The same thing applies to life."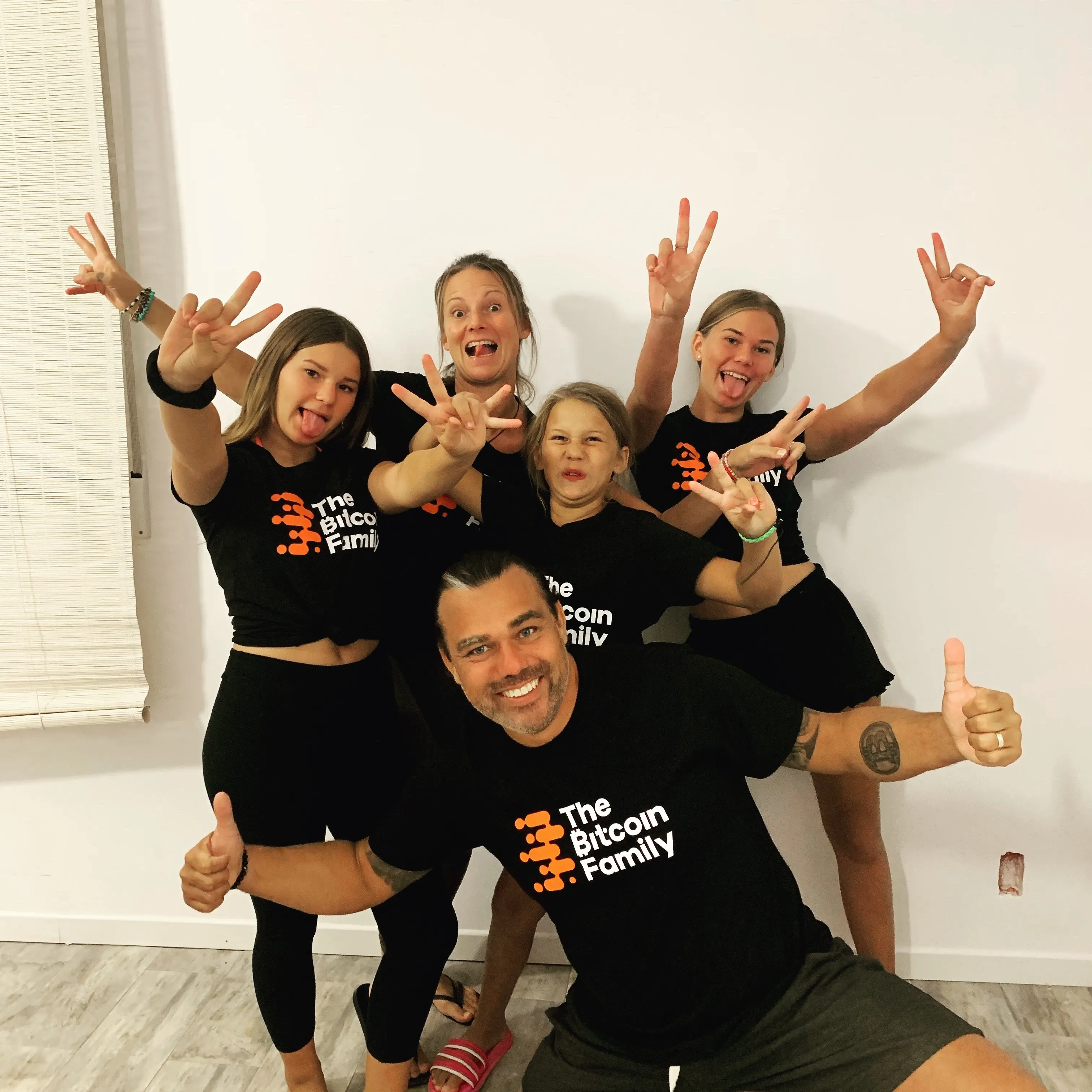 For the Bitcoin Family, this journey has not resulted in quick gains, but as Taihuttu explains it was never really about that. It's the experience they've gained as a family, through divesting themselves of possessions, that's enriched their lives; the greatest benefit has been freedom.
"We had an emotional roller coaster ride from materialistic to minimalistic, from normal family life to being a digital, nomad family, and then the media attention," said Taihuttu. "It was a huge adventure until now, and the adventure goes on."
Disclaimer
The views and opinions expressed by the author are for informational purposes only and do not constitute financial, investment, or other advice.