In brief
Only 26% of people trust decentralized digital currency, according to a new survey.
Bank-backed digital currencies were twice as likely to trusted
The Economist survey also found a high take-up of cashless systems, while 85% of respondents said they were familiar with cryptocurrencies.
Familiarity with digital currencies is at an all time high, but trust in decentralized cryptocurrencies like Bitcoin is sorely lacking, according to a survey of more than 3,000 digital payments users. 
The poll, by the Economist Intelligence Unit and digital payments platform Crypto.com, found that people are more than twice as likely to trust a digital currency issued by a central bank (54%) as a decentralized cryptocurrency (26%).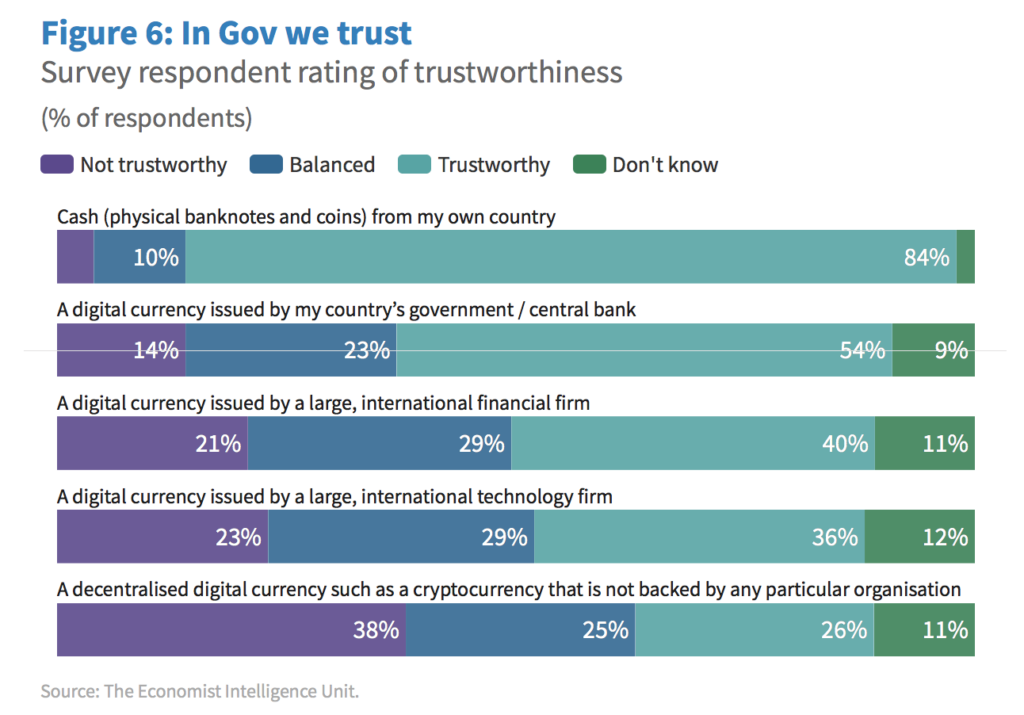 The benefits of digital currencies include improved financial tracking, increased financial inclusion and cost reductions. That's led governments from China to Sweden and businesses—including Facebook and investment bank J. P. Morgan—to experiment with their own versions of cryptocurrencies. In the US, calls for a digital dollar are growing.
While trust in central bank-backed digital currencies scored highest, trust in those issued by large financial firms came second, at 40%, while large technology firms received a slightly lower approval, at 36%. Respondents said they would trust banks, and large companies—whether involved in technology or finance—over a decentralized digital currency such as Bitcoin, which is not backed by any particular organisation.
"It's not surprising," Danny Scott, CEO of British Bitcoin exchange CoinCorner, told Decrypt. "At just 11 years old, Bitcoin is still in its infancy, while central banks have been around for hundreds of years. Bitcoin changes the way we think about money. Moving from a controlled, 'trusted' model to a completely decentralized model is quite alien and will take time." 
The concept of going cashless is already strong
The poll surveyed digital payments users in developed countries (US, UK, France, South Korea, Australia, and Singapore) and developing countries (Brazil, Turkey, Vietnam, South Africa, and the Philippines). 
It found that 85% were familiar with cryptocurrencies, yet issues of trust and understanding persist.
Scott considers that this will take time to solve. "There's a long way to go when it comes to education around decentralized currencies," he said. However, he also questioned the logic of trusting a hypothetical concept such as a central bank digital currency "that doesn't actually exist yet."
The survey also revealed that the concept of going cashless is already strong, with a variety of technologies taking the place of physical banknotes and coins—cash is only the third most popular means of payment. 10% of respondents consider their own country to already be cashless (predominantly using digital instead of physical payment methods). And a further 20% of people said they don't currently use digital currencies, but plan to in the next year.
Whether decentralized cryptocurrencies can ultimately succeed in capturing our trust and taking the place of cash, may well depend on how banks and big business behave.