The queue for adding new staking validators on Ethereum briefly hit zero yesterday.
It's now risen again to 996 validators, but it's still a far cry from its peak on June 10, when over 96,500 validators faced a waiting period of over 45 days, per Beaconcha.in data.
In broad strokes, the slowdown suggests a dwindling appetite for staking Ethereum.
Validators are responsible for proposing and validating new blocks on a proof-of-stake blockchain like Ethereum. In return, they receive a reward for their contribution to the network. An Ethereum validator must stake a minimum of 32 ETH to begin operating.
Importantly, the reward has also dropped from its June peak of 5.2% yield–doled out in ETH–to 3.5% today, per Beaconcha.in.
Amitej Gajjala, the co-founder of liquid staking platform Stader Labs, told Decrypt that the drop could represent "a short-term market slowdown due to continued bearish conditions and lowering Ethereum staking rewards."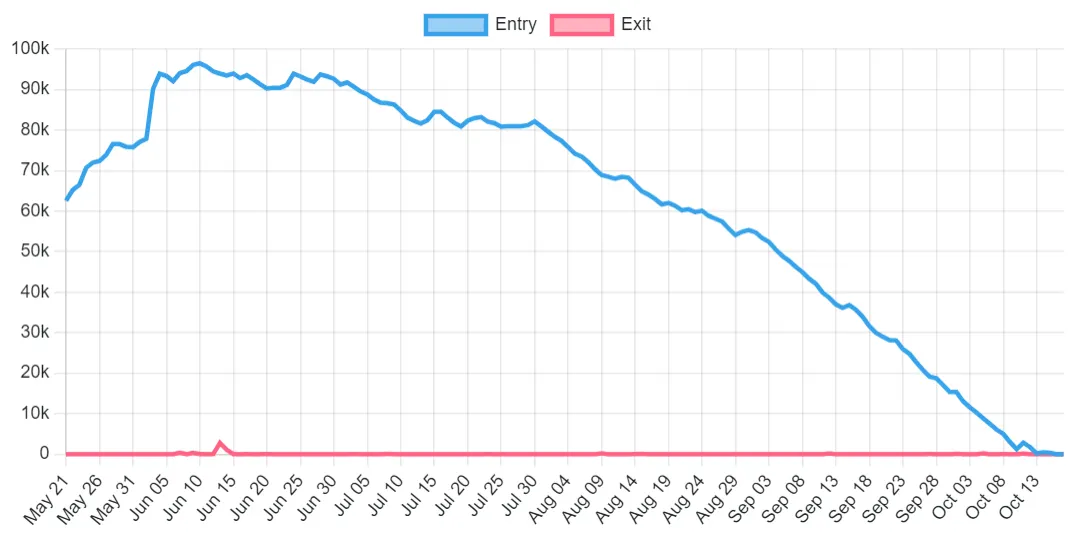 A queue forms because there is a limit of 3,600 validators that are allowed to enter or exit the validation process per day.
Seraphim Czecker, a contributor at Lido Finance, told Decrypt, that it's merely a "temporary equilibrium" after a "catalyst-driven staking wave" due to the Shapella upgrade "was absorbed."
Shapella–a combination of two proposals called Shanghai and Capella–enabled withdrawals of staked ETH for the first time since staking on Ethereum was first activated in December 2020, increasing the demand for staking after the upgrade.
Kirill Kutakov, the co-founder of liquid staking protocol StakeWise, concurs with a similar analysis, stating that, "we are merely back to the natural demand for staking that was exhibited before Shanghai, which may sometimes result in low days."
He added, "I would turn bearish only if the deposits began to decrease compared to the pre-Shanghai period."
A Dune dashboard by data analyst Hildobby shows just that, however, with Ethereum deposits steadily decreasing since May.
This decline has brought Ethereum deposits close to the levels mentioned by Kutakov during the pre-Shanghai period.

Currently, 27,779,142 ETH, representing 23.1% of Ethereum's circulating supply, is staked to the contract across 864,898 validators, per Nansen data.
What's next for Ethereum stakers?
Lido's Czecker is now betting that institutional money is going to lead the next wave of deposits in Ethereum staking contracts.
However, they said that it may take some time because there is a "lack of understanding of what staking is to begin with."
He added that "a more realistic target" for DeFi would be "family offices and asset managers with existing ETH balance sheets."
Czecker also added that since the government bond yields are high right now, staking might not be as attractive.
Currently, short-term U.S. treasury notes are yielding 5.35%, per Ycharts data.
Edited by Liam Kelly.