Spider-Man is back on PlayStation, this time pairing the original Peter Parker from the 2018 game with his ally Miles Morales who took the lead in the 2020 spinoff title. Marvel's Spider-Man 2 promises frenetic action and web-swinging through an expanded virtual New York City, plus a fresh roster of foes to battle.
In Insomniac Games' latest superhero entry, Peter and Miles will be teaming up to take on a new host of villains as they become the protectors of New York. Here's what you need to know.
What is Marvel's Spider-Man 2?
Marvel's Spider-Man 2 is the sequel to the critically acclaimed 2018 first entry in this series, developed by Insomniac Games. But it also follows 2020's Spider-Man: Miles Morales, a smaller-scale adventure that launched alongside the PlayStation 5 console.

In Spider-Man 2, you'll be able to control Peter Parker and Miles Morales as they venture into the next chapter of their lives. Gamers will be able to swing through the streets of New York facing up against new villains including Grizzly, Kraven the Hunter, and Venom.
When is Marvel's Spider-Man 2 being released?
Marvel's Spider-Man 2 is scheduled for release on October 20, 2023. Despite speculation about a delay, Insomniac Games announced in late September that the game has "gone gold," which means that the code has been finalized so discs can be manufactured ahead of the release.
Marvel's Spider-Man 2 will only be available on PlayStation 5 as an exclusive. The first game launched on PlayStation 4, but later came to PS5 through an enhanced edition that was bundled with the launch version of the Miles Morales game. Spider-Man: Miles Morales launched on both PS4 and PS5.
The standard version of the game is priced at $70. A digital deluxe version of Spider-Man 2 will be available for $80, and will give you players five additional unique suits for Peter Parker and Miles, extra photo mode items, and two bonus in-game skill points. A special collector's edition with a physical statue is also available for $230 directly via Sony's store.
Want to take your fandom one step further? Sony is offering Marvel's Spider-Man 2 edition PS5 and DualSense controller bundle for $600. This bundle will include a black, red, and white PS5 console with a Spider-Man vibe, plus a DualSense controller to match, as well as some unspecified "pre-order incentive items".
Those who already have a PS5 can order the designs as attachable covers, according to a PlayStation blog.
What's the story in Marvel's Spider-Man 2?
Set 10 months after the end of the Miles Morales game, Peter and Miles are entering a new chapter in their lives as the protectors of New York. The dual protagonists tutor each other to harness their powers.

This equilibrium is disturbed when Grizzly, a bear-suited villain, starts causing a ruckus; he's later followed by Kraven the Hunter, the main antagonist for the game. Kraven is joined by his faction "Kraven's Hunters," who will attempt to take over New York City.
Meanwhile, Peter's best friend Harry Osborn—son of the Green Goblin— returns to his life. And things really start to take a turn with the introduction of the alien symbiote organism, which not only leads to the arrival of the infamous Venom but also an aggressive change in attitude and capabilities for Peter himself.
Who can you play as in Marvel's Spider-Man 2?
Both Peter Parker and Miles Morales will be playable characters in Marvel's Spider-Man 2.
In fact, you will be able to switch characters at near-instant speed. This aims to give extra depth to combat and exploration, and they have some differing skills to set them apart. However, there will not be co-op support for the game, which means you sadly won't be able to play with a buddy and control the Spider-Men in tandem.
What's new in Marvel's Spider-Man 2?
The first game was known for its liberating movement system and fluid, exciting combat, which the Miles Morales game augmented with his own unique capabilities. The sequel is building on all of that with brand new mechanics and move sets that come in tandem with each character's progression.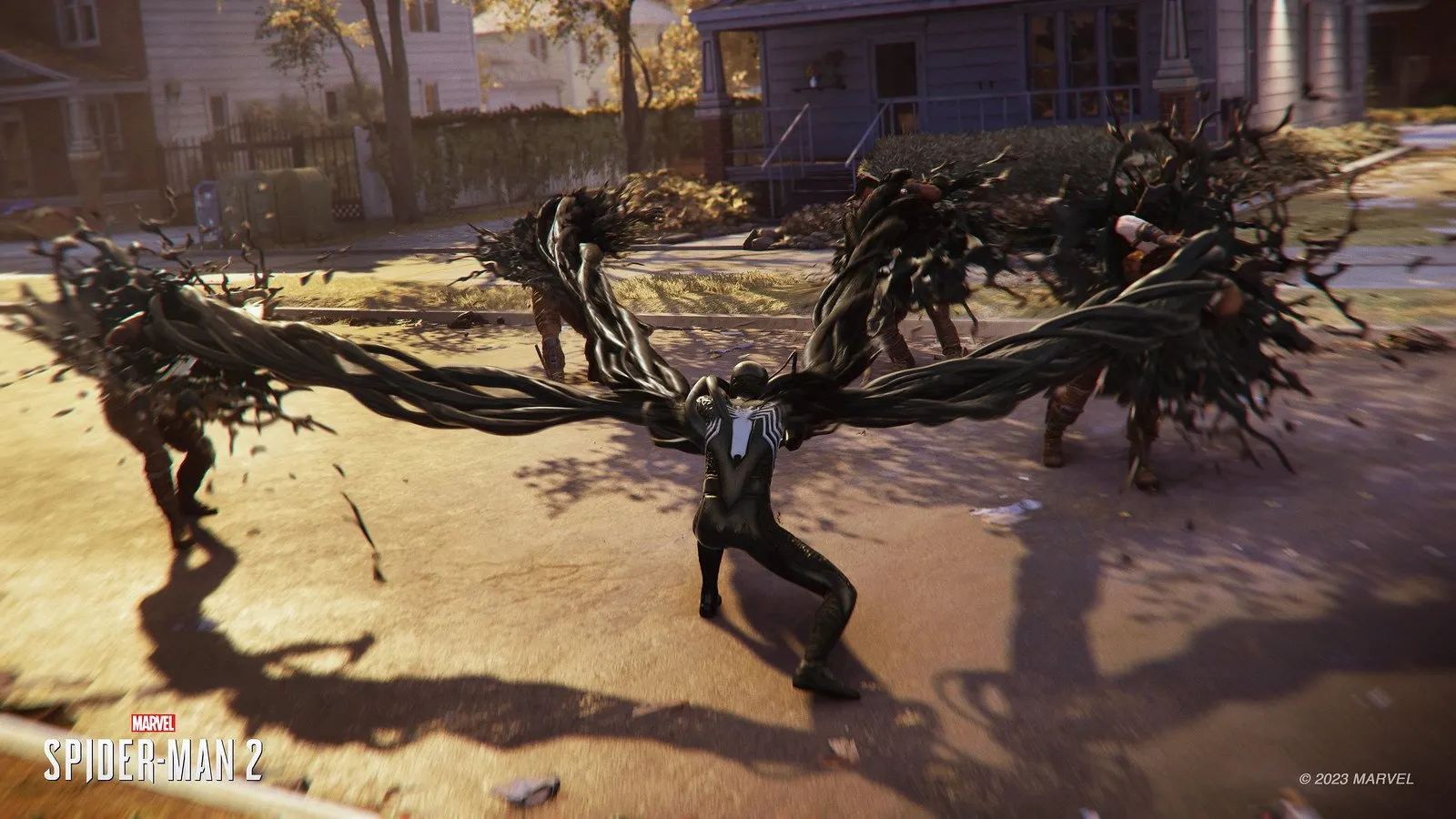 As Miles becomes more confident as Spider-Man, he gets an expanded range for his bioelectric powers. He also has new abilities like the Chain Lightning ability, perfect for taking out crowds. There's also a new set of gadgets such as the Web Grabber, which will disable a group of enemies, plus you can use "web wings" to zip through wind tunnels in the city at a rapid rate.
Meanwhile, Peter will be zipping into his new black symbiote suit, which unlocks a new skill set. The suit turns Peter into a savage who can string together new combos and web-casts that leave no prisoners. There's also a new parry system arriving along with the new suit, letting Peter disable enemies with a well-timed block.
And while the previous games were set entirely within Manhattan—itself a sizable playground for swinging around and battling foes—Spider-Man 2 will add Brooklyn and Queens to the pile, nearly doubling the overall amount of terrain and changing up the sights as you play.
Add to that over 60 unlockable suits and new side missions around the city, and it sounds like Spider-Man 2 is built to keep players busy for quite some time to come.