Blockchain-based games with cryptocurrency or NFT elements are banned on Valve's Steam PC gaming marketplace—but the developers of such games have found ways to launch them on the popular platform, finding apparent ways to get around the restrictions.
Steam initially added the restrictions in 2021, prohibiting games "built on blockchain technology that issue or allow the exchange of cryptocurrencies or NFTs." While some game developers are simply removing the crypto and NFT aspects for their Steam-friendly versions, others are redirecting players to third-party websites to buy NFTs or requiring players to connect crypto wallets.
The use of crypto and NFTs in video games has remained a hot-button, controversial topic that's divided game studios and players alike. Fortnite publisher Epic Games allows blockchain games to openly exist on its store, albeit with disclaimers. Google's Play Store has recently taken a similarly open, but regulated approach.
Others—like Steam and Apple's iOS App Store—have put restrictions in place that make it difficult for game developers to add NFTs to their games. But at least in the case of Steam, it appears that some developers are finding ways to work within (or around) the limitations.
External economies
Champions Ascension and The Bornless are two games in development that have sold NFTs to fans and were recently added to Steam. But representatives for these games told Decrypt that their respective planned releases follow Steam's rules.
"The game won't be exchanging NFTs or cryptocurrencies on the platform," Payton Kaleiwahea, Marketing and Community Director for Champions Ascension developer Plai Labs, told Decrypt in a message. "It will be disabled, respecting the Terms of Service. If players want those elements, they will have to go to our website."
But players who buy items as NFTs will still be able to use them in the game, with the external site functioning effectively as a workaround. In other words, they can't interact with NFTs via Steam, but they can acquire NFT items and manage them via an external portal, ultimately making them available in the Steam version of the game.
🔥CHAMPIONS ASCENSION IS NOW ON STEAM!🔥

Please help us get the word out! Repost, comment, tag friends, and most importantly...put us on your WISHLIST!

Wishlist on Steam:https://t.co/3d6quUziqJ

To celebrate this monumental occasion, we have a NEW Gameplay Trailer! pic.twitter.com/dRlcmAwB07

— Champions Ascension (@ChampionsIO) August 16, 2023
"Players that want to engage in trading can," Kaleiwahea added. "We will respect the transaction in our game and read it as a 'new player' has x item."
He further explained that the NFT buyers and Steam players will play together in the same game lobbies—but Steam players will experience a "limited" version of the title. The Steam version is being developed to increase the game's marketing exposure and hopefully boost the total player count, Kaleiwahea explained.
The Bornless, a first-person multiplayer horror shooter game in development from Cathedral Studios, is similarly abstracting its crypto elements in order to be listed on Steam. Cathedral's Head of Business Development, Josh Palumbo, told Decrypt that the Web3 elements will be "more as a layer on top of the game—not in the game."
"Core gameplay should never be gated behind expensive tokens, so for us it's more about player-crafted assets," Palumbo said. He added that Bornless players will be able to choose if they want to put their in-game items onto the blockchain or not.
"The first step for us is making sure we can get a product out," he added, "to change the generally poor sentiment towards NFTs first."
In a Twitter Space last week, Palumbo shared that from a developer's perspective, getting a game listed on Steam is more of a "process" than a challenge. He called it a "distribution play," adding, "We're not out here trying to be the next fully on-chain game." 
This new approach to crypto and NFTs in Steam games echoes how players of Valve's own first-person shooter smash Counter Strike: Global Offensive can trade cosmetic items via external blockchain-based marketplaces like DMarket.
But as some NFT games make concessions to secure Steam releases, they'll have to compete in the broader, oversaturated video game market. Steam counts 20-30 million active users at any given time lately, but nearly half of them are playing the same tiny subset of hot games.
GameDiscoverCo recently reported that the top 10 Steam games accounted for over 48% of users who were playing the 1,000 most popular games on the platform when the snapshot was taken on August 11. And players of those 1,000 top games accounted for nearly 95% of all concurrent Steam users at the time.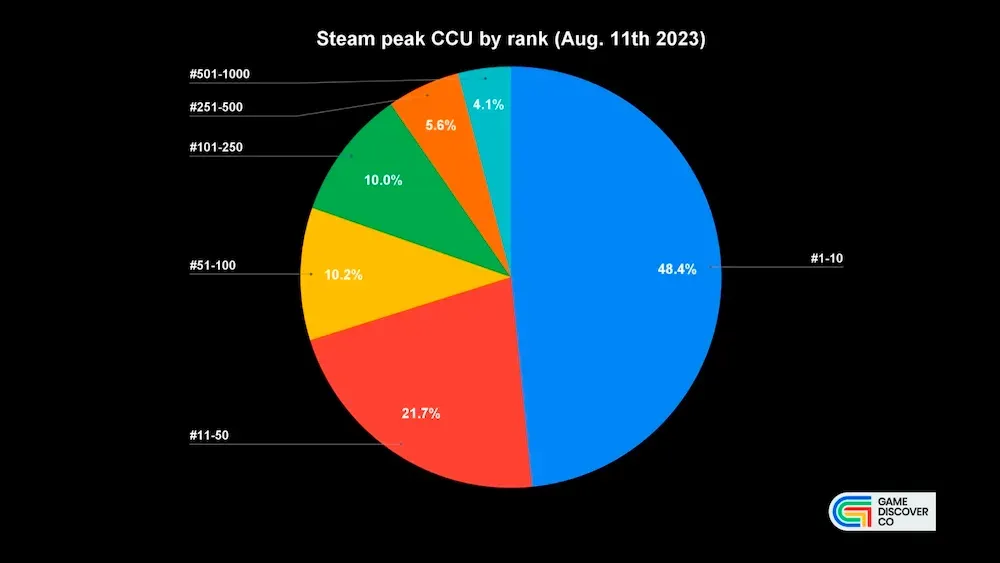 This means that while Steam hosts over 85,000 games, the overwhelming majority aren't seeing players log on in significant numbers. And for multiplayer games that require a substantial player base to quickly fill matches, the challenge posed is even greater.
Multiple versions
A range of different approaches to Steam distribution have emerged as crypto-friendly game developers seek broader audiences for their titles. Some publishers are simply releasing versions of their games without any NFTs at all—like Gala Games' upcoming roguelike shooter, Superior. 
Gala Games' President of Blockchain Jason Brink told Decrypt that the publisher plans to release the "non-NFT SKU" of Superior on Steam, meaning that the Steam version of the title would not contain any items bought with cryptocurrency. For many of its other titles, Gala plans to offer NFT games via Elixir, a crypto-friendly game launcher.
Angelic is a fantasy RPG in development from Metaverse Game Studios—which received $10 million in investment funds from the likes of Animoca Brands and Pantera Capital earlier this year, and is taking a similar approach to Gala's.
Metaverse Game Studios CEO Erkan Bayol told Decrypt in a message that the Steam version of Angelic will be "totally crypto-free."
"All blockchain features will be disabled," Bayol said, adding that even Angelic's Epic Games Store version will not include any blockchain elements at first because the team wants to focus on "gameplay and fun elements" before adding blockchain integrations. 
But Bayol is optimistic that Angelic's Steam version may be able to incorporate some of its Web3 components over time. Developers may be launching crypto-less versions of their games on Steam in the hopes of eventually bringing the whole package should Valve pull back on its blockchain restrictions in the future.
"There is a chance [the] Steam team would allow us to integrate some of the blockchain features, especially the DAO mechanisms," Bayol told Decrypt, referring to tokenized decentralized voting, where communities can use NFTs or ERC-20 tokens to vote on various game or group matters.
Blockchain games like Shardbound and Infinite Victory—both of which are being built on the Immutable gaming platform—are also planning Steam launches, an Immutable representative confirmed to Decrypt via email. But it remains unclear how exactly the games will adhere to Steam's rules while also offering users NFTs.
Other approaches
Some Steam games have been criticized by users for hiding their crypto elements, even if they aren't apparent in the game itself.
For instance, the multiplayer online battle arena (MOBA) game MagicCraft does not mention any crypto elements or requirements on its Steam page, but the game's Twitter bio lists its crypto token MCRT and advertises itself as a "#playtoearn" game on the BNB Chain. 
MagicCraft's Steam version can be downloaded for free, but gamers are unable to play it without first creating an account and connecting a crypto wallet via MagicCraft's website. Until a crypto wallet is connected, it's impossible to actually get past the login screen.
Magiccraft's $MCRT stands alone as the world's only cross-playable play-to-earn game, live on PC, Android, and iOS app stores.

Dive into a gaming experience where every move can earn you crypto, no matter your platform.

The future of gaming is here, and it's rewarding! 🎮… pic.twitter.com/B4NrXXwWQF

— MagicCraft (@MagicCraftGame) August 19, 2023
When asked about this requirement, MagicCraft Chief Business Development Officer Romain "Adam" Ghibaudo told Decrypt in a message that "MagicCraft is both a Web2 and Web3 game." However, he did not explain how such "Web2" users on Steam could circumvent the crypto wallet connection issue to play the game.
Multiple Steam users called MagicCraft a "cash grab" in early access reviews, while others expressed frustration with game bugs and were unsure whether the game's other players were real or just AI bots. One reviewer cited "a bunch of crypto and NFTs BS" in the game's Discord server, and cautioned players away from it: "We need to discourage these kinds of 'games' from ever apearing [sic] on Steam."
Earlier this year, Steam users raised concerns about Kingdom Under Fire: War of Heroes Gold Edition (KUF). They reported that the real-time strategy (RTS) game now required the use of a blockchain app called "Locus Game Chain," which was sucking up their computer's processing power.
In response to one reviewer, a KUF developer wrote that Locus Chain is what allows the game's servers to run and said that the game's servers—while blockchain-powered—do not violate Steam rules because they "do not interact with cryptocurrency or NFTs in any way." 
The developer also denied that Locus Chain contained spyware, and said that the blockchain server model helps the team "save up tons of money and focus on building the games." Locus Chain did not immediately reply to Decrypt's request for comment.
Will Steam shift?
Last year, Valve co-founder and President Gabe Newell offered more details on the broader reasons for barring NFT and crypto games on Steam in an interview with Eurogamer.
While Newell admitted that blockchain is broadly a "great" technology, he said that the price volatility of cryptocurrency was concerning, and the ways it has been deployed thus far "are all pretty sketchy."
"The things that were being done were super sketchy," Newell said. "And there was some illegal shit that was going on behind the scenes, and you're just like, yeah, this is bad."
Valve has not responded to Decrypt's request for comment regarding its current stance on NFTs and crypto in gaming—and how games might be able to circumvent such rules by using external sites or other methods. Until Valve chimes in on any potential violations of its policy, developers appear keen to test the limits or try new release models to reach Steam's vast user base.