Shanghai residents, the largest city in China with a population of more than 25 million people, are finding novel ways to vent their frustration over the country's zero-tolerance COVID policies.
One of them is Simon Fong, a 49-year-old freelance designer from Malaysia who has been living in Shanghai for the past nine years.
Last month, he began creating satirical illustrations depicting life under lockdown, taking inspiration from Mao-era propaganda posters.
Fong's artworks include scenes mocking PCR testing procedures, as well as residents' demands for government food rations.
"I chose the Mao-era propaganda-style for these pieces because some people are saying that the lockdown situation is taking Shanghai backward," Fong told Reuters.
The posters, created at the beginning of April, can be found on the NFT marketplace OpenSea as a collection dubbed "Popaganda."
"In each artwork, there is a unique story inspired by true events which have happened, but most are added with a dash of humor," reads the collection description.
In an interview with Yahoo! News, Fong said his favorite piece from the collection would probably be the one entitled "Stay Negative."
"It's simple and very straightforward," he said. "It has kind of like hidden meaning behind it. It depends on how one interprets it because in normal days before COVID, people ask you to stay positive."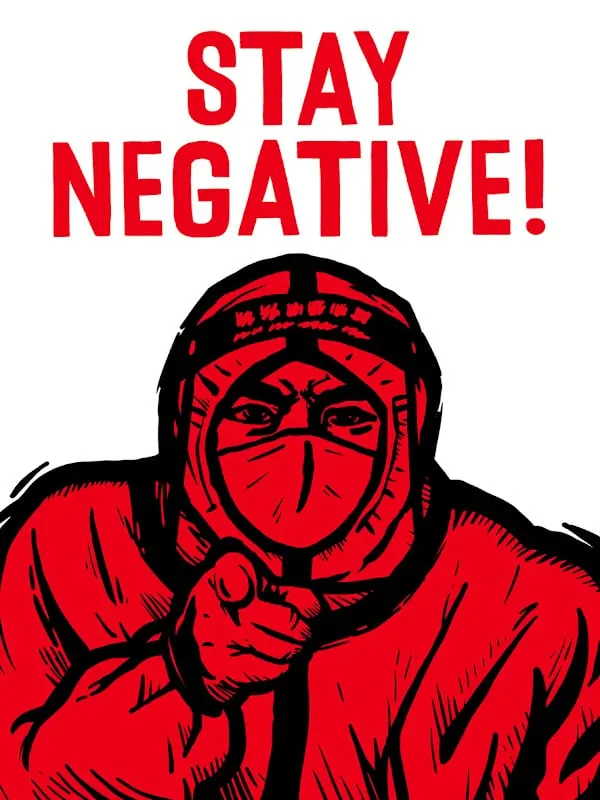 To date, Fong has sold a total of ten items in his NFT series for an average price of 0.1 ETH each ($287 in current prices).
The Voice of April
Other Shanghai residents have also turned to blockchain technology to express their discontent.
On April 22, a video called "The Voice of April" was published on YouTube at the peak of Shanghai's lockdown protests. It's a six-minute long video montage of a recording of people's voices heard shouting and crying from their homes.
"Chinese people are indignant and in great sorrow because we just don't understand why a video that just recorded the facts(the resources are all from the call records or videos of Shanghai citizens) got banned," reads the video's description. "It wasn't against any laws or regulations. The author didn't even show his/her views and the only words form him/her is at the last of the video: 祝上海早日康复(Wish Shanghai to get well soon). Even so, the video was totally banned on Chinese platforms."
A Chinese user going under the pseudonym of KCPT.GM, later took to Twitter to say the video had been turned into an NFT and is now available on OpenSea.
"I have minted the 'Voice of April' video into an NFT and have frozen its metadata. This video will exist forever on the IPFS," wrote KCPT.GM.
IPFS, or the InterPlanetary File Sharing service, is a decentralized peer-to-peer network that backs up files and websites by hosting them across many different nodes.
China, Crypto, and NFTs
While China last year banned cryptocurrency trading and Bitcoin mining, it still views blockchain as a promising technology, paying special attention to the NFT space, albeit with a twist.
Earlier this year it was reported that the state-backed Blockchain Services Network (BSN) was working on permissioned, non-public blockchain infrastructure that would enable the issuance of NFT-style collectibles.
The platform, however, doesn't support NFTs created on public blockchain networks such as Ethereum and Solana, and doesn't accept cryptocurrency payments.
Instead, the network will exclusively accept the Chinese yuan to pay for collectibles and platform fees—all under the state's watchful eye.