In just a few short years, NFTs have gone from a dry technical standard for non-fungible tokens to a $23 billion market. But as fast as interest in NFTs expands, so it seems that the volume of negative headlines around the space grows.
A crypto gold rush has cheapened the reputation of NFTs in the mainstream media. Once a transformative technology that could revitalize the worlds of art and business, they're now painted as something to be avoided for fear of falling foul of authorities—or scammers looking to make a quick buck off your back.
From rug pulls to fart jars with sketchy backstories, the world of NFTs has come to encapsulate the worst of the Wild West at present. News that Crypto's own sheriff—the SEC under Gary Gensler—has NFT artists and marketplaces in its crosshairs has, for many, confirmed the reputation of NFTs as a bonanza for crypto outlaws.
In some instances, said Andres Guadamuz, a reader in intellectual property law at the University of Sussex, that reputation is well-deserved.
"You see every other week that there's headline after headline about scams, frauds, rug pulls, exchanges dropping down, tax, stolen apes, all sorts of things," he told Decrypt. It all has an accumulating effect on the broader reputation of NFTs, poisoning the well for those who might consider entering the market.
"The potted history of NFTs' standing has been up and down," said Catherine Flick, a reader in computing and social responsibility at De Montfort University. "There's the legitimacy that platforms such as Christie's and Sotheby's gave to NFTs in terms of auctioning them off through a legitimate place, rather than some random website."
Having the imprimatur of both traditional auction houses—which combined have a 532-year history—placed onto the world of NFTs did a great deal to legitimize them in the eyes of the average person. Big-ticket sales, such as Beeple's NFT sale through Sotheby's for $69 million, and big-name endorsements from celebrities including Jimmy Fallon and Paris Hilton, have helped bolster their reputation.
My kid could paint that
And yet for every positive presentation of NFTs in the media, there has been an equal—and opposite—negative reaction. For one thing, people look at the disparity between the quality of artwork being sold and the amount they get, and scratch their heads. "Members of the public that are generally not in the world of NFTs look at it and say: 'This is not worth $69 million—there's something wrong here.' That's the effect it's created." 
Then there are the scams. "Over the last year or so, the number of rug pulls and fraud, and a lot of this overpromising and underdelivering in terms of what these NFTs are going to be doing have harmed their reputation," said Flick. That reputation has been further tarnished by reports of "significant" evidence of wash trading and money laundering in the NFT market.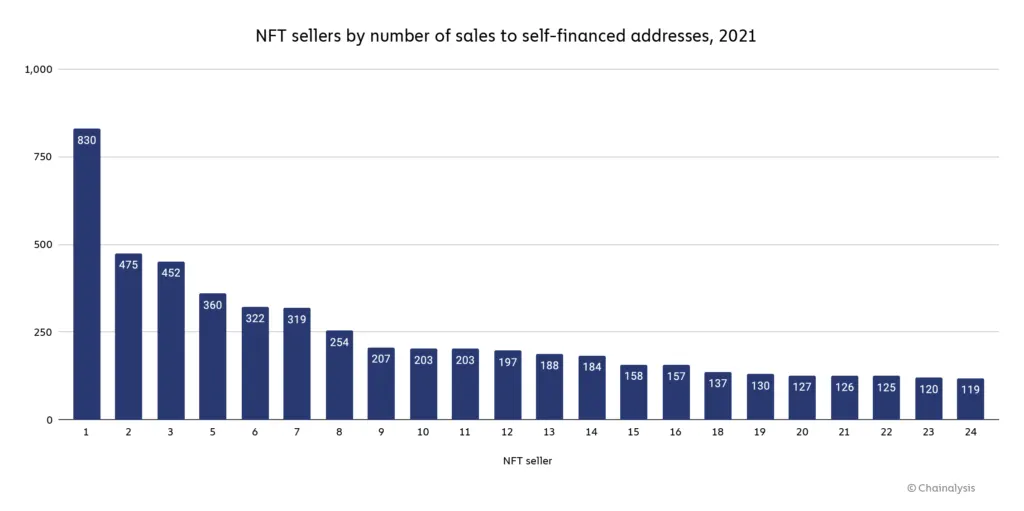 "Normal people start looking at this and start getting an impression that it's mostly fraud," said Guadamuz. He points to an example of public perception: He recently taught a class of 20 students who are practicing lawyers knowledgeable in the world of intellectual property. "Almost every single one thought that these were either a scam or fraud, or some form of money laundering." That's borne out in broader survey data, too: Less than half of Americans, and just one in five Britons, think NFTs are a good and safe investment.
Flick reckons that part of the challenge is that those who have fully bought in to the promise of NFTs have the most to lose, should the technology not live up to expectations. Given that the volume of cryptocurrency sent to NFT-tied smart contracts has risen from $106 million in 2020 to $44.2 billion in 2021 according to Chainalysis, there's a lot at stake. 
"There's this kind of pressure for them to keep up the hype train," Flick said. That means that while there is a small minority of NFT collectors and collection creators who are out there to try and take the money and run, even the majority of those who are investing from an honest point of view are also prone to overhyping their promise in order to make sure their investments stay secure. "That's a real issue," said Flick, "because there's only so far that's going to go before it all catches up with them."
Self-policing and doxxing
Flick told Decrypt that while she believes that the world of NFTs will still exist in years to come, it will have to winnow out a lot of the projects that are currently riding on the coattails of the hype around bigger, more mainstream projects. And self-policing among NFT projects is "already happening," said Guadamuz, as the community steps in to "promote good projects and highlight when something doesn't add up."
At present, Flick equates the perception of NFTs to that of genetically modified food in its early days. "There was a kind of acceptability problem where people were like: 'Yeah, I'm not so keen on that'," she said. "If people don't trust the people who create them, there's a trust problem there."
In recent weeks, the NFT space was convulsed by Buzzfeed's outing of the anonymous creators of Bored Ape Yacht Club, one of the leading NFT projects. While the crypto world argued among itself over whether doxxing NFT creators was legitimate journalism, Flick believes that naming the real people behind leading NFT projects will be beneficial in the long run.
The pseudonymous nature of NFTs, she argued, is a hurdle to mainstream adoption—particularly when coupled with negative headlines about rug pulls, wash trades and general scams. "Project owners will essentially have to have a bit more of a background so that people will trust them not to pull the rug," said Flick. "We're already starting to see that a bit."