Bitcoin's (BTC) hashrate recorded its biggest increase of the year on Saturday, jumping from 188.40 exahashes per second (EH/s) to a new all-time high of 248.11 EH/s in just one day, according to data from Blockchain.com.
Despite the value dropping to 209.63 EH/s on Sunday, the world's leading blockchain network is now as secure as ever.
In blockchains that use the proof-of-work (PoW) consensus algorithm, hashrate refers to the total combined computational power allocated by a network of computers, called "miners," to process transactions and add blocks onto the blockchain.
The higher the hashrate, the more secure the network is as more computing power is required to perform a successful attack, like process fraudulent transactions or report that the same Bitcoin has been used twice (called a "double-spend").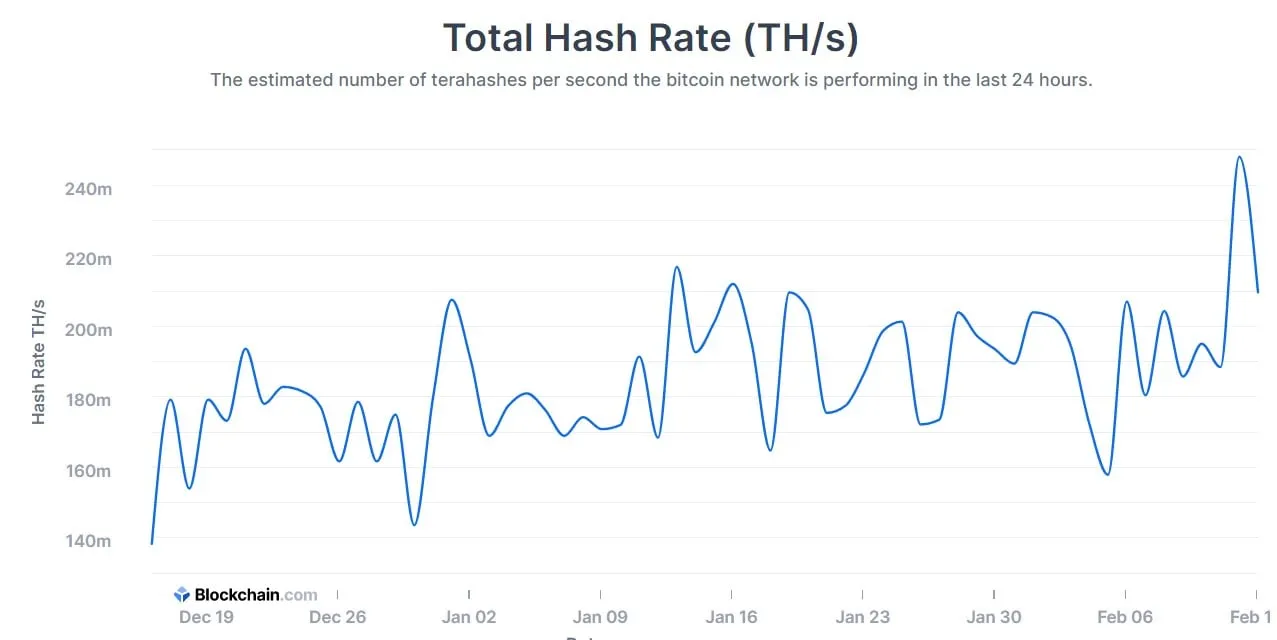 Coupled with the record-high Bitcoin mining difficulty—the measure of how difficult it is to find new blocks—a rising hashrate is a rather bullish signal indicating that miners are increasingly willing to deploy long-term capital into Bitcoin's infrastructure.
As data from BTC.com shows, Bitcoin mining difficulty is expected to increase by a further 3.24% later this week, when the value's next readjustment happens.
Macro signals and Bitcoin
Bitcoin's network has been on a roller-coaster ride following China's crackdown on the mining industry last year, which resulted in the hashrate plummeting to as low as 58 EH/s in July, raising concerns about the industry's long-term prospects.
However, with several major Bitcoin mining operators moving to other countries, such as the U.S., Russia, and Kazakhstan, Bitcoin's hashrate has been on a constant rebound since then.
The latest spike in hashrate also comes amid negative macro sentiments across the global markets, such as growing inflation and geopolitical tensions.
U.S. inflation hit its highest level in 40 years last week, causing investors to dispose of riskier assets, including cryptocurrencies.
Continuing talks of Russia's possible military invasion of its neighbor country Ukraine isn't helping either.
Following the White House's statement last week that Russia could launch a major assault on Ukraine "essentially at any time," the price of Bitcoin sank almost 4% while leading stock indices fell between 1.43% and 2.78%.
At the time of writing, the leading cryptocurrency was changing hands at $42,200, down 0.3% over the last day, according to CoinGecko. However, the network's fundamentals, such as the exploding hashrate, continue to grow stronger.