With over $12.2 billion total value locked (TVL) across its ecosystem, Fantom has overtaken the Binance Smart Chain (BSC) to become the third-largest crypto protocol in decentralized finance (DeFi), according to data from DefiLlama.
Fantom belongs to the new generation of proof-of-stake blockchains looking to compete with Ethereum by solving scalability problems like the cost of transactions, throughput, and time to finality.
For example, Fantom's distinguishing feature is that a transaction needs just a single confirmation, meaning that as soon as a block is written to the chain, it is final and irreversible. Bitcoin needs six confirmations and Ethereum 12.
Of the total $194 billion across all of DeFi, the Fantom Network controls over 6.19%, compared to BSC's 6.04%. It is also not too far behind the second-placed Terra, which covers 8.40% of the DeFi space.
Ethereum, the industry's largest smart contract platform, continues to dominate market share, however, making up roughly 60% of all DeFi activity.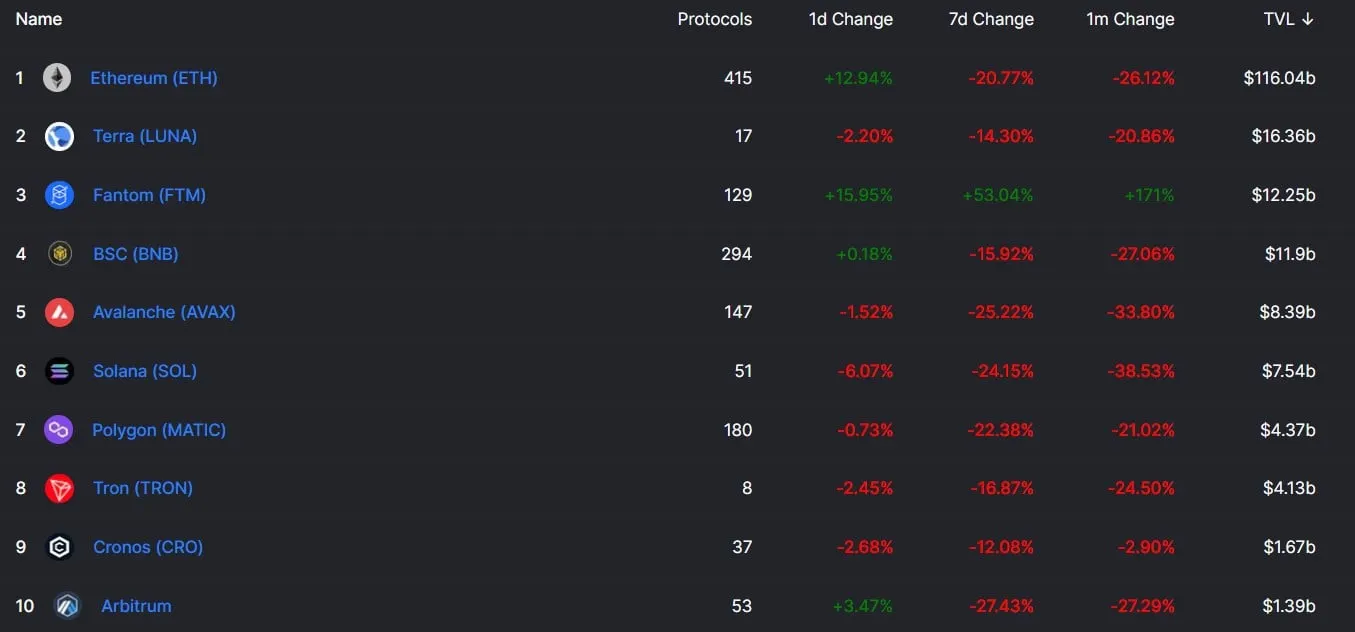 Amid the overall market slump, which saw the price of Bitcoin tank below $35,000, Fantom's native token FTM is down 15% over the last day and as much as 37% in the past seven days, per CoinGecko.
Still, one can't deny the growing activity on the network.
The network's TVL is up 53% over the past seven days, making Fantom the only distinguished major network to post positive numbers over the span.
Over the last day, Fantom's TVL has increased by 16%, outperforming Ethereum, which is up 13% over the same period of time.
What's behind Fantom's rise
There's a flurry of activity happening on the Fantom network at the moment, with several projects utilizing its blockchain all posting gains in terms of TVL.
These include the newly launched 0xDAO, a decentralized exchange (DEX) protocol created by Fantom builders, which is already boasting over $4 billion in TVL, and Multichain, a cross-chain router protocol that allows users to swap tokens between different blockchains using a bridge.
With about $9.5 billion in TVL, Multichain is currently the largest DeFi project on the Fantom blockchain.
Laying up an exciting foundation for future advancements, there's also Solid Swap, the recently announced automated market maker (AMM) built on the Fantom network.
Built by Andre Cronje and Daniele Sestagalli, Solid Swap is expected to implement a novel tokenomics model called ve(3.3), potentially opening up new opportunities for the broader DeFi space.