In brief
"Death cross" is a technical term from the world of stock trading.
It signifies a rare meeting of the 50- and 200-day price averages.
Death crosses are never good, but crypto experts are not particularly worried.
A pricing event called a "death cross" looms for the two biggest cryptocurrencies and, barring a serious rally, could occur later this week. The term death cross sure has a scary ring to it, but should crypto holders really be worried?
Decrypt consulted some veteran crypto traders to find out. But first, let's clarify what exactly a death cross is.
The term is a technical one from the world of conventional stock investing, and describes an event when two moving averages—the 50-day and the 200-day—intersect. (Moving averages represent the average closing price over a certain period of time.)
In theory, chart lines that represent those averages should rarely or never meet. That's because the 200-day average contains the 50-day one, but also represents a trend that is four times longer. Whatever price pops or dips occur during the 50-day period should largely be smoothed out by the longer trend.
If the two lines intersect, it means the price has moved up or down so dramatically that the 50-day trend crosses the 200-day trend on the price chart. If the 50-day line crosses the 200-day one in an upward direction, that's a golden cross. But if it happens on a downward slide, it's a death cross.
You can view the looming death cross events in the chart below from Bloomberg. We've added a red arrow for where the 50- and 200-day averages for Ethereum are poised to meet, and a blue one for Bitcoin.
As you can see, the gap between the lines is narrower for Bitcoin, so that death cross is more likely to happen first.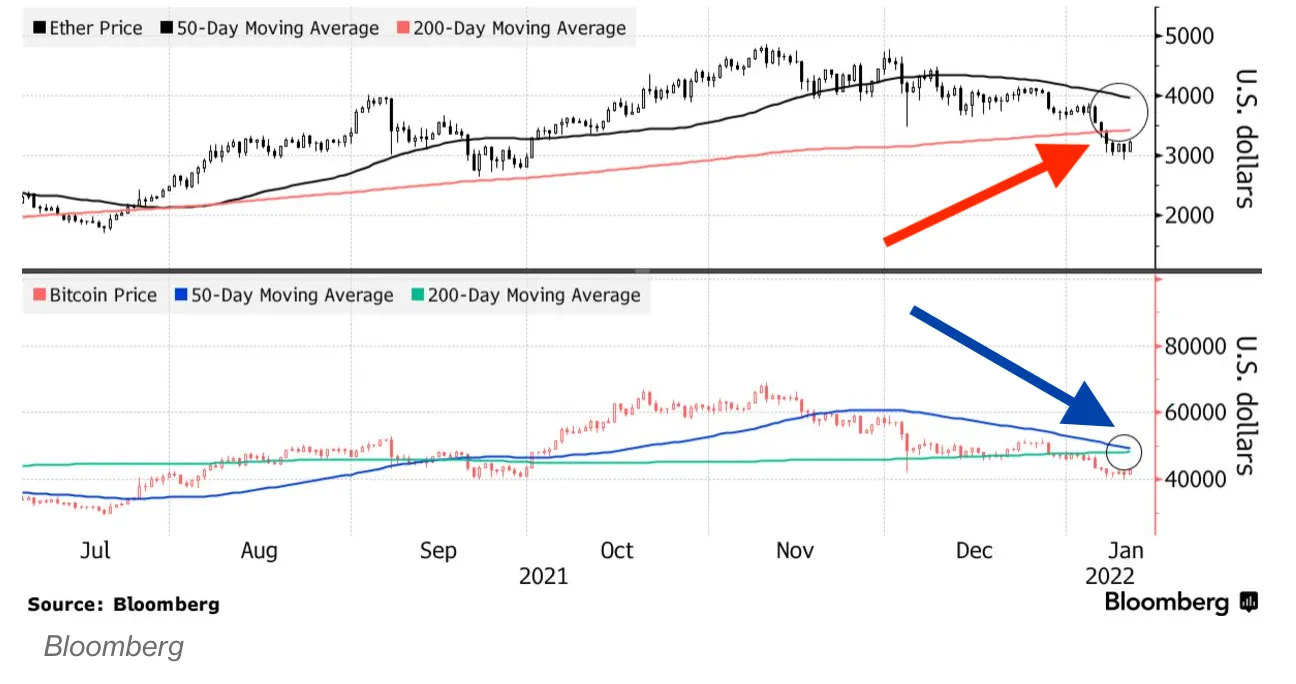 If a death cross does occur, does that mean the price of the asset in question—be it a token or a stock–is doomed?
In the case of a conventional stock or the stock market as a whole, the appearance of a death cross is bad news indeed since such events over history have preceded a number of major and prolonged downturns. And some traders treat the advent of a death cross as a trigger to get out of a position before things get much worse.
The story is a little different when it comes to Bitcoin. While hitting a death cross is hardly a good thing, the original cryptocurrency has experienced one several times in its 11-year history, most recently in June of 2021. And somehow the original cryptocurrency has emerged just fine.
That was the sentiment from analysts at two major crypto firms that hold billions of dollars worth of Bitcoin and Ethereum.
"Traders certainly watch staple technical indicators, with the 50, 100 and 200 [day moving averages] being key ones," emailed a person at the Genesis trading desk. "The 'death cross' is on the radar, but it doesn't appear to be a significant event."
A person at another big crypto firm, who declined to be identified for compliance reasons, was likewise fairly unconcerned.
"People make it out to be a big, scary bearish event, but last time it happened, the market bottomed out, and shortly after pumped back up," said the analyst by email. "Similarly, in June '21, the market dipped after hitting $64k, fueled by leverage. This time around, the sell-off is probably due to the fed's plans to reduce their balance sheet."
Kyle Samani, the founder of Multicoin Capital and a longtime crypto trader, was more blunt.
"TA is garbage," he wrote in a Twitter message, using the trader shorthand for "technical analysis."
All three of the commenters have a vested interest in the price of crypto remaining healthy, so skeptics might discount their remarks as unduly optimistic.
Nonetheless, the price trajectory of both Bitcoin and Ethereum, despite numerous pops and crashes over time and despite their terrible start to 2022, have climbed steadily skyward in the long-term—so it is unlikely another encounter with a death cross would spell lasting doom.