The burgeoning decentralized finance (DeFi) space has exploded to a market cap of over $137 billion from just $2 billion a year ago—but it still represents just 5.8% of the overall crypto market.
To help the space achieve its true potential, millions of new users need to be onboarded to DeFi—but as the number of DeFi blockchains grows, so too does the importance of creating a seamless user experience for newcomers and advanced users alike.
For cross-chain aggregation platform XY Finance, the boom in DeFi, non-fungible tokens (NFTs) and GameFi applications across multiple blockchains represents a huge opportunity. "What we're doing will become essential for advanced DeFi users," says XY Finance founder Wilson Huang. "Therefore, we are eyeing more than $1 trillion transaction growth in 2022."
"What we're doing will become essential for advanced DeFi users."
Wilson Huang
The rapidly expanding cross-chain aggregation platform has already attracted $12 million in funding from some of the crypto industry's most prominent players, in its mission to radically streamline the increasing complexity of decentralized finance processes.
Why crypto needs cross-chain
Navigating the exponentially expanding crypto universe has never seemed so daunting. This past year has seen many new scaling solutions for leading smart contract blockchain Ethereum. However, high gas fees have meant that competitors, such as Fantom and Binance Smart Chain (BSC) are gaining market share.
As per data from DeFi Llama, which aggregates the total value locked (TVL) on blockchain platforms, Ethereum accounted for 94.26% of the TVL across all existing chains in August, 2020, but by November 2021, its share had fallen to 65.90%.
The shift has served to boost demand for cross-chain asset swaps. But bridging tokens between blockchains is costly, time-consuming and technically challenging, with the threat of price slippage and front-running by trading bots.
XY Finance has created a "one-click" solution to cross-chain asset swaps, making for a much more streamlined experience that creates an unbounded cross-chain environment and opens DeFi, NFTs and GameFi applications to a much wider audience. It also enables users to aggregate profits earned from Defi, GameFi and NFTs in one secure location.
X Swap, Y Pool and GalaXY Kats
The platform is built on two key components: cross-chain transfer and swap service X Swap and liquidity pool Y Pool.
X Swap already supports Ethereum, Binance Smart Chain, Polygon and Fantom. It calculates the optimal cross-chain and transaction path for users, automates and simplifies the process and supports swaps between any asset.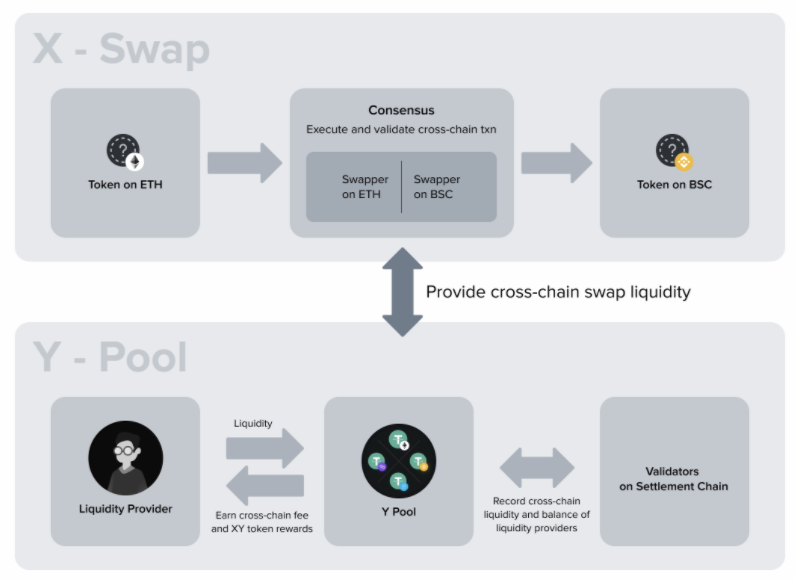 Meanwhile, the newly launched Y Pool can reimburse swapping fees and offers token rewards for liquidity providers. It allows them to manage the liquidity of the same asset across multiple chains.
But XY Finance has more to offer: it presents a way to gamify decentralized finance, via its own play-to-earn offering, GalaXY Kats—10,000 unique meerkat NFTs, which send their owners gifts, take part in quests and allow them access to additional functions on the platform. For example, as GalaXY Kats transaction volumes on NFT marketplace OpenSea increase, new levels, tools and rewards unlock on the platform.
Pushing the play-to-earn envelope
XY Finance has already attracted investment from across the crypto industry and beyond, including payments company and stablecoin operator Circle; crypto exchanges; venture funds including Infinity Ventures Crypto; GameFi decentralized autonomous organizations (DAOs); and prominent game developers such as Yield Guild Games and Animoca Brands.
Gabby Dizon, the co-founder of Yield Guild Games, highlighted the platform's utility for gaming guilds that earn rewards from many different play-to-earn games across multiple blockchains. "XY's ability to streamline the interaction between blockchains will save on transaction fees and deliver a much better experience overall," he said.
Since its launch in October, XY Finance's promise of next-generation cross-chain services has taken the Taiwan-based startup to triple-digit growth. Now, it's gearing up for the next phase of its expansion, with an upcoming Initial DEX Offering (IDO) on Thursday, December 9. Participants will have the include the opportunity to stake the XY Finance token, and participate in the project's DAO and liquidity pools.
XY Finance's Initial DEX Offering (IDO) launches Thursday, December 9. For more information, head to the project's Discord, Telegram and Twitter channels.
Sponsored post by 
XY Finance
This sponsored article was created by Decrypt Studio. Learn More about partnering with Decrypt Studio.