It's becoming difficult to find a professional sports league or team without at least a few cryptocurrency sponsors.
Crypto.com revealed yesterday that it has acquired the naming rights to the Los Angeles arena formerly known as the Staples Center in a 20-year contract worth $700 million. This, in part, is likely what caused its Crypto.com Coin (CRO) to jump as much as 30% today.
The Singapore-based crypto exchange also has a deal that adds a branded patch to Philadelphia 76ers jerseys for the next six years. This summer, the company inked a five-year, $100 million deal with Formula 1 that guarantees the company brand presence at F1 events and an NFT partnership. It's also paying $175 million over the next five years to the Ultimate Fighting Championship (UFC) in a sponsorship deal.
It's not alone. FTX and Coinbase have been busy with their own sports marketing deals. And a Decrypt analysis of CoinGecko exchange data shows that the sports sponsorship frenzy could be paying off.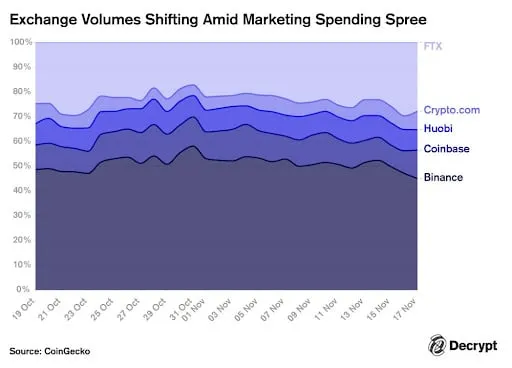 Binance, the world's largest crypto exchange by volume, has started to lose ground as the longstanding dominant exchange, according to the data. At one point in the last 30 days, it accounted for 58% of volume among the top five exchanges–Binance, Coinbase, Huobi, Crypto.com and FTX. (CoinGecko ranks exchanges by a "trust score" that is partly based on the exchange's volume, but also includes liquidity, cybersecurity and scale.) But today, Binance was down to 45% while Coinbase, Crypto.com and FTX had all gained in volume.
That doesn't prove the bump in exchange volumes was caused by all the sports deals. Still, the gains have likely not gone unnoticed by the people signing the checks for all these deals.
On Friday, FTX CEO Sam Bankman-Fried tweeted a screenshot of exchange volumes showing that his company had comfortably secured the number two spot behind Binance. 
Boosting name recognition, and therefore users, has recently been a popular talking point for Bankman-Fried.
"When someone's looking to get involved in crypto for the first time, we've found that they haven't heard of FTX," he said last week at the Decrypt and Yahoo Finance Crypto Goes Mainstream event. And that's a big part of the reason his company has spent as much as it has on sports marketing, he explained.
There's recent survey data that backs up the strategy of targeting sports fans. While 39% of all adults say they have some familiarity with cryptocurrencies, that number jumps to 47% among the segment that identify as sports fans, according to a recent poll conducted by Morning Consult. 
Twenty-seven percent of those fans said they own some cryptocurrency. And crypto familiarity seems to scale with a sports fan's engagement: Two out of three self-proclaimed "avid" sports fans and 72% of sports bettors said they're familiar with cryptocurrencies.
Editor's note: This article was updated after publication to clarify that Crypto.com is now based in Singapore, not Hong Kong.