In brief
"Kung Fury" director David Sandberg is releasing a series of NFTs timed to Halloween.
Each original character created for the NFTs could appear in his future films.
The crowdfunded 2015 YouTube featurette "Kung Fury" was wild and wacky, ready-made for memes, and it cultivated an ardent fan base—qualities that describe many popular NFT collections as well. Given that, it makes sense that "Kung Fury" director David Sandberg's new project is an NFT set, and there's a potential film-related perk for fans who buy them.
Sandberg's Unicorn Masters is an original NFT series inspired by classic action figures from his childhood in the 1980s and '90s. The first drop is focused on movie monsters, timed to Halloween. It's also the first NFT drop from Decrypt Studios. (Disclosure: Decrypt Studios, an NFT and web 3 production company, is a separate division from Decrypt's editorial team and has no influence on our coverage.)
Each of the 15 single-edition Ethereum NFTs takes the form of an animated 3D render, featuring a glossy sheen to complete the illusion of being a real-deal plastic toy. Sandberg told Decrypt that it was a welcome break from the world of large-scale movie making while he's finishing up extensive VFX work on next year's "Kung Fury 2."
"It's sort of like creating a pool of characters, and just expressing my ideas freely," he said. "It was a really fun break, just to be creative and not have any sort of oversight—to just go nuts."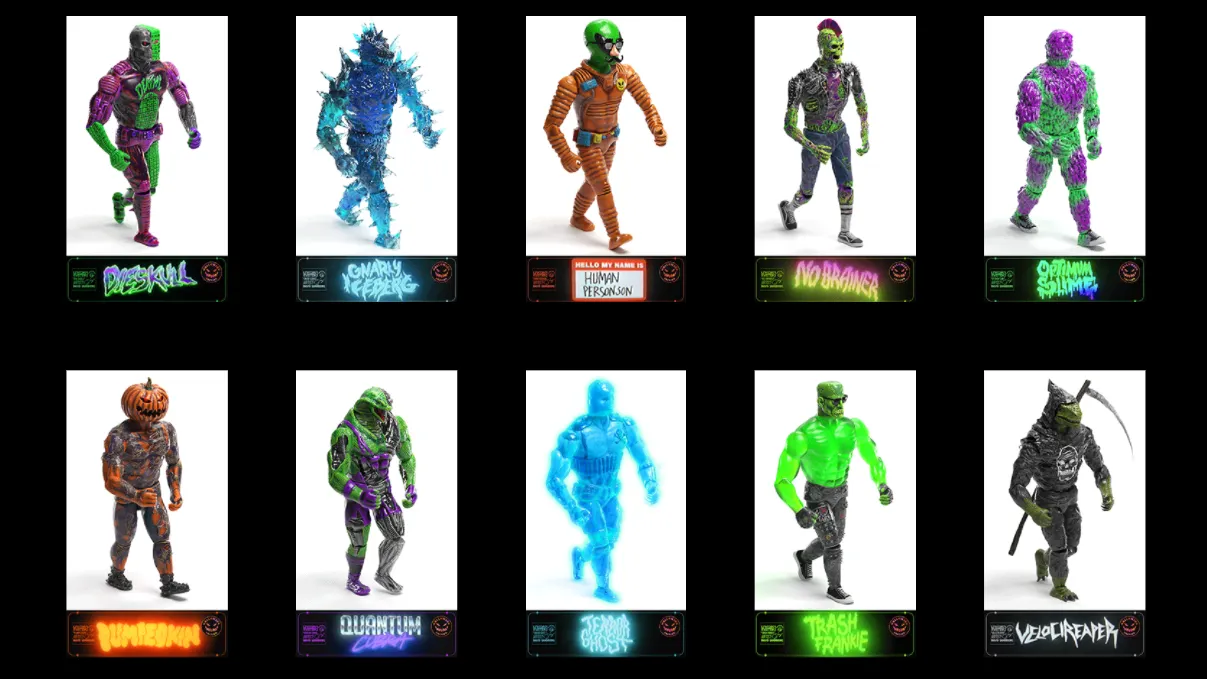 Having a "pool of characters" sounds like it could come in handy for someone who makes over-the-top action films featuring all sorts of monsters and creatures. And that's the plan.
Sandberg plans to tap into these creations on future film projects, which means that the monster NFT someone buys could show up on the silver screen at some point. For now, that's just a possibility rather than a promise—this is still an "experiment," he said.
In any case, his NFT collectors will have a direct connection to him, and can provide input and feedback as he pursues potential future projects around these characters.
The planned approach reminds him of using Kickstarter to fund the first "Kung Fury," he said, as that film cultivated a passionate community of backers. With digital ownership rights via NFT collectibles, Sandberg is trying a new way to generate interest and investment alike.
"That passion and excitement from the [Kickstarter] community was affecting everyone who worked on the production, and it created this excitement all around," he said. "It was more open—you could discuss things with the backers. Working in Hollywood, it's more of a closed ecosystem for various reasons. And that's fine. But I miss the community aspect."
Launching his own NFTs provides a new way to tap into that kind of community. And it could lead to bigger things down the line: Sandberg is also enticed by the possibility of using NFTs to fund future movie projects, much in the way that Mila Kunis's web series "Stoner Cats" was funded by NFT sales.
"It could be really exciting for the future if we could finance movies this way," Sandberg said. "It's sort of crowdfunded, where you create these hubs of people who are excited about a project and you work with them, get feedback from them, and then you actually create something that is speaking to that specific audience."