In brief
Donut feels like an ordinary banking app, but offers DeFi-level yields.
The app is easy to use and has high profile backers, but is largely unregulated.
Many casual crypto users have heard the promises of 5% or even 8% yields on deposits in the wild world of decentralized finance, or DeFi. But while those rates might be tantalizing—especially when conventional "high yield" savings accounts are paying a pathetic 0.5% these days—most people quickly learn that navigating the world of DeFi is complex and intimidating. So they sit out.
That's why an app called Donut, whose backers include the owners of the Washington Nationals, is intriguing. Launched last year, it looks like many other banking or investing apps but plugs into DeFi on the back-end to offer users a handsome 4% return—redeemable anytime—on dollars they deposit.
"It's for people who say 'I like the idea of DeFi but just want dollars in and dollars out,'" says Donut CEO Neel Popat. "We decided to take the best of fintech and make a DeFi application for normies."
Popat explained that Donut invests in high-yield DeFi platforms like Yearn, but "abstracts away" the DeFi part of it such that users feel they are investing in an ordinary savings product.
I tried it out and, sure enough, Donut felt like other banking apps I've fiddled with as part of my reporting job. It asked for a driver's license, and then prompted me to make a deposit using Plaid, the widely-used fintech service that acts as a plug-in to one's bank account. I deposited $20, which Donut displayed along with the interest I was earning (soon I'll have earned a whole penny!):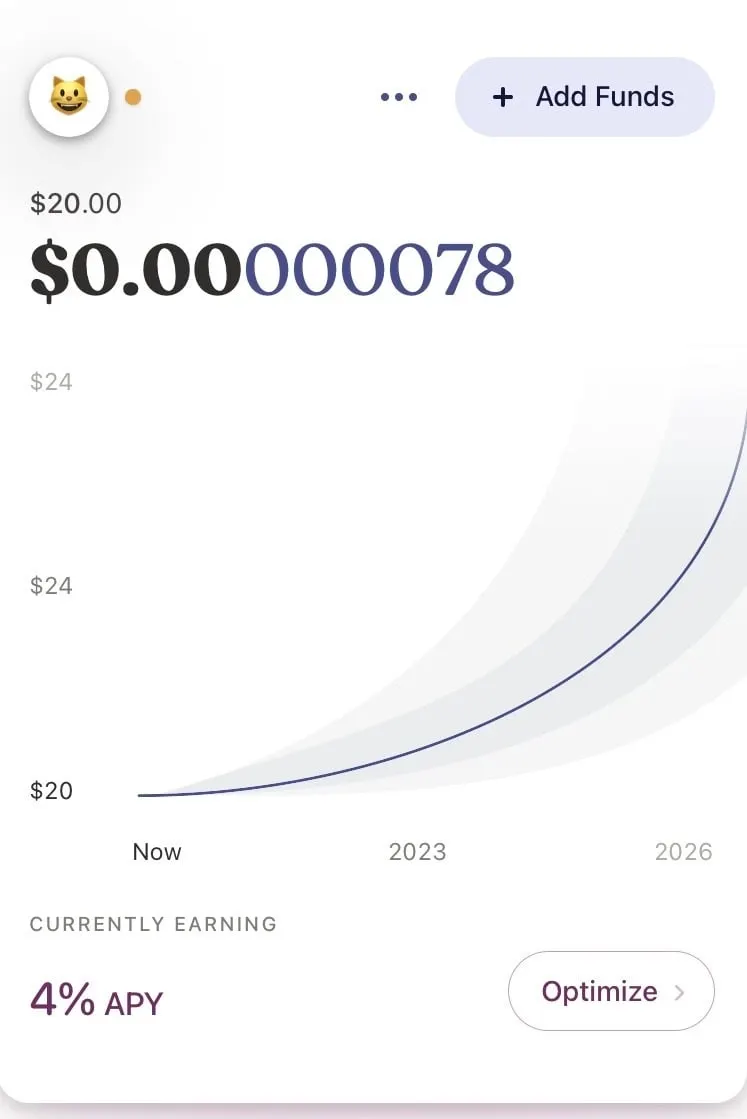 The app also offers a handful of features familiar to other banking apps, including automated deposits and a tool to contribute small amounts by "rounding up" debit card purchases.
While Donut has largely flown under the radar, even in the crypto community, the company says its user base and assets under management have grown 40% monthly since it launched the fixed rate savings product in September. It also closed a $2 million funding round in June from investors who include Robert Leshner, the founder of the popular DeFi service Compound.
For consumers frustrated with stagnant savings accounts, Donut might seem like a no-brainer: Even if 4% isn't as high as what other DeFi investors might be earning, it's much better than the below-inflation rates paid by banks.
But there is a catch, and it's a big one. Namely, Donut is not backed by the FDIC—the federal regulator that will make you whole up to $250,000 in the event your bank fails. In other words, if Donut implodes, there's a chance your savings will be gone.
This doesn't mean you shouldn't use it—there are lots of other investment products that don't come with an FDIC backstop. But it does mean you should have a general idea of what DeFi is all about, and do your own reading about Donut and its founder.
As for Donut's business model, Popat says the company typically earns around 2% of the capital invests on behalf of its users. Donut, that is, aims to make 6% in the DeFi markets, and passes 4% of that along to its users—though that rate, as at regular banks, is subject to change.
Donut is not the only company seeking to draw in mainstream savers with high yield accounts. Coinbase recently announced a 4% product of its own, which requires users to invest in the dollar-pegged stablecoin USDC. Other crypto platforms like BlockFi, Eco, Nexo, and Celsius also promise high DeFi returns by letting people lend out Bitcoin, stablecoins and other digital assets.
The bottom line is that Donut and others are making it easier for non-technical crypto fans to earn DeFi-level yields, provided they are also willing to risk placing their money on platforms that don't guarantee protections.
An earlier version of this story incorrectly stated Donut uses the Aave platform. It also mistakenly named Andreessen Horowitz as an investor.