In brief
Eco has raised more than $30 million to fund its new crypto-powered wallet app.
The company aims to compete with the likes of PayPal and Square.
Eco, a fintech wallet app that uses crypto on its back end, announced itself in March with a $26 million funding round led by Andreessen Horowitz. Other investors included Coinbase, Pantera, Founders Fund, Slow Ventures, and many more.
Now Eco has announced a slew of celebrity and athlete investors who also participated in the March round (but were not named at the time), including Sean "Diddy" Combs, Tiffany Haddish, Kevin Durant (through his firm Thirty Five Ventures), Carmelo Anthony (through his firm Melo7), NFL star Larry Fitzgerald, and DJ 3LAU, among others.
The company has raised $34.5 million in total funding, and its app is still in a closed beta. While Eco won't share its user numbers so far, it says it has 170,000 people on its waitlist.
What is Eco?
Eco brands itself on its website as "not a bank, not a checking account, not a credit card," but says it "replaces" all those things. The app promises 2.5% interest on your balance (and higher interest once you refer friends) and cashback rewards at a range of merchants. 
"We say Eco is a single wallet for your spending, sending, saving, and making money all in one place, which is kind of the best we can do in terms of explaining it," says Eco CEO Andy Bromberg, the former CEO of CoinList, which facilitated select token sales (only those it said were "vetted") amid the ICO boom of 2017 and 2018.
"We found that the counter-positioning is actually the easiest way to explain what it is. By saying we're not a bank—which, we are not a bank—it makes it clear that there's kind of something that we are trying to replace, a function in a user's life that we're trying to replace. And same with the credit card, checking account, anything," Bromberg tells Decrypt.
Eco also avoids characterizing itself as a "crypto" app, though it is rooted in crypto on its back end. When users deposit dollars, Eco converts them into the stablecoin USDC, and lends out USDC to other crypto institutions to earn yield for users. "So crypto plays an important part," Bromberg acknowledges.
The omission of crypto in its marketing materials is by design. It's an effort not to scare away mainstream users who might be turned off or intimidated by the mention of stablecoins.
"We actually almost never say 'crypto,' as best we can," Bromberg says. "Now, of course, I probably would not be here, nor would we have gotten investment from Andreessen Crypto, were there not some some crypto angle to it. But fundamentally, right now the product that you can see and engage with is an app where you put dollars in, you earn 2.5% APY, which goes up to 5% if you refer friends, and you get 5% cashback on spending at Amazon, Uber, DoorDash, soon more, and more features coming down the pipeline."
Bromberg adds that Eco has specifically avoided inviting crypto people to the initial beta, since they hope to pull in non-crypto folks. "We didn't want crypto savvy people, we didn't want tech people, even though that's of course many of our networks at the company," he says. "Those people will get it. We're not worried about those people. What we really wanted to do was nail the messaging and product positioning and product features that makes it appealing for everyone."
In its aim to be an all-in-one fintech app, Eco is competing with the likes of PayPal and Square. With its cashback rewards, underpinned by crypto, it's entering the space of Bitcoin shopping rewards apps and extensions like Lolli and Fold, and Bitcoin debit cards. As for its high interest rate on crypto savings, that sounds like what BlockFi does—but BlockFi is one of the companies Eco will lend out USDC to, so Bromberg says they're partners, not competitors.
The risks of crypto savings accounts
Savings accounts that offer yield on your crypto deposits are rapidly multiplying, in parallel with the rise of DeFi (decentralized finance) investing.
While BlockFi may be the best known of them, Gemini Earn and Nexo offer similar products: deposit crypto (or fiat) with the promise of high yield. All of them get you that yield by lending out your balance to other institutions, like Eco does.
The risk is clear: while each of them claims some form of partial insurance, none is backed by the FDIC.
On the other hand, crypto flag-wavers increasingly dismiss the reliability of the FDIC anyway. "The FDIC went bankrupt in the financial crisis," Ross Gerber, whose firm Gerber Kawasaki ($2 billion in AUM) was one of the first RIAs (registered investment advisors) to start buying Bitcom behalf of clients, said this month at the Ethereal Virtual Summit powered by Decrypt. "The FDIC doesn't exist. That's a fucking fantasy." 
Just try telling that to more cautious investors used to being assured their deposits in a savings account are fully safe. Eco attempts to assuage these concerns with a long page on its web site that begins by asking, "How is this not too good to be true?"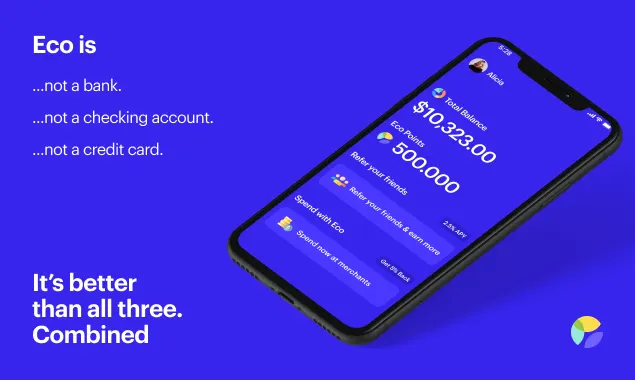 Emulating Uber 
Eco has deep ties to Uber co-founder Garrett Camp, who created the Eco brand and concept in 2018, then rolled it into Beam.io, a separate company in which Camp was an investor. Camp eventually rebranded Beam back to Eco, hired Bromberg as CEO, and is now a founding advisor to Eco and an investor through his VC fund Expa.
Uber is a wise target for a fintech product to shoot for.
"What Uber was able to do so successfully was take a terribly broken industry that was serving people well enough that they didn't know to ask for something better, and they started offering a better solution," Bromberg says. "The personal transportation market exploded thanks to Uber. And we think we've got a chance to do something kind of similar, from a philosophical perspective, giving people control of their money for the first time."
Editor's note: This story was updated after publication to remove any confusion with a previous fintech app called Beam that shut down earlier this year after an FTC settlement.