The organizers of long-standing cryptocurrency conference, Blockchain Expo Global, were hoping for at least 10,000 attendees to come battering down the turnstiles when the doors at Olympia Grand, London's premier conference venue, opened on April 25.
The free-to-enter event, one of the oldest in all of cryptodom, is generally seen as the kick off to the spring crypto-conference season, which reaches a sort of crescendo at the end of next week, with New York Blockchain Week. It's a good barometer of the health of an industry that's seen interest in cryptocurrencies plummet throughout an interminably long winter.
So how healthy was the turnout? By all accounts, the patient is in fine fiddle.
"We've had record numbers through the door, and the general vibe around the blockchain ecosystem has been really positive," Blockchain Expo founder Ian Johnson told Decrypt at the end of the first day. The total number of attendees (over two days) was 9500, 500 shy of the 10,000 people who reportedly attended Blockchain Expo last year, just off the height of cryptomania.
Another major industry conference and global forum, S. Korea's Deconomy, which was at the beginning of April, reported 1500 attendees out of a potential 2500.
Ethereal kicks off with a conversation
This is pretty good news for the conference organisers gearing up for New York Blockchain Week and the festivities start with the Ethereal Summit, known as the "SXSW of blockchain," on May 10-11.
Ethereal, which is geared to the Ethereum community, is organized by venture production studio, ConsenSys (which also funds Decrypt.) This year, like last, 1000 attendees are expected. The 2019 venue is Brooklyn's Pioneer Works, an experimental, riverside artspace founded by modern artist Dustin Yellen—complete with indoor gardens and sound baths.
The Ethereal concept belongs largely to ConsenSys CMO Amanda Gutterman. She designed the first event two years ago, to provide an alternative to most crypto conferences, which are geared to business owners and developers. Instead, Ethereal's focus is wider and aimed to be more compelling for the crypto curious.
"We're able to shape a really adventurous and engaging kind of experience for our guests that's really like nothing else in the blockchain space," Gutterman said.
Ethereal is a festival of Ethereum-ness, and not just the business or the technology side of things. It takes a bird's eye view of decentralization from geopolitical, sociological, and philosophical perspectives; there's plenty of art, wellness, interactive installations, food, and music—culture.
Gutterman noted that nearly half the speakers and attendees are female. "Ethereal is the most diverse blockchain conference I've seen," she said.
A theme this year is "Crypto Spring," the rapidly evolving and sometimes controversial dynamics in the industry after the winter's market contraction. The idea is to recreate and contextualise community conversations around issues such as the regulatory environment and Ethereum's scaling plans.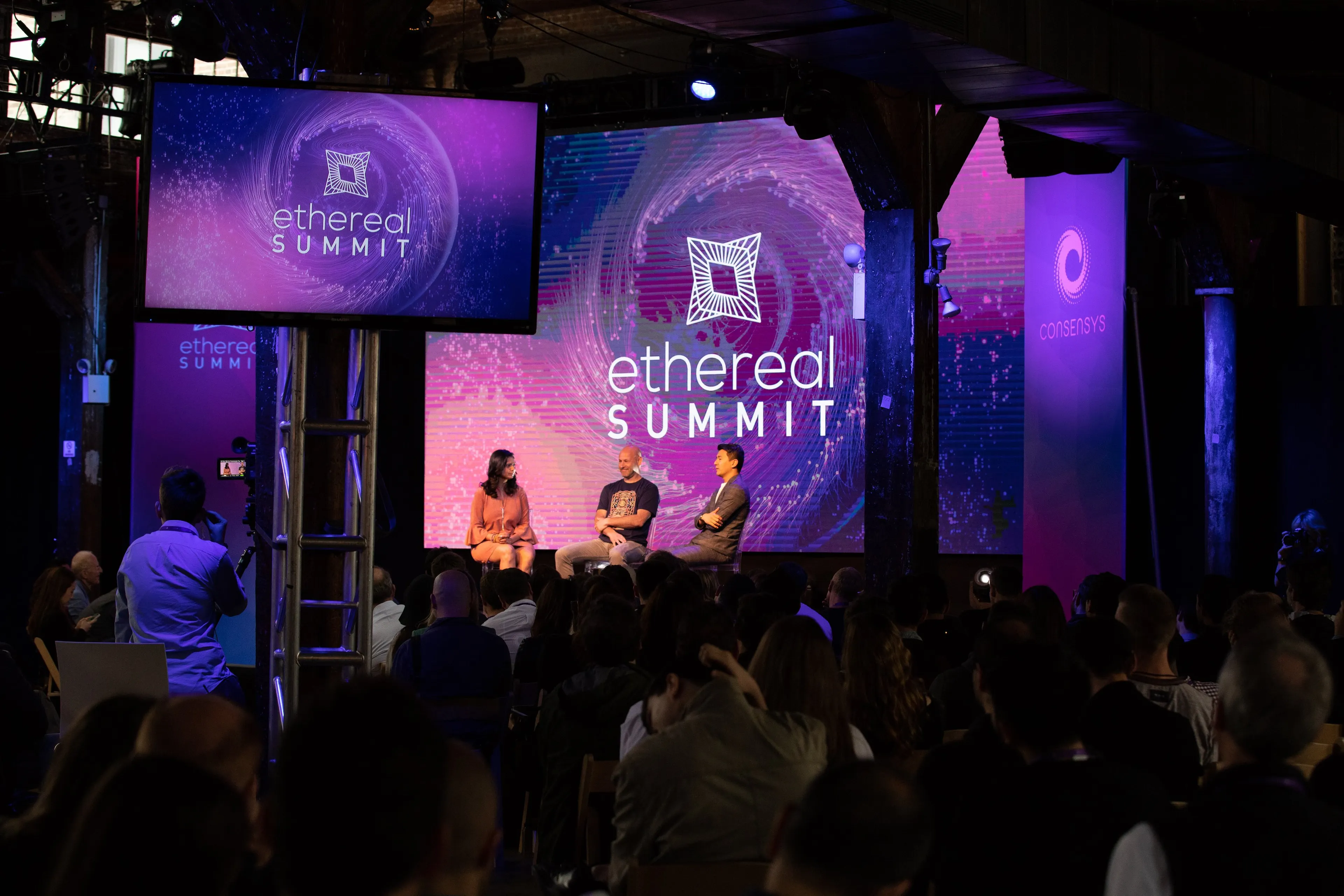 Among the speakers are: Aya Miyaguchi and Danny Ryan from the Ethereum Foundation; crypto fund manager Mike Novogratz; VC Chris Burninske; ConsenSys founder, Joe Lubin; Microsoft's Yorke Rhodes and Amber Baldet, co-founder of dapp developer, Clovyr.
And some of the brain-expanding exercises include: a panel addressing blockchain and art, which features artist Kevin Abosch—famous for auctioning off an image of a potato for $1 million and printing crypto keys in his own blood; Queen Diambi Kabatusuila, of the Republic of Congo, on explaining blockchain in Africa; some auction booty, including an original CryptoKitty (last year's puss raised an impressive $140,000) and a rare "Boring Company" flamethrower (for more on that, see here,) as well as an abundance of swag.
And lest this sound like a commercial, here is a 20 percent discount code on tickets at the moment: DECRYPT20ES, which you can use here. (We'll provide another for the Coindesk event, if you keep reading.)
Consensus puts quality over quantity
If Ethereal strives to humanize the crypto conference, Coindesk's Consensus— which runs through May 13-15 —puts it on steroids. Or at least that was the result when 8,800 attendees (50 per cent were from outside N. America), descended on the event last year to catch luminaries such as Twitter's Jack Dorsey and musician Snoop Dogg.
Consensus has turned into the CES of crypto, and while this year's turnout is expected to be big, it'll likely be more modest than 2018. Coindesk's Managing Director of Global Events, Peter Bordes, said that around half the number of delegates as last year are forecast.
"It's a lot more difficult to attract as many attendees, due to the current state of the market," he said, adding that the focus this year was not so much on the numbers but on "enhancing the attendee experience."
To that end, Consensus is touting a new mobile app, and has partnered with software provider NFT.kred to offer "Consensus Digital Swag Bag." The virtual "swag bag" includes a lifetime pass, tickets to future events and non-fungible tokens (NFTs,) which are designed to represent something unique.
Sponsors can create them in "minutes," said Bordes. Examples include a redeemable wallet, an invitation to an exhibitor's lab or a 10 minute one-to-one with a top influencer, and they can be traded.
The NFT's are randomly assigned to participating attendees, creating value, driving traffic to sponsors' booths and utilising the technology in question, says Bordes.  
He added that Consensus now features three tracks: Business, markets and a revived developers track, to reflect on the increased focus on this area throughout the industry.
Over 250 speakers representing some of the industry's most prominent projects will be at Consensus, including: Perianne Boring, founder of the blockchain Chamber of Digital Commerce; Arthur Breitman co-founder of the Tezos blockchain: Jae Kwon, founder of Cosmos blockchain developer, Tendermint; Tushar Jain, partner at Multicoin Capital; Olaf Carlson-Wee, founder of Polychain Capital; Justin Sun, founder of the Tron blockchain and Ella Zhang, Head of Binance Labs.
Two imaginatively engineered fireside chats stand out. The first features British historian Niall Ferguson interviewing Brian Armstrong, CEO of leading exchange, Coinbase. And the second sees Bitcoin Core developer Jimmy Song in conversation with noted sci-fi novelist Ken Liu.
As promised, here's the Consensus discount code: $300 off any ticket is available to readers who register using the code C19Decrypt via this link.
Meanwhile, elsewhere at New York Blockchain Week
Around 20 additional events and 40 plus post-event parties are planned in New York and surroundings throughout the seven days when the state becomes the epicenter of the blockchain world. They include Fluidity, the Airswaps FinTech conference at Williamsburg Savings Bank, and AtomicSwaps, the inaugural conference by crypto publication, The Block.
But instead of 2018's frothy ''Blockchain Bro" antics and brazen token shilling, the industry is set to show a more serious face this spring, as crypto types dust off their ties and tees, ready to descend on New York. They'll find an industry diminished—by 2018 standards at least —but with plenty of life in it yet.