TRON continues to make its push for world blockchain domination, and it has zeroed-in on gaming as its trojan horse.
Fresh off displacing Ethereum as the "second best crypto project" in the eyes of the Chinese government (which TRON Foundation CEO Justin Sun will surely be rubbing in the face of arch nemesis Vitalik Buterin any minute now), TRON is poised to welcome the latest and greatest product of its $100 million TRON Arcade fund later today.
The game is HyperSnakes, a blockchain version of the massively popular and deviously addictive Slither.io. The game development studio behind it, MixMarvel, is calling it the first ever "global, real-time multiplayer blockchain game." But here's the real twist: the game is available to play for free, and yet players can still earn money by playing it—in the form of TRON's native cryptocurrency TRX.
What's more, players do not need to previously install a TRX wallet or deposit any funds to start playing and win tokens.
A real game changer
"The MixMarvel team has created a second-layer solution on top of the TRON blockchain that handles transactions before they are committed to the main chain," TRON VP of Business Roy Liu tells Decrypt. "If a player doesn't have a TRX wallet, they can log into the game with an email address or as a guest. The DApp will keep track of all the key information tied to the account funds, essentially just the participation rewards, if it's a player new to crypto/blockchain."
TRON is making a concerted effort to remove as many barriers to entry as is technologically possible. The game is built on HTML5, but it's still a blockchain game—so you can't go accessing it on a plain ol' Web2 browser. You'll need an extension, such as TronLink, to connect to the TRON blockchain—just like you'd use MetaMask to access Ethereum dapps. But that's it. The ordinary hoops of installing a wallet, buying BTC on an exchange, trading it for ETH, TRX, or whatever blockchain token the game uses, and then start playing—that's all out the window.
With HyperSnakes, players can start playing right away. After they've earned a few tokens, the game will instruct them how to create a TRX wallet through TronLink and transfer their winnings. "We believe this is the smoothest on-boarding process possible, where players can immediately get into the action and receive their first cryptocurrency in minutes," says Liu.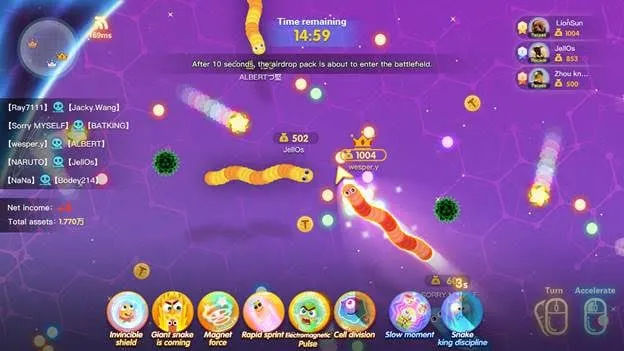 HyperSnakes is a new blockchain spin on a old classic
As for the game itself, HyperSnakes is a followup to last year's HyperDragons—a digital collectibles game that MixMarvel originally developed for the Ethereum blockchain. With HyperDragons, however, players still needed to own crypto to purchase non-fungible tokens (NFTs) within the game. The idea with HyperSnakes is that players will only need to make those decisions after they've started playing and—in theory—have already been hooked by the game's multiplayer, battle royale mechanics.
The gameplay in HyperSnakes mirrors its Web2 predecessor Slither.io: compete against other digital serpents in an arena by racing to collect glowing orbs and growing your snake avatar. HyperSnakes throws in a few wrinkles with things like shielding, EMPs and speed boosts—but the real magic is in the game's blockchain features. Besides earning crypto through "provably fair" gameplay, "skins and other items associated with the player's account are also recorded onto the blockchain," says TRON's VP—items which, presumably, can be purchased in-game with your crypto winnings.
Liu says TRON is expecting a big turnout with this latest title, "the first game of its kind on the blockchain." The beta goes live today, March 1, at 5pm PT, with a full release scheduled for mid-March. "We also expect [user-acquisition] campaigns following the official launch to infuse the community with more players from both crypto communities and mainstream gaming," he adds.
And mainstreaming is the name of the game.
Blockchain gaming and the search for the killer dapp
TRON is going hard on blockchain gaming, putting a lot of its chips in the development of crypto-based games in an effort to breakthrough to mainstream digital consumers. "Out of all the wonderful communities on the internet, gamers seem to be the most ready to adopt the blockchain," says Liu. Other online markets are only now, slowly, beginning to realize the downside of Web2-style centralization on platforms like Facebook or Google, but the "tension between the gaming community and industry stakeholders" has existed for years, the VP says.
"Integrating blockchain is an opportunity to establish a new paradigm. Players should be compensated for their time investment, rather than exploited," says Liu. "Every player that logs in and plays a couple of matches is contributing to a game's growth. Blockchain games, like HyperSnakes, recognize this and make a conscious choice to reward their communities."
But this isn't altruism either. There is a clear strategy at play. "Widespread adoption of blockchain [and] crypto among consumers is still a battle of education and usability," Liu says. Your average Instagram or YouTube user isn't likely to be lured in by decentralized alternatives just yet—the technology is still too new, too difficult to understand, and the use case isn't nearly as obvious.
Says Liu: "I have no doubt more users [will] eventually get there, but gamers are ready for a change now."
TRON gets it. But it isn't the only one that does.
Earlier this week, the China-based IOST launched its public blockchain mainnet, and, like TRON, it too is young, hungry, and understands the importance of making blockchain gaming a primary focus. IOST is led by Jimmy Zhong, a 24 year-old serial entrepreneur and veteran of two successful, multimillion dollar startups, who is intent on making IOST the biggest blockchain gaming network in the world by mid-year.
Both TRON and IOST have a heavy presence in Asia, a key market for the gaming industry, and one which could ultimately prove to be where the battle for mainstream crypto adoption is fought and won.
So how long before Jimmy Zhong and Justin Sun start beefing over avocados? Game on.