In brief
Bitcoin trades sideways as it awaits more stimulus from the FED.
The weakening of the US dollar has also led to uncertainty in BTC's short-term direction.
Stock markets are running out of steam while American politicians continue to debate a stimulus package.
Bitcoin's price continues to trade sideways as two factors weigh on the price's ability to break higher. The first is investor nerves and the second is the US economy. 
Investor sentiment around Bitcoin's price has been jittery. The glass ceiling forming around the $20,000 mark has been hardening in recent weeks, as pullbacks become more pronounced whenever BTC gets close. 
Looking at Bitcoin's price over the past month, peaks are followed quickly by drops. While it's managed to maintain a high valuation, it's been 15 days since it touched all-time highs. 
The reason? No one wants to be the person who bought an overvalued asset. According to the Mayer Multiple Chart - a measure of whether BTC is overbought or oversold - the trend has been that Bitcoin is slowly moving towards the latter. That means there's concern among investors.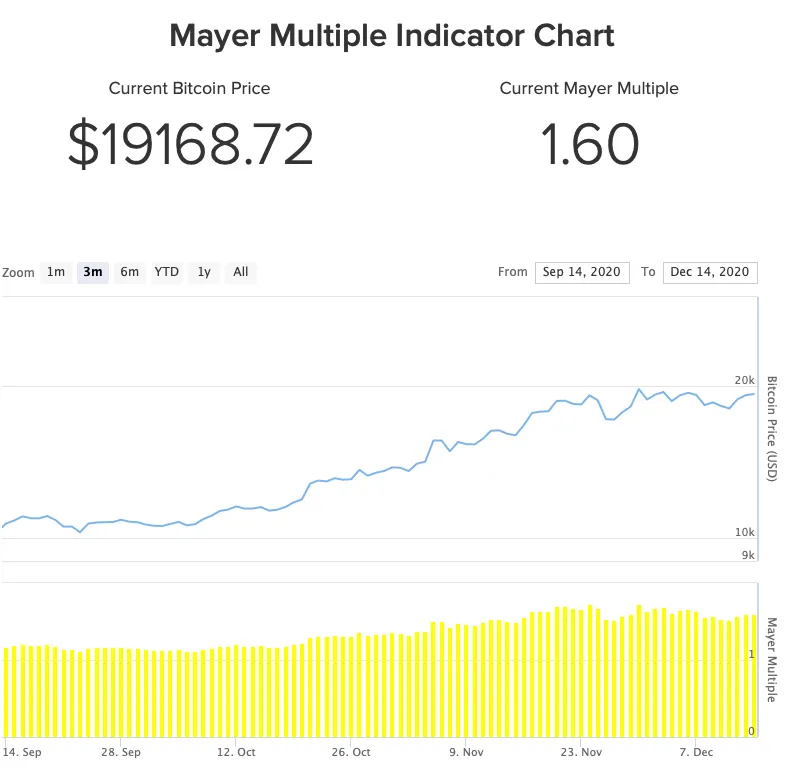 Bitcoin has no historical precedent, meaning it's impossible to really know how much it could be worth. So most investors rely on the previous price as an indicator. Sidenote: there are a lot of models that say Bitcoin's price can and will surpass this number long term, but the price is stubbornly staying inside historical markers, for now. 
On top of that, Bitcoin's utility as something more than an asset has remained largely flat in its decade long history. Whereas other networks, most notably Ethereum adds value through how it can be repurposed in different ways, like DeFi for example. Which leads us on to the second reason why this column believes Bitcoin's price is stuttering: the US economy. 
As we've discussed before, Bitcoin's price run this year came shortly after massive financial stimulus by the Federal Reserve. 
That did two things: it gave investors confidence in the broader market, which gave them an opportunity to add more exotic assets like Bitcoin to improve the performance of their portfolios. And it gave new investors an opportunity to speculate on an asset that's readily available. 
That helped Bitcoin go wild, but also brought it in competition with much, much, much bigger assets, like the US Dollar and gold. 
The greenback has been weakening this year - it's lost 10% against a basket of currencies since March. That's done two things: Bitcoin's biggest fiat trading partner is worth less than it was earlier in the year, and forex traders have been moving money out of the US dollar in search of better yields in countries whose economies - and therefore currencies - are recovering more quickly from COVID. 
All of which makes Bitcoin's short-term future hard to predict, meaning no one wants to get it wrong. 
Stock markets look to state aid as COVID deaths climb 
Stock markets too are looking closely at what US lawmakers decide how to tackle the ongoing COVID crisis. The S&P 500 barely broke even as the index saw four straight sessions of declines. The Dow has also experienced similar patterns. 
While stock markets in the US have hit record highs this year, that behaviour is built on the shoulders of a government prepared to do whatever it takes to keep the economy moving. 
But the Republicans and the Democrats have so far failed to come to an agreement on how much and to whom a new round of stimulus should go to. 
While talks appear to be progressing, the longer it takes for an agreement to form, the fewer tools companies and institutions have to keep people in work while COVID continues to ravage the economy. 
Yesterday, the United States passed the grim milestone of 300,000 COVID deaths. While vaccinations started in the country yesterday, the size and scale of a mass immunisation, not to mention growing mistrust of vaccinations, will mean it'll take months before life returns to normal. 
Goldman Sachs predicted that it'll take until April to immunise 50% of the U.S population, with states like New York looking like another full lockdown is likely to be put back into place, markets are going to need something if they're going to continue their record-breaking run.