At 8PM Friday, more than $3 million dollars in digital yuan was airdropped to 10 thousand residents of Suzhou, a city known for its exquisite Classical Gardens. The lucky ones now suddenly each had RMB 200, an equivalent of $30, in their wallets.
A key difference from the previous DCEP airdrops in Shenzhen, is that the Suzhou drop allows citizens to spend their windfall at both offline and online shops. This week's da bing looks at the continuous development of DCEP and more importantly, the online retail store that supports this roll out: JD Digits, the technology arm of the Beijing-based JD.com, one of China's biggest online retailers.
What is JD Digits?
JD.com is a peer of Alibaba; JD Digits is the equivalent of Alibaba's parent, the Ant Group. Both E-commerce companies have deeply penetrated people's everyday lives in China, and expanded from  pure consumer-facing services to technology building. Just like Ant Group is the Fintech arm of Alibaba, JD Digits powers JD.com's financial transactions backend. Like Ant Financial, it too has tested the blockchain waters by launching its own open-source blockchain, JD Chain. Finally, just like how Ant Chain is following the government's crumbs, JD Digits also chose the government as its best entry point through a partnership with Xiong An, the futuristic, "smart city" blossoming a scant 100 kilometers from Beijing.
Perhaps not coincidentally, both companies also faced cruel regulatory challenges during their IPO attempts. For Ant, its IPO was halted by the government after an almost-too-candid public speech by its founder Jack Ma criticizing China's increasingly tightened regulatory climate. JD Digits didn't do much better. Its planned IPO, which was supposed to happen on China's Nasdaq-like STAR Market in Shanghai, was also halted as the Chinese government again began to scrutinize the e-commerce giants' practice of online micro-lending.
Why JD Digits matters to DCEP
It's likely significant that JD Digits has become DCEP's first-ever integration partner. You could argue that though JD Digits' partnership with the government has yielded no real revenue, the signal the partnership sends could have long-term, beneficial rippling effects. Certainly, from a branding perspective, anointing JD.com as DCEP's partner gives it extremely valuable legitimacy.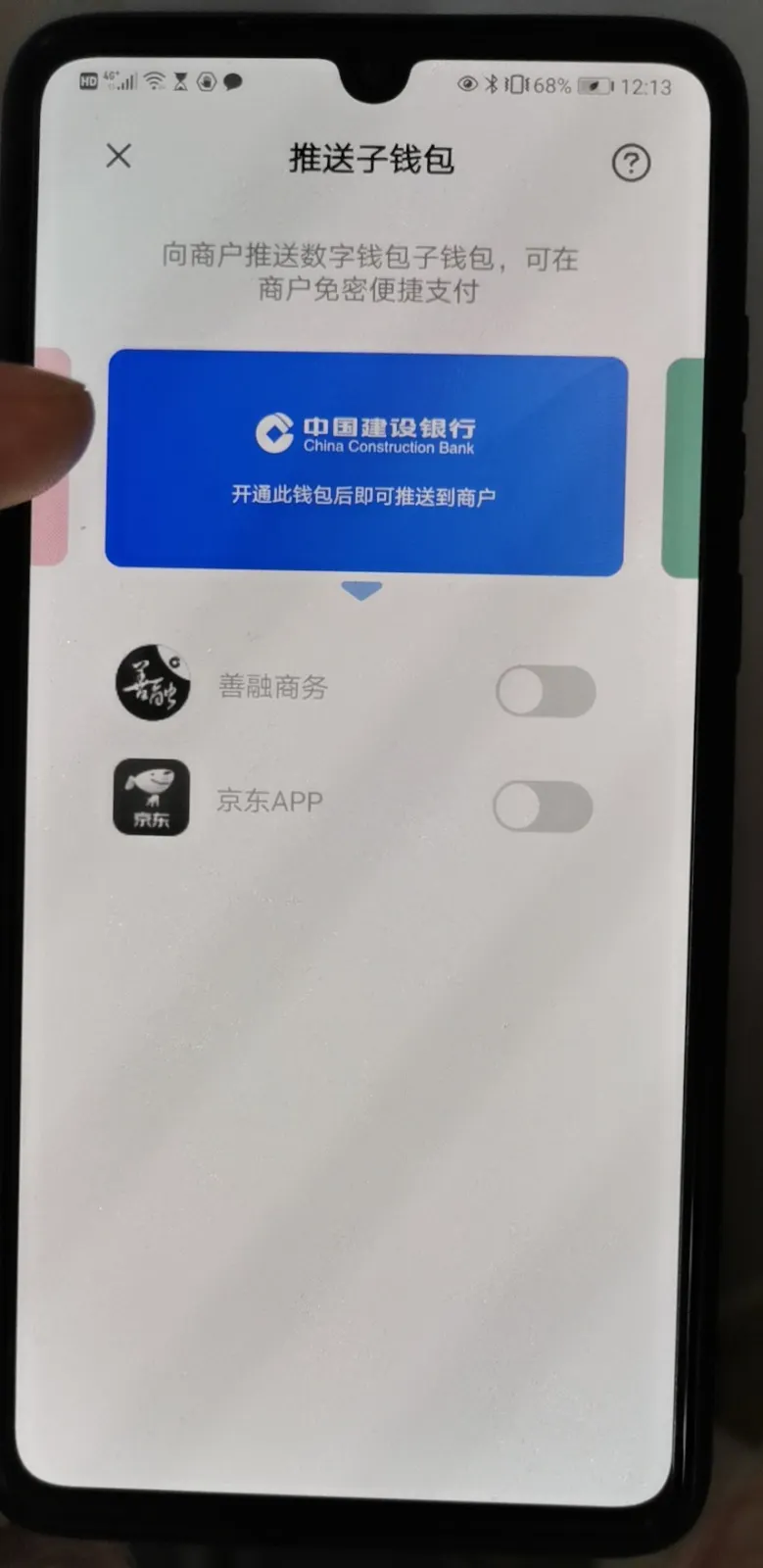 Beyond JD Digits' ascendent role, the airdrop also shows that major banks' digital apps are integral. The rollout mandates that in order to spend DCEP online, citizens have to connect their DCEP wallet with one of the six major bank's digital wallets. Once authorized, users can connect with their JD.com app which allows them to spend DCEP on JD.com.
Again, it's another way to increase the usage of banks' mobile apps, which have fallen behind as Fintech solutions such as Alipay (and JD Pay, powered by JD Digits) grew and took over the lion's share of the payment market share.
Going forward, we will likely see more cities rolling out DCEP. With each city's rollout, we might see new features such as connections to retirement accounts and social welfare programs being pushed out as well. Yet, despite the geographical expansion and growth, DCEP has not faced its real test. If DCEP isn't given away for free, will people still use the wallets they just downloaded?
It's a good question since so far, it's the free money, not the wallets' functionalities, that is getting people to participate. DCEP isn't better than the solutions it wants to replace; it's not even as good yet.
The government's invisible hand will have to push hard for the market to adopt a technology solution that's inferior to existing ones. Or make DCEP more innovative.
Three other big things that happened last week
1. DBS to launch a full-service digital exchange
DBS, Southeast Asia's largest bank based in Singapore, announced on Thursday that it will set up a DBS Digital Exchange that allows institutional investors and accredited investors to tap into the digital assets world. Specifically, DBS will open the floodgates of asset tokenization and secondary trading of digital assets, including crypto.
How is this news relevant to China? The truth is that Singapore has become a safe haven for Chinese crypto firms to escape to as China becomes more restricted. With more and more legitimate financial institutions migrate to Singapore's crypto ecosystem, the cycle will only continue. And that could hurt China's crypto ecosystem because once companies leave, it will be years before they return.
2. Huobi launched a new blockchain, called Heco
You knew it would only be a matter of time before Huobi announced its answer to the Binance Smart Chain (BSC). On Thursday, Huobi Global announced the launch of the test net of Huobi ECO Chain, a "decentralized" public blockchain that focuses on ecosystem development with high throughout. Using HPoS, a Huobi version of the PoS consensus mechanism, Huobi will start recruiting node operators in the coming weeks to get ready for a mainnet launch.
Compared to BSC's high-profile launch, Heco hardly made a splash. It's not clear how Huobi plans to use Heco either, though it's most likely geared for DeFi.
One thing is clear however: The chain boosts the value of HT, Huobi's native token. By using HT as a currency on Heco, HT becomes a more versatile currency that helps to sustain a higher price point. That should be the ultimate reason behind building Heco.
3. A boom in mining rigs manufacture
With crypto continuing to trade at healthy prices, mining rig producers are seeing encouraging changes on their balance sheets as well. According to Bitmain's website, its signature AntMiner series has already sold out for the next two quarters. Buyers will have to wait until May, 2021 for delivery of the next batch. If you didn't place an order early enough, you might miss out on some of the mining gains expected in the next 6 months.
If Bitcoin mining rigs are so hard to get, how about ETH mining rigs? It turns out that getting ETH mining rigs is equally elusive. Rumors have circulated that Bitmain's powerful E9 rig might be available for purchase, but so far, no actual products have entered the market. In addition, a few smaller mining-rig firms are in a rat race to design more powerful ETH mining rigs—all because of their bullish outlook on ETH price.
Do you know?
"辣鸡" means "spicy chicken." Since its pronunciation is very close to the word for "garbage," many Chinese crypto investors use it to refer to shitcoins that fail to get pumped. So instead of saying "shitcoin," which isn't the most civilized term, using "spicy chicken" adds better flavor.