In brief
Pseudonymous artist Cryptograffiti is auctioning a set of Bitcoin-themed prints.
An accompanying augmented reality app depicts the US dollar burning up and being replaced by the Bitcoin "banknote".
The highest bid currently stands at 0.5 BTC ($5,800); the proceeds will go towards a billboard campaign to promote Bitcoin.
Pseudonymous Bitcoin (BTC) activist artist Cryptograffiti has launched an auction for a set of signed crypto-themed prints, accompanied by an augmented reality (AR) application, according to a post on the BitcoinTalk forum.
The prints are based on his 2016 artwork "The United Nodes of Bitcoin," first exhibited at Digital Garage in San Francisco, and feature a reimagined US dollar with expressions such as "The United Nodes of Bitcoin," "No Federal Reserve" and "No Leader" written on them. 
A newly-developed augmented reality application by artist Josie Bellini, developed to accompany the artwork, depicts an animation of the US dollar the original US dollar burning away, revealing the new Bitcoin-themed "banknote" in its place.
What's the asking price?
At press time, the largest bid amounted to 0.5 BTC—or roughly $5,800.
There are a total of 21 signed artworks in the set, each numbered as "x/21," respectively. They include various Bitcoin references—like the aforementioned nod to Bitcoin's maximum supply limit of 21 million coins—with "some more obvious than others."
New art! 💵✂️

In 2016, I was invited to show @dg717sf. Over the 7 mos long exhibit, the piece most discussed was United Nodes. People gravitated to the reimagined dollar - an educational tool for those wandering in off Market St after seeing a "Bitcoin accepted here" sign... pic.twitter.com/rw5CcCAiWz

— cryptograffiti (@cryptograffiti) October 15, 2020
The proceeds of the auction will go towards promoting Bitcoin, the artist explained. "Proceeds will be earmarked toward billboards displaying the United Nodes artwork alongside timely messages about Bitcoin as an alternative to our broken financial system," stated Cryptograffiti, who added that the billboards would be displayed "in the impoverished neighborhoods of each of the 12 US Federal Reserve Bank cities."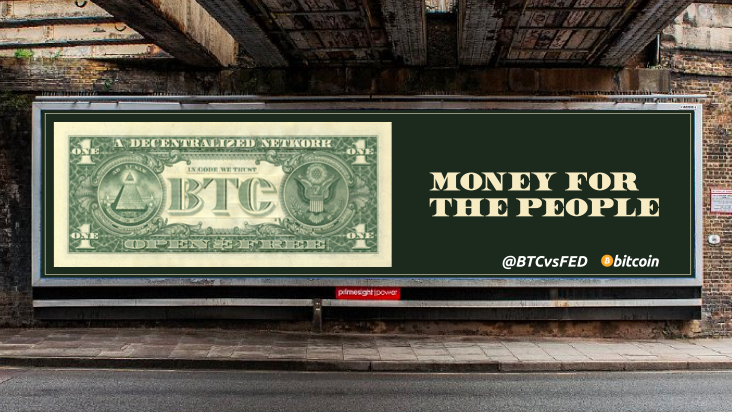 An accompanying @BTCvsFED social media handle will be used to promote the campaign across Twitter, Instagram and Facebook.
"I've done other art projects in impoverished areas," Cryptograffiti told Decrypt, adding that some responded that it was a wasted effort and people would immediately spend their Bitcoin for food. "To me, that's still a win as it gets them familiar with the technology and how to use it," he said. "I don't think steering clear of those who stand to benefit from it the greatest is the answer.  I'd like to see Bitcoin be a way of closing the wealth gaps growing increasingly larger due to central banking, not the opposite."
What's the inspiration for the artwork?
Cryptograffiti noted that learning about the Cantillon Effect—the concept of relative inflation where fresh injections of money basically lead to the rich becoming richer and the poor becoming poorer—was an "an eye-opening moment."
"[This was] on full display during this pandemic. In the past seven months alone, billionaire wealth is up 28%. As the wealth gap grows by the day, I think it's imperative the less fortunate learn about Bitcoin as soon as possible," Cryptograffiti noted.
The auction will end on October 22. Apart from the winning bid, Cryptograffiti will release the remaining prints via a newsletter for their starting price of 0.17 BTC ($1,980 currently).
Bitcoin and cryptocurrency have been making inroads into the art world in recent months. Earlier this month, a massive Bitcoin artwork billed as a "portrait" of Bitcoin creator Satoshi Nakamoto sold at New York auction house Christie's for $131,250. And in July 2020, British digital artist Terry Flaxton debuted his first tokenized work "Under Every Desert a Sea," on digital platform MakersPlace.