The legendary crypto artist Pak today released "Terminus," a collection of five early works, via MakersPlace, a blockchain-based marketplace for rare art.
Pak is one of the foremost rare digital artists in the crypto art space, a burgeoning sector within a sector, which is seeing a boom in 2020—with platforms such as SuperRare selling over $2.375 million worth of works to date. 
Computers have long been used to make unique images and videos, but with Ethereum and its ERC721 token standard, digital artists have found a new way to make money from their artwork's scarcity—as well as its aesthetic appeal. 
And few other artists have been more successful in selling their artwork on Ethereum than Pak. 
At least part of the appeal is down to the mystery which surrounds the pseudo-anonymous artist, who may not even be a real person but a collective or even an AI constructed by a team of engineers.
Since Pak's first piece, Cloud Monument Dark, was sold in February this year, the rare and controversial artworks have earned Pak more than $300,000. Alpha, Pak's most valuable artwork to date was sold for 55.555 ETH in July, to the Museum of Crypto Art. At the time, this was equal to $15,370. Now it's over $21,000. 
Most recently, Reboot Ginevra, which is based on the portrait of Ginevra de' Benci by Leonardo da Vinci sold for 25 ETH ($9,500.) 
Unsurprisingly, the release today, of five early digital Pak artworks, is much anticipated. The auction, which begins at 1 pm PST, marks Pak's gallery debut on MakersPlace.
Undream, and Archillect
Terminus, the collection of five early works coming up for auction,  features contrasting forms, textures, and bold monochromatism. 
Each piece is centered around a different geometric form, which serves as an anchor and focal point, creating a dynamic relationship with the environment around it through the interplay of shadow, light, line, and space.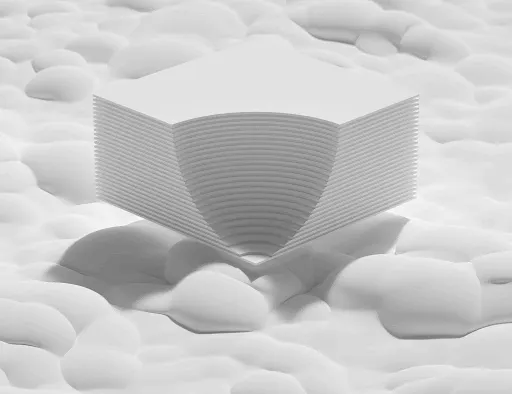 "Pak's highly coveted, and sometimes controversial works, stimulate conversations around value and perception of art, bridges gaps between the worlds of crypto art and traditional fine art, and highlights the immense potential and opportunity of the rare digital art market as a whole," Dannie Chu, CEO of MakersPlace, told Decrypt.
As well as digital crypto art, the mysterious artist is founder, and lead designer of the internationally acclaimed Undream studio and the AI-curator Archillect, which collects and shares stimulating visions with two million followers on Twitter.
In a recent interview published by Medium publication Control, Pak revealed that he/she/it/they had been creating digital art for over 25 years, and has worked with hundreds of major brands and studios, but is/are relatively new to crypto art (who isn't?).
In the interview, Pak also discussed the substantial challenges faced by digital artists in the crypto space when trying to achieve recognition. "You can't expect someone to be loud about a history book unless you give them the page they deserve," said Pak.
Rare digital art is cozying up to Decentralized Finance
And there are already indications of how the crypto digital art market may evolve. 
Rarible, a marketplace which allows users to create, buy, and sell digital collectibles, in the form of non-fungible tokens (NFTs,) launched a governance token (RARI) along with a liquidity mining program in mid-July.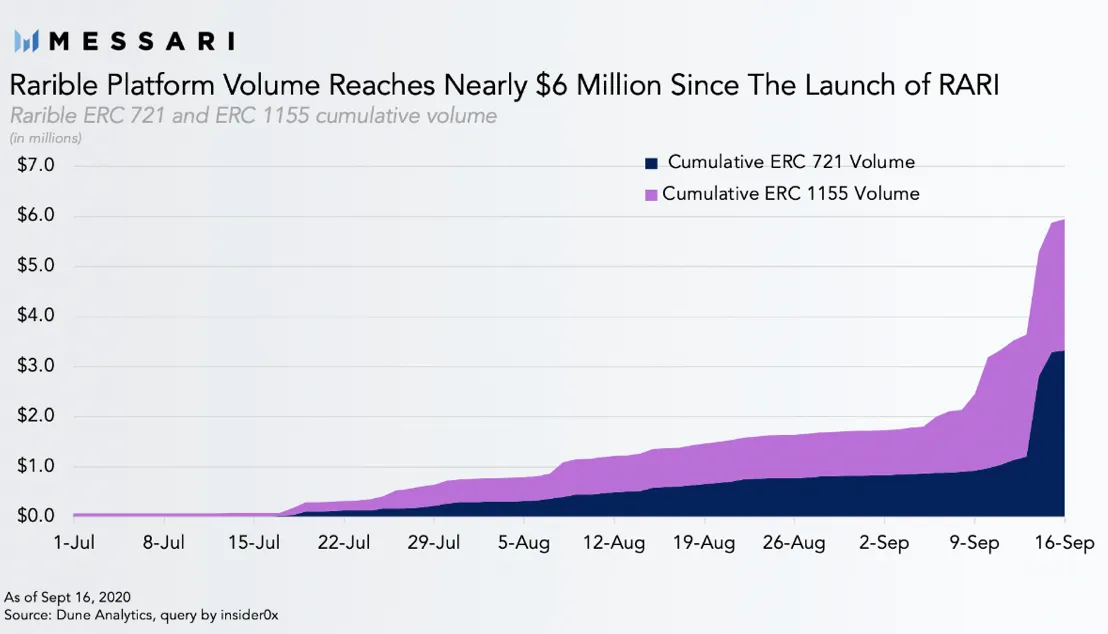 Crypto data provider Messari founder Ryan Selkis wrote in a newsletter earlier this week that Rarible demonstrates that the market for NFTs goes beyond artwork.
"NFTs have the potential to make intellectual property liquid," he said. "The rights to everything from music, podcasts, videos, and more could one day be tokenized and traded on marketplaces like Rarible. Thus, having a stake in the dominant NFT marketplace could be valuable."
According to Messari, the platform has seen its volume go from almost nothing in July to over $6 million.