In brief
The Global Crypto Adoption Index from Chainalysis shows Venezuela, Russia, and Ukraine lead the world in crypto adoption.
The only developed economies in the top 10 are China and the US.
Three African countries made the top 10.
If cryptocurrency adoption is making any headway in breaking into mainstream economies, it isn't necessarily the world's economic superpowers that are leading the way.
According to a new report from blockchain research firm Chainalysis, of the 10 nations where cryptocurrency use is highest, only two are even developed economies: China and the United States.
The research firm developed a new methodology, the Global Crypto Adoption Index, to measure cryptocurrency activity among ordinary citizens around the world. "The intention is to highlight the countries where the most residents have moved the biggest share of their financial activity to cryptocurrency," Chainalysis wrote in a blog post.
"While trading and speculation are important to the cryptocurrency economy, we wanted our index to emphasize grassroots adoption by everyday users," it said.
The firm's Global Crypto Adoption Index accounts for each country's population and the size of its economy when assessing four metrics: on-chain cryptocurrency valued received, on-chain retail value transferred, number of on-chain crypto deposits, and exchange trade volume.
Of the 154 countries that the firm analyzed, it found that Ukraine, Russia, and Venezuela lead the world in terms of crypto adoption. Rounding out the top 10 are China, Kenya, the United States, South Africa, Nigeria, Colombia, and Vietnam.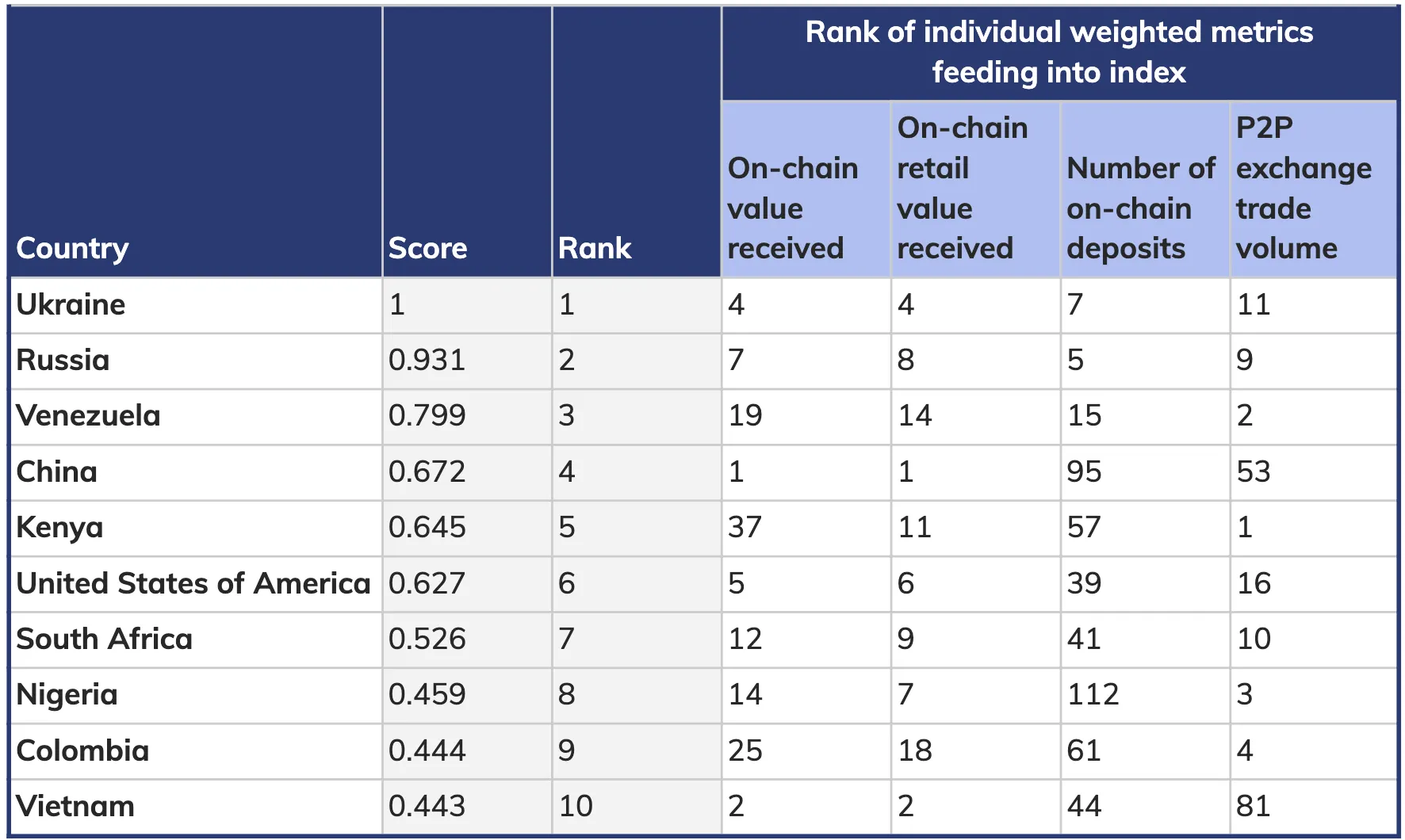 The firm's data lines up with that of independent researcher Matt Ahlborg, founder of Bitcoin analytics site Useful Tulips. Ahlborg had previously noted that Africa and Latin America are currently showing huge growth in interest in cryptocurrencies such Bitcoin.
Venezuela, Colombia lead crypto adoption in Latin America
In Latin America, for instance, it is Venezuela and Colombia that currently lead the way in terms of Bitcoin trading volume, according to data from Useful Tulips, as well as crypto adoption as defined by Chainalysis.
Venezuela, in particular, attracted Chainalysis' attention since current geopolitical conditions make it an almost perfect "case study" for the ecosystem: "Venezuela represents an excellent example of what drives cryptocurrency adoption in developing countries and how citizens use it to mitigate economic instability," the firm wrote.
"Our data shows that Venezuelans use cryptocurrency more when the country's native fiat currency is losing value to inflation," the report reads, "suggesting that Venezuelans turn to cryptocurrency to preserve savings they may otherwise lose."
Colombia, meanwhile, ranks ninth in the world in crypto adoption despite strict regulations that govern the industry in the country and act as a bottleneck for wider acceptance.
Lawmakers in Colombia, however, are actively working to make the country more "Bitcoin friendly," attempting to ease regulations that limit trading and other activities. The rising number of Bitcoin ATMs and payment fintechs in Colombia may also be a signal to foreign investors, developers, and entrepreneurs that the region is primed for a crypto boom.