Robby Greenfield, CEO of Emerging Impact and Isaiah Jackson, author of the book, Bitcoin and Black America spoke today about how Bitcoin and DeFi are reshaping access to money. The two were featured during the inaugural Etheral Sessions virtual conference.
Greenfield led off with a presentation of his company and how Emerging Impact is helping spread crypto adoption to marginalized communities. The business takes a methodological approach to mapping the capabilities of technology to the needs of marginalized communities. He said the goal is to do so in a manner that does no harm, maximizes community participation, and sustainably provides economic empowerment and social protection.
"Too often we find B2C apps—particularly in the blockchain space—that do not really give users from different backgrounds who aren't tech literate, that ability to empower themselves," Greenfield said. "DeFi is a huge part of this movement. But a lot of DeFi apps don't interface with marginalized communities at all."
Greenfield said that in the future, he sees DeFi evolving beyond straight-up finance into "Environmental DeFi or environmental finance in the blockchain space."
"You don't see any protocols like Compound for the support of environmental commodities like carbon offsets and energy certificates," he added. "This could completely transform how commercial finance and environmental finance cross communicate via exchanges. Imagine being able to use tokenized carbon offsets as collateral to offset a loan. Taking something that created benefit in the world and using it to access capital."
The next segment featured Bitcoin and Black America author Isaiah Jackson, who said he began contemplating the relationship between Bitcoin and economic inequality after the Ferguson, Missouri protests of 2014. "I really thought after the Ferguson protest, Bitcoin might be able to solve this, because financially, every time we have a protest, there is no solution at the end of it," Jackson said. "I started writing the book in 2019 because I thought something like this—a rise in protests—would happen again. I wanted to write it for 2020 because I knew something would happen."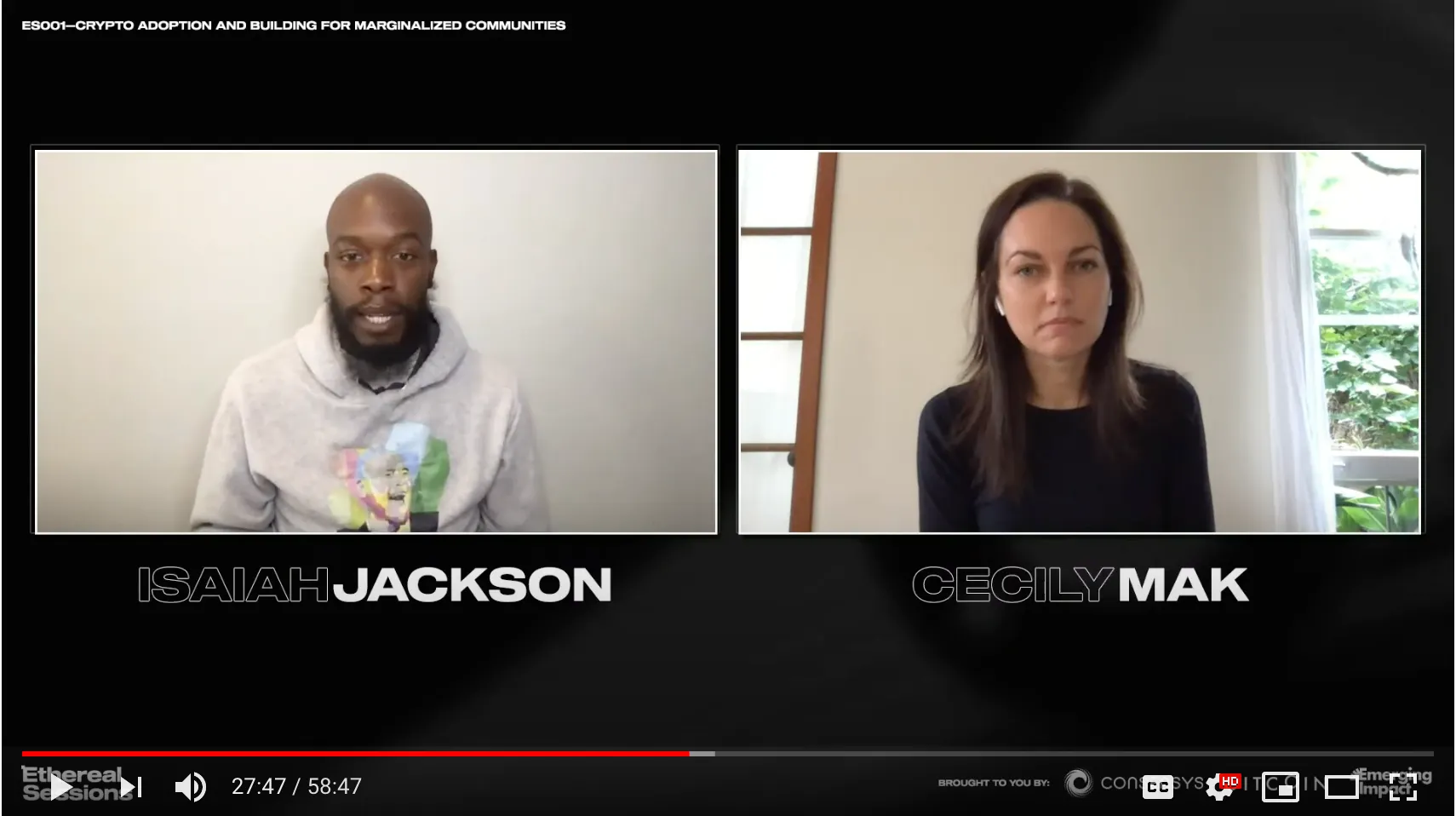 Jackson said that "Black people have tried everything, from getting jobs, to getting into politics, to becoming President of the United States. But that didn't work, so I began looking for a better solution, and that's what drove me to write the book."
During the interview, Jackson laid out the key takeaways from his work. "Even though the book is directed towards my community, the one thing I want people to walk away with is: the inflation-based economy we live in under the Fed doesn't work for anyone. So even if you're not black, everyone is getting messed over by the Fed. Even if you feel like you are doing okay, you should have more. In regards to those who are marginalized, the printing of money and inflation-based economy we have takes wealth out of your hands and the hands of your future generations."
Said Jackson: "Crypto does not solve racism but it gives communities leverage financially so that it makes racism very costly and inefficient."
The next Ethereal Sessions event, on yield farming and bootstrapping liquidity, is July 16.