Nitro Nation World Tour is a new car-racing mobile game from Blankos Block Party and NFL Rivals developer Mythical Games. Mythical developed this newest installment in the car-racing series with the support of CM Games, maker of the first Nitro Nation game released back in 2014, but has added optional NFTs.
In our review, we dive into the iOS and Android game's features—and whether it's worth the free download, let alone paying for NFTs.
Nitro Nation World Tour (NNWT) offers four primary game modes: Festival, Ghost Races, PVP Duels, and Divisions. Festival mode takes you through a series of drag races, from the lowest "D" tier to highest "S" tier, with each win granting gamers points and various currencies like the game's non-crypto "Coins," which can be used to upgrade your car parts in a virtual garage. At the end of each tier, you'll gain about enough coins to unlock a higher-tier car for free.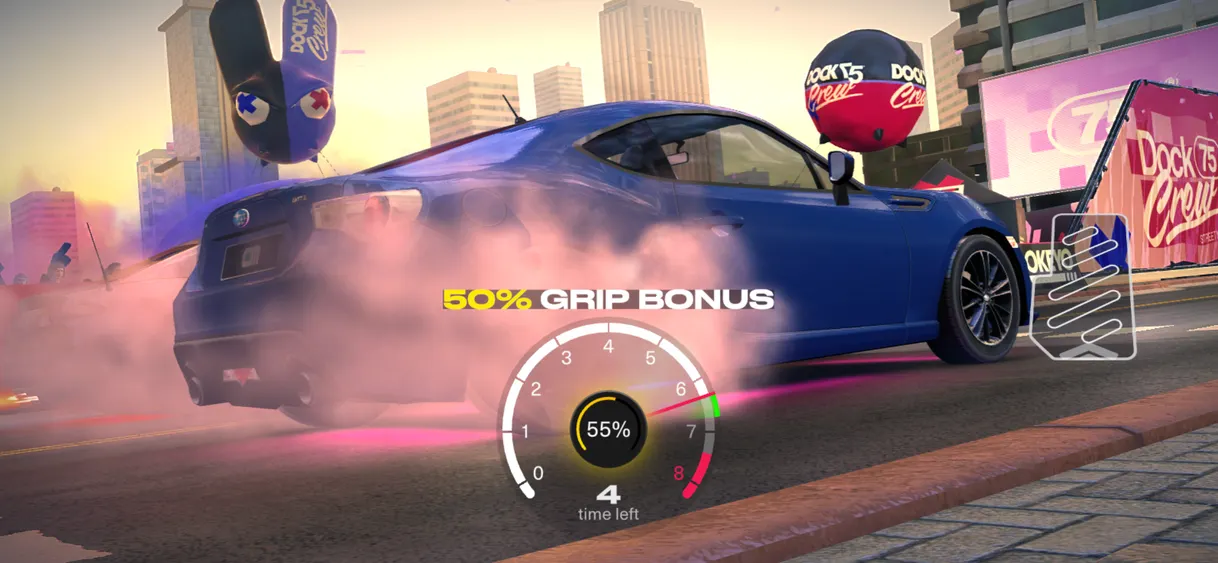 While the drag races in Festival and Ghost mode only last a few seconds apiece, they can be fun if you like racing games that don't necessarily require your full attention. The gas pedal only appears before the race starts—and pressing on it within a certain range will grant you a percentage of additional "grip" benefits in the race that immediately follows. 
During the races, there are no gas or brake pedals—all you have to do is tap on the gear shift button when the on-screen dial reaches a green zone. Once you upgrade your "Nitro," an additional button will appear during races, allowing you to give your car a nitro boost. I was hoping for more controls to play with during races, as a gearshift button and a nitro button doesn't feel like enough to keep my attention for long.
Much of the fun of NNWT is actually not in the drag races themselves, but in the car collecting and upgrading process, which takes time and costs money for those seeking to build out truly impressive collections. For context, I started NNWT with the free Subaru BRZ "D-tier" starter car. I then purchased a B-tier Mazda for $5 worth of fiat currency via in-app purchase—that same car currently costs $9-13 worth of crypto if you want to buy it as an NFT on Mythical's marketplace.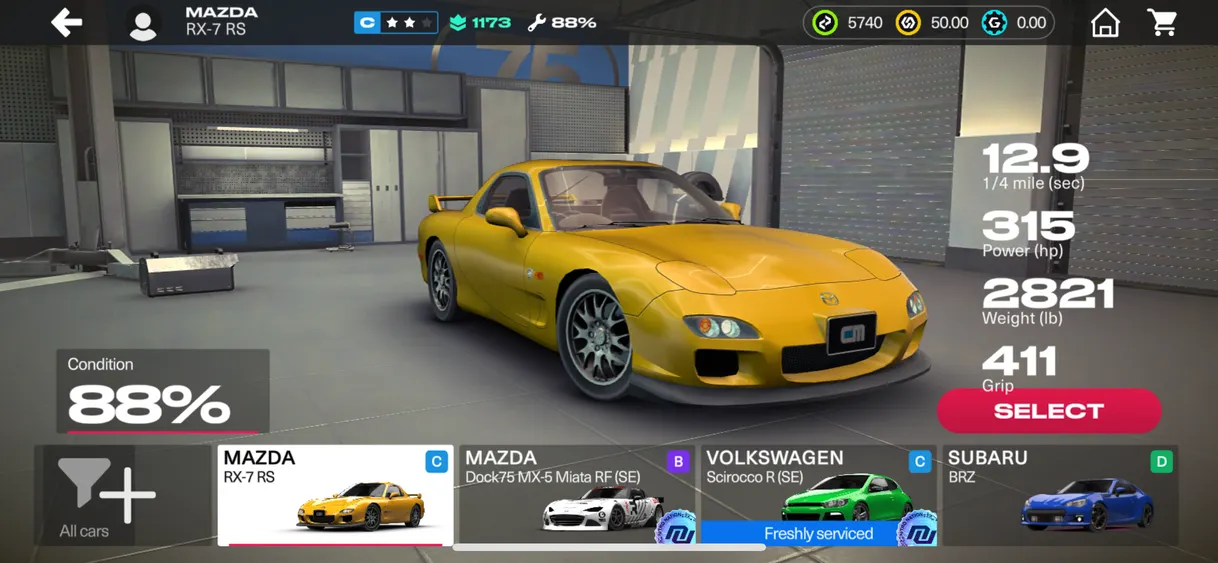 In NNWT, you'll have to win races to earn resources to upgrade each car's five main components in the game: Engine, Drivetrain, Weight, Tires, and N2O (Nitro). There's plenty of stats to examine here, but not too much to customize from a mechanical standpoint. Cars can be aesthetically customized, though, with paint colors in virtually any shade you can imagine as well as the option for custom neon lighting, smoke, and body kit modifications. 
For casual players, you can mindlessly upgrade each part and progress through the game without too much hassle. That said, upgrades do take time to take effect (it'll cost you to skip the waiting time, unfortunately), so this game rewards a mix of idle and active gameplay.
It's a bit frustrating that all other game modes are locked until you complete numerous repetitive "Festival" drag races in the "D" tier, however. Some players may find this forced repetition to feel like a grind, while others might enjoy the lower-stakes, predictable gameplay with the reward of a "free" car at the end.
In order to succeed in the "Ghost Races" mode, you will have to grind out matches in Festival mode for some time, spam upgrades on your D-tier car, or buy or unlock a higher-tier car to be even slightly competitive. I faced some issues with the PVP mode, including a server timeout and queue times of over one minute, but found the matchmaking to be generally fair.
NNWT isn't much of a skill-based game because the player controls are limited, so the race's outcome is virtually predetermined based on who has the most tricked-out car.
Are Nitro Nation NFTs worth it?
This Nitro Nation game is completely free to play, but offers optional car and garage NFTs for those looking to buy their way to the top quickly. At time of writing, Mythical's Marketplace offers vehicles ranging in price from about $3 worth of Mythical's MYTH token to over $59,000, enough to buy a pretty nice real-life car.
Any NFT costing more than about $60 for this game feels overpriced, though, given the simplistic gameplay. At time of writing, the average price for an A-tier or S-tier car ranges from about $40 to $100 worth of MYTH.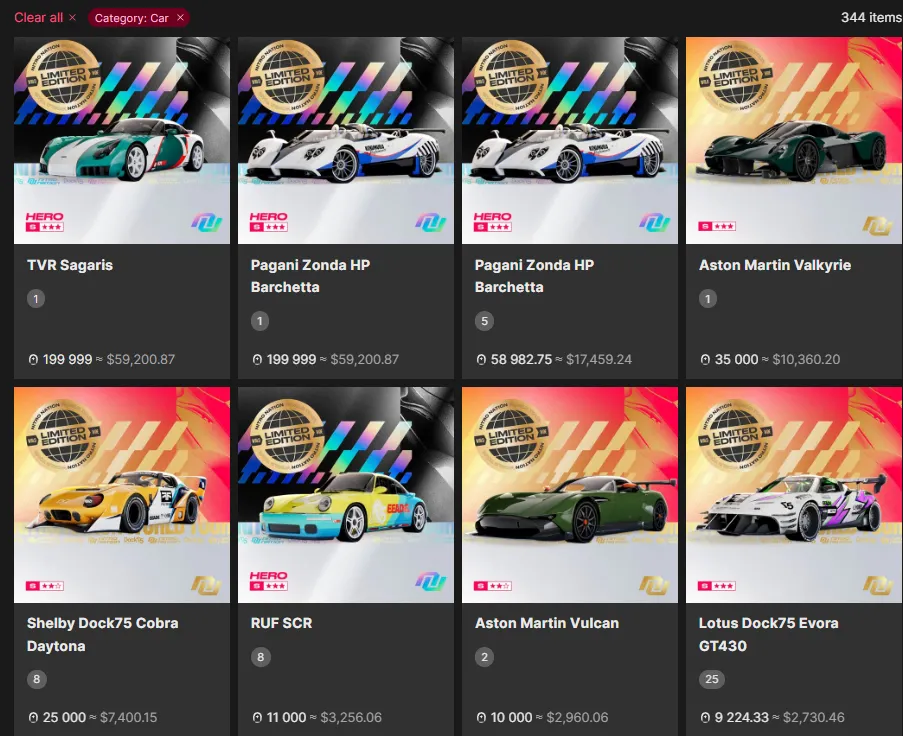 I bought a C-tier Volkswagen NFT for about $10 online via the Mythical Marketplace to test out the process, and was disappointed that there weren't more car NFTs for sale under $20—most are over $30-40 each. Buying online was seamless, though, and I purchased the NFT with a credit card. I didn't need the MYTH token or a crypto wallet, and the NFT was automatically added to my game.
Mythical's NFT marketplace has a number of different types of in-game "shops" that gamers can buy as NFTs, which provide players with additional benefits and different visuals for upgrades than the free version. Overall, the cheaper car NFTs might be worth it for some gamers that love collecting digital items.
Cars in NNWT generally seem more affordable when purchased through the app's in-game shop with fiat currency, but selection is limited. Cars purchased in-app aren't NFTs until you connect your Mythical account and decide to sell them online. Players can buy cars in-app for $5 or $20, for example. 
In its free-to-play form, NNWT is a great game for bored kids who like cars, actually, as well as for teenagers looking for something to do during breaks between classes. For adult gamers with money to blow, NNWT is a low-key game for a train commute or something to pass the time during commercial breaks while watching a TV show or sports game.
Overall, NNWT has sharp graphics for a mobile game as well as some cool electronic-rap music that plays in the background of game menus, but it's lacking some narrative depth and more versatile game modes. That said, fans of drag-racing games and customizable digital collectibles will find something to enjoy in its free version—and have plenty of features to explore and races to win before deciding whether to purchase a vehicle with cash or crypto.
Nitro Nation World Tour feels like a car-collecting and customizing game first, and a racing game second. It's more a low-stakes game to play in those idle life moments than it is an all-consuming or addictive mobile game—but the cost of a top-tier NFT is probably better spent toward a real-life car.