The tokenization trend is gaining momentum.
A Dune dashboard shows that the niche now boasts a market capitalization of more than $220 million across the six projects measured.
Tokenization refers to issuing financial securities, like stocks and bonds, on the blockchain.
Firms like Matrixport, Backed Finance, Ondo, and Franklin Templeton have all created ERC-20 tokens, representing government bonds or exchange-traded funds (ETFs)stock.
Last month, for example, Franklin Templeton tapped Polygon to host a tokenized version of its Nasdaq-listed OnChain U.S. Government Money Fund (FOBXX). Elsewhere, Backed Finance launched a tokenized version of Coinbase's stock on Ethereum.
Per the same Dune dashboard, the collection of firms in the niche has issued tokenized securities on Ethereum, Polygon, and Gnosis Chain. The majority of activity is, however, occurring on Ethereum.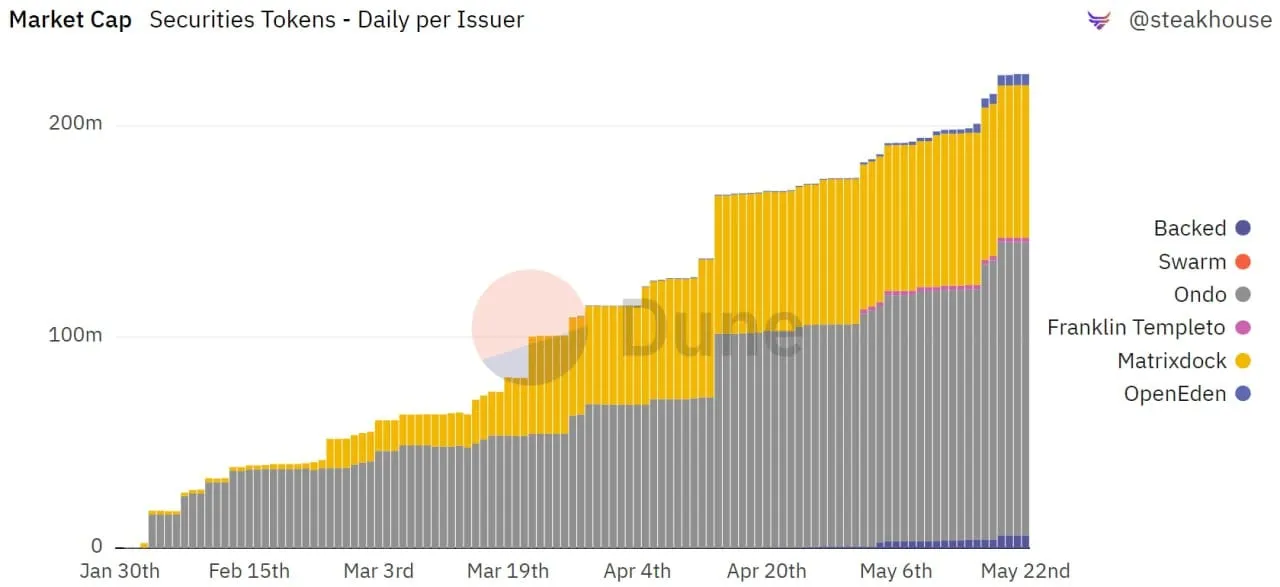 Ondo and MatrixDock dominate the market with 61.4% and 32.1% share, with mostly short-term U.S. government bonds, which currently yield 4% to 5% due to the hike in benchmark interest rates by the Federal Reserve.
Both Ondo and MatrixDock provide tokenized securities on U.S. government bonds providing a suite of digital asset management tools, trading services, and financial products.
"From our conversations with the biggest DAOs, crypto treasuries, and venture capital funds, we can see that demand for tokenized securities, especially U.S. Treasuries will gain huge momentum this year," OpenEden co-founder Eugene Ng told Decrypt.
Ondo also offers a lending service called Flux, allowing users to put their ERC-20 securities token as collateral. So far, users have added bonds worth $41.2 million as collateral.
Backed Finance's tokenized fixed-income bonds are also accepted as collateral on DeFi protocols like Angle and Ribbon Finance.
Besides issuing U.S. Treasury Bills, the Swiss-based firm also launched its own ERC-20 version of BlockRock's ETF of over 400 companies in the S&P 500 index.
Backed Finance's head of marketing Kit Popplestone told Decrypt that the "interoperability between tokenized assets and DeFi platforms unlocks significant opportunities for new products and makes lending more efficient."
Tokenization trend on the rise
BlackRock's CEO Larry Fink believes that tokenization of securities will form "the next generation for markets."
Fink noted in a New York event last year that tokenized securities provide advantages such as instantaneous settlement, reduced fees, and simple integration in BlackRock's business model.
Citi Bank analysts shared similar opinions in a March 2023 report, noting that central bank digital currencies—called CBDCs—and tokenization would drive adoption.
While blockchain technology shows promise of innovation with tokenized securities, regulatory clarity has restricted growth and adoption.
"To continue this rapid growth, we need regulatory clarity and consistency, and just as importantly, tokens must be interoperable and composable with DeFi," said Popplestone.
Nevertheless, he added that as the global interest in central bank digital currencies and on-chain assets rises, the demand for tokenized securities "is only going to increase."