New research shows that there is a link between celebrity endorsement of a crypto project and the likelihood of it being a scam.
The research titled "The Effect of Celebrity Endorsements on Crypto" conducted by two former SEC economists—Joshua T. White and Sean Wilkoff—investigated the effects of celebrities boosting various ICOs.
They found that "celebrity-endorsed ICOs are associated with a 23-26 percentage point increase in scams through September 2019 and a 39-40 percentage point increase in fraudulent ICOs through April 2023."
This "suggestive evidence" points to a "red flag for investors," the researchers wrote.
The research examined the behavior of 21 celebrities from 2016 to 2018, including Floyd Mayweather, Snoop Dogg, Paris Hilton, and Lionel Messi.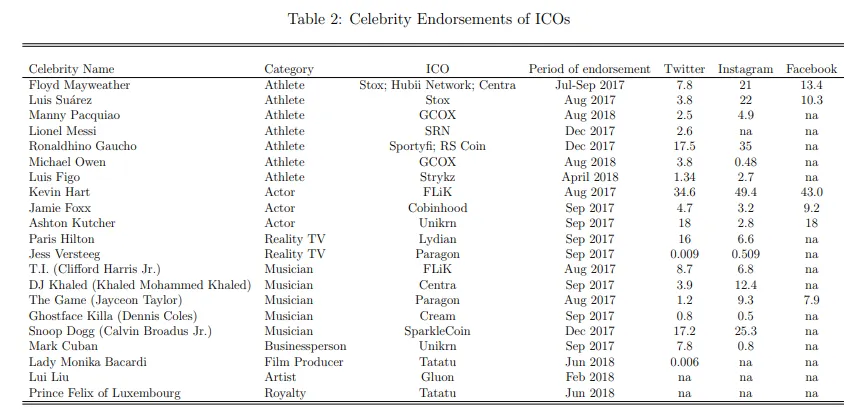 "We assumed that celebrities could boost the visibility of cryptocurrency given their social media reach and lead to a fear of missing out (FOMO)," Joshua T. White told Decrypt via email. "Given the novelty of blockchain and crypto, we were unsure if celebrities would have expertise to identify credible projects [or] management team to understand the legal risks of touting a particular coin without disclosing compensation."
Another key finding was that celebrity endorsements are more likely to be a scam when the celebrities profession does not match the ICO product, per the researchers' sample.
However, when a celebrity's profession matches the ICO product–such as a soccer player endorsing an ICO that will fund a blockchain-based sports gambling website–it is less likely to be a scam.
"This shows that when celebrities understand the use case of the token, they seem to be more diligent or have a better understanding of the product they are endorsing," White told Decrypt. "An analogy would be a soccer player endorsing cleats versus a soccer player endorsing shampoo. They probably have a better understanding of the cleats they are endorsing than the chemicals in the shampoo."
In the research conclusion, they highlight the need for both investors and celebrities to better understand the risks that come with cryptocurrencies and to conduct due diligence before endorsing a digital asset.
"If a token's creator resorts to celebrity promotion, it could be an indicator of subpar quality, possibly an attempt to divert attention from it with the help of celebrity glamor," White told Decrypt.
Celeb-backed ICOs rake in the cash
Focusing solely on ICOs, or initial coin offerings, the research also found that celebrity endorsements increase the amount of money raised as well as the likelihood of the token being added to an exchange.
"We were not surprised that celebrities boosted the visibility of a coin or crypto project but were surprised at the magnitude of their effect," White said. "Their involvement was linked to 53% greater capital raised at the ICO, which equates to about $9 million more for the token issuers in our sample."
Interestingly, celebrity-endorsed tokens were also 37% less likely to have a pre-sale. Many projects instead opted to replace a pre-sale with celebrity endorsement. This also meant, however, that investors lost key information and quality price signals that pre-sales often generate, the researchers said.
That said, Wilkoff explained, "not all endorsed ICOs are scams, and not all scams are celebrity-endorsed."
"Taylor Swift was offered a deal to endorse FTX but declined after doing her research on it," Wilkoff said. "Celebrities should conduct due diligence and research any cryptocurrency-related digital asset or exchange before endorsing it and investors should not just blindly trust a celebrity endorsement."