From ransomware payments demanded in cryptocurrencies to state actors using digital assets to circumvent sanctions and other restrictions, the Department of Justice (DOJ) is raising the alert that crypto is expanding into every area the agency is exploring.
"We are seeing cryptocurrency and digital assets really touch every aspect of criminal activity we investigate," stated the DOJ's director of National Cryptocurrency Enforcement Team (NCET), Eun Young Choi at a recent conference hosted by the Financial Times.
With representatives from the Department of Justice in the U.S., the National Police in the U.K. and the private sector, the panel titled "Can law enforcement protect consumers from crypto scammers?" aimed at addressing current issues plaguing the industry.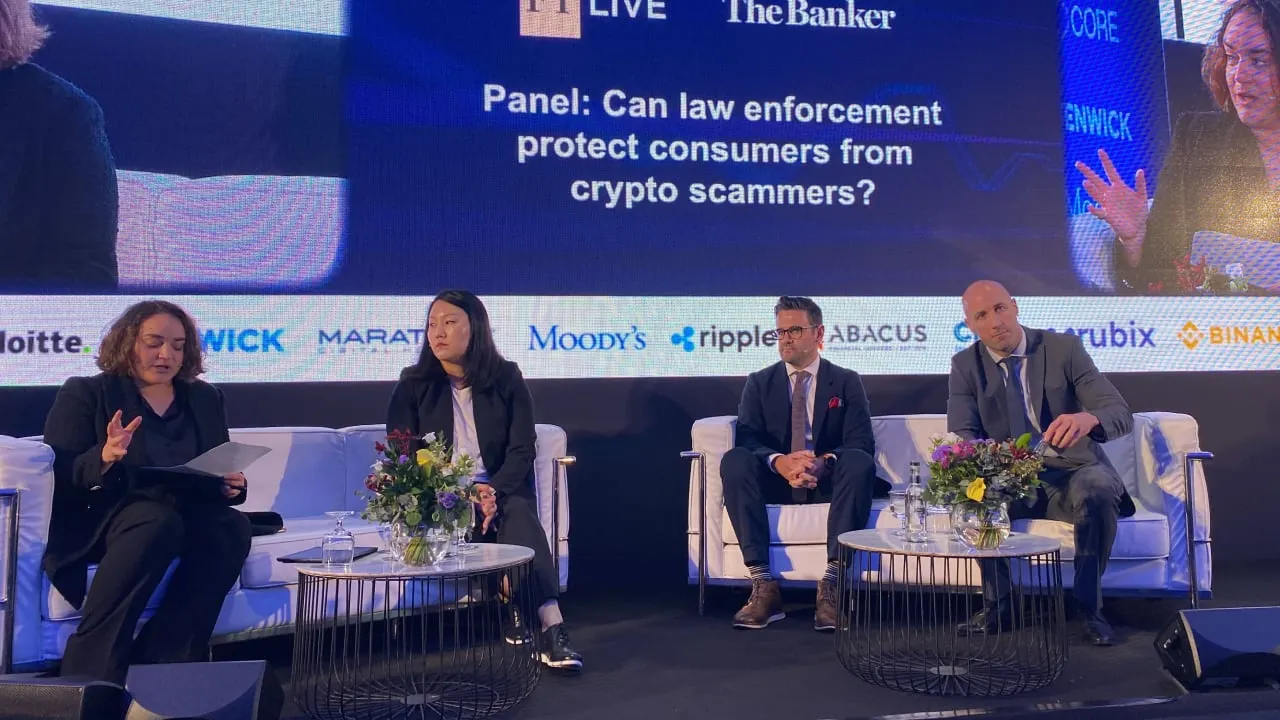 Acknowledging that the DOJ has had a team investigating cybercrime for many years now, Choi said the agency has seen a tremendous increase in crypto related crime over the past several years.
Looking to gauge the perspective from the other side of the Atlantic, Phil McInerney, Detective Chief Inspector at the National Police Chief's Council (NPCC) in the UK told the panel "ransomware particularly was a key threat to the UK."
Both government law enforcement officials stated that cryptocurrency-related crime required a different approach and mindset.
"There are a few challenges," stated Choi. She added: "By its very nature the technology is built in order to not rely on intermediaries, cross-border transactions that are immutable and irreversible. Law enforcement can freeze conventional transactions, but they can't do that with digital asset transactions."
According to the DOJ, the agency looked at the problem posed by exchanges, and certain platforms like tumblers or mixers, which obfuscate the sender and receiver of a transaction. Choi said the department believes the biggest risks come from those that do not invest in proper risk management or compliance.
McInerney, from the UK, believes that public-private cooperation will be critical for reducing crypto related crime.
Aidan Larkin, founder and CEO of Asset Reality, also appeared on the panel. His company focuses on providing law enforcement agencies with the tools to properly recover stolen assets. He said he's optimistic about the present and future for public-private partnerships, even if the borderless nature of crypto assets makes criminal investigations much more difficult.
A common issue the three panelists come across is the level of reporting, or lack thereof, done by victims. They urged the public to inform authorities on any sort of criminal activity, regardless of the size of the damage.
Closing off the panel, the DOJ's Choi told the panel they were also interested in investigating the increased use of decentralized platforms, given they allow for circumventing authorities.
Choi ended by stating: "I think there will be a growth of criminal activity in that area."