Watch out, Polygon and Ava Labs—game developer Sky Mavis is building a Web3 gaming empire on its Ronin blockchain.
Sky Mavis, the studio behind the breakout first-generation Web3 game Axie Infinity, is expanding beyond its flagship title. The firm is growing the Ronin ecosystem and working with four game studios: Directive Games, Bali Games, Tribes Studio, and Bowled.io, each of whom is now developing its own games leveraging Axie's Ronin network. 
"This announcement marks a new transition," Sky Mavis Cofounder Jeffrey "Jiho" Zirlin told Decrypt in an interview at the Game Developers' Conference in San Francisco. 
"We're able to move into this new age where there are multiple strong IPs and amazing gaming experiences on top of the Ronin platform, which I think will also supercharge the Axie community and the Axie IP in the long run," Zirlin added. 
Zirlin sees Axie as just the beginning of the Ronin gaming ecosystem and believes Axie can expand beyond its first game into an expansive IP portfolio like Nintendo's Mario or Sanrio's Hello Kitty.
"Mario would have never gotten as large as it did without the assistance of complementary IPs, right?" he asked. "Donkey Kong, Zelda, [and] Pokemon joining the Nintendo family really helped write that core." 
Sky Mavis' Director of Business Development Kathleen Osgood told Decrypt about the company's curatorial strategy.
"Over the last year at Sky Mavis, we worked really hard to determine our next partners to build on our blockchain," Osgood said. "Our strategy isn't to bring everyone on our blockchain and partner with them. It's to really find the right ones to build this new paradigm of Web3 gaming." 
Notably, many of Ronin's new games won't be connected to Axie at all. The studios they've selected are building across a variety of game genres and platforms, from competitive shooters to mobile games and hardcore strategy titles. But Axie fans won't be disappointed either, as Bali Games, the studio behind the Anipang mobile game, plans to build new puzzle games on Ronin using Axie characters and lore. 
Tribes is building an open-world MMO on Ronin called Tribesters: Island of Solas, and Bowled.io offers sports games and is first focusing on cricket. 
More Than Machines
Out of the four studios now building on Ronin, Directive Games is moving fastest. The studio is developing a number of titles, but its first Ronin game, The Machines Arena, is a 4v4 competitive multiplayer shooter where players fight each other in sci-fi environments as either tank characters, supports, or damage-dealing heroes. The game has a top-down perspective and will offer both multiplayer and solo-player modes.  
Machines Arena is currently in beta on PC with a planned launch on the Epic Games Store. Directive also has cross-platform plans for Machines Arena, with a mobile launch on iOS and Android on the horizon.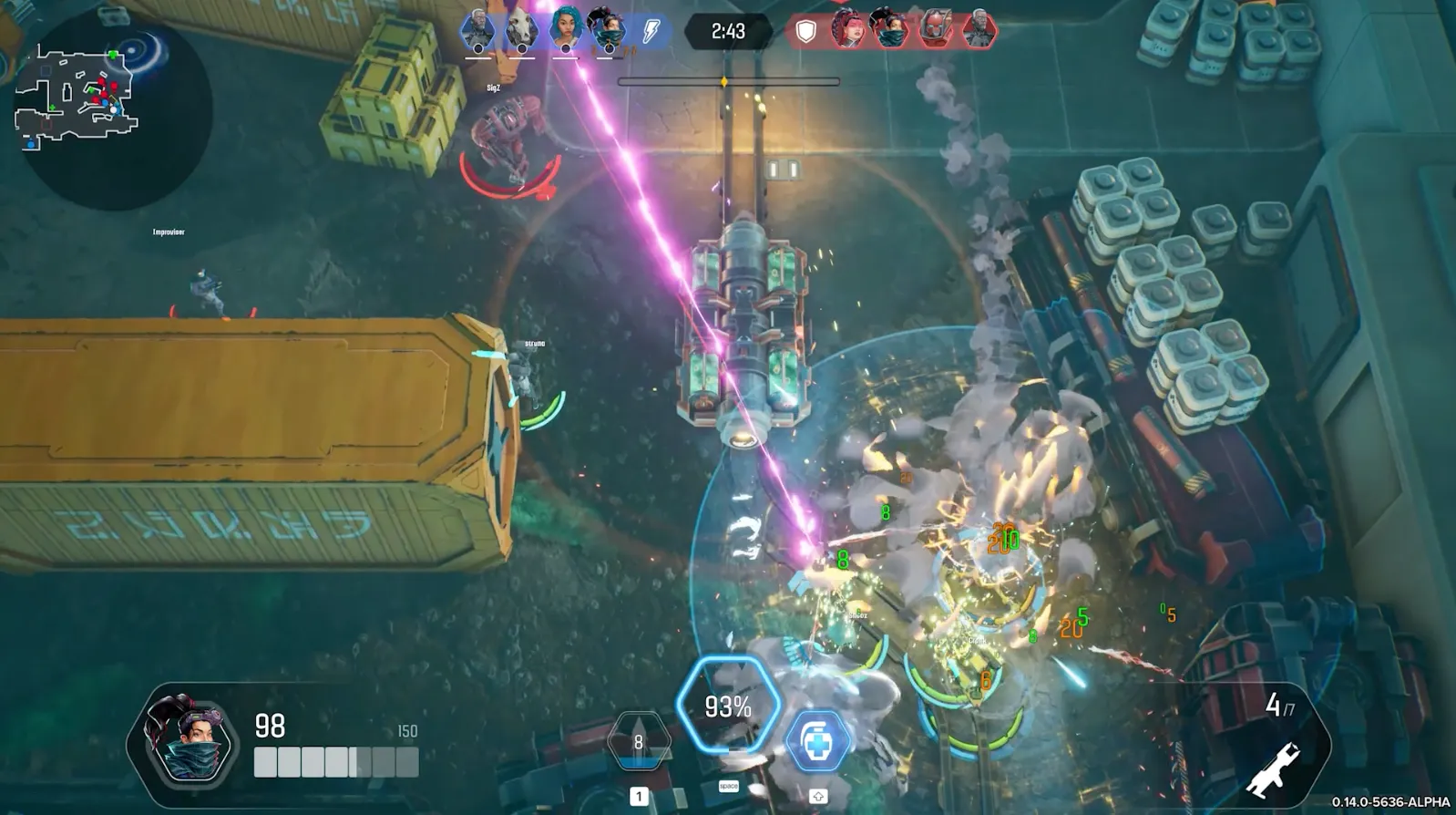 Directive's Chief Product Officer Kent Byers told Decrypt in an interview about the studio's subtle approach to Web3 gaming.
"They can jump in a game. They don't have to think about tokens or NFTs," Byers said of his vision for Machines Arena players. "They can just get into it, enjoy, start having fun, progress, rank [up], destroy other players. And at the same time they'll find out they're getting rewarded with great assets."
On first glance, Machines Arena appears to offer team-based gameplay similar to a shooter like Blizzard's Overwatch, where players have to work together to take out the enemy team on a variety of maps.
While the game is called Machines Arena, the game actually focuses on human and cyborg characters and is building out a transmedia world with comic books and other types of content beyond the game.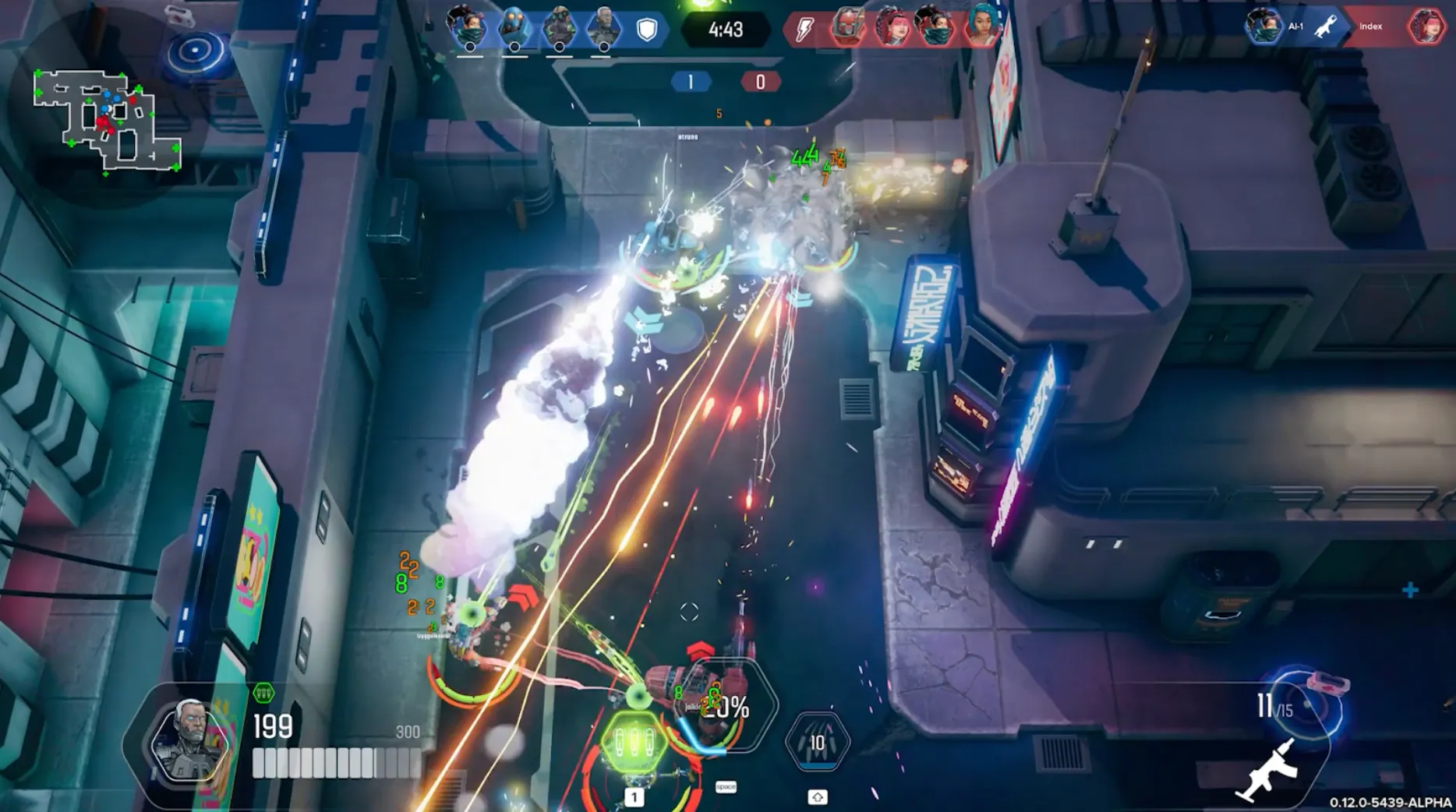 "We understood that if we wanted to get into certain markets, if everything was a robot, it actually limits us," Byers said. "We want [some] characters that are just human and some are cyborgs and people you can identify with. And we have characters in it that come from different nationalities, even though it's based in a fantasy world." 
Directive Games is also working on a 4X Strategy MMO called Civitas, but Byers explained that the title is still very much in its early stages of development. 
Byers told Decrypt that the reason Directive Games chose to build on Ronin is because the Sky Mavis team is much more than "just the chain."
"They're also game developers and gamers," Byers said. "They've gone through troubles, they've overcome it, came out stronger, they're continuing forward."
Web3 Gaming Misconceptions
Sky Mavis Cofounder and COO Aleksander Leonard Larsen told Decrypt that a narrative has been shaped around Web3 gaming that isn't entirely fair.
"A lot of people get lost because they see all the money, even what happened to Axie, where you see the narrative is suddenly being captured in some totally different direction," Larsen said.
"It's not about the money aspect here. It's about actually owning the stuff that you do in your digital spaces," he added.
Sky Mavis' three cofounders Zirlin, Larsen, and Trung Nguyen are all longtime gamers themselves and have been passionate about gaming long before they developed Axie Infinity. 
Zirlin told Decrypt that he previously played tons of Diablo 2 and World of Warcraft (WoW), and Larsen said he previously played Dota and Warcraft 3 competitively for his home country of Norway. 
"Gamers are quite used to transacting with digital currencies," Zirlin said. "You basically had this precursor to Bitcoin, this form of gold, which was this kind of store of value within the Diablo ecosystem that facilitated trade between players."
But Zirlin argued that Web3 and networks like Ronin are a solution to the video games industry's "gray markets" problem.
"I remember meeting with someone in person at a food court with my mom when I was 11 to facilitate the trade of my WoW account," Zirlin recalled. "There was no way to do it trustlessly over the internet."
Larsen argued that the traditional gaming space is often exploiting its users, citing the soccer game FIFA as an example.
"Developers are taking advantage of them every single day," Larsen said of the traditional gaming experience. "You keep buying the same characters over and over. Basically, the developers are milking the players all day long."
In Web3, Sky Mavis' cofounders want to bring player ownership mainstream—and continue to build out its Axie brand while also offering other types of games to prospective players. And despite suffering from a massive $622 million hack a year ago, Sky Mavis believes Ronin is a solid foundation for a gaming ecosystem. The Ronin network has also been converted to Delegated Proof of Stake, meaning that anyone with at least 250,000 RON tokens can now lock them up to validate transactions on the chain. 
While other game studios are developing on networks like Polygon, Avalanche, and ImmutableX, to name a few, Ronin is still very much in the game.