Comparisons to Bernie Madoff are not quite right.
But there are some similarities between the man who's become synonymous with financial crime and FTX founder Sam Bankman-Fried, says a former Securities Exchange Commission attorney.
"Madoff was the chairman of Nasdaq, and he created the first electronic exchange in the United States. Probably, when Madoff started off, I'm sure his intentions were good," Elliot Lutzker, chair and partner at Davidoff Hutcher & Citron, told Decrypt.
The same could perhaps be said of Bankman-Fried, says Lutzker. "Maybe the first year his intentions were good, but right now, everything about him is just common criminal."
The sudden reveal of Bankman-Fried as a "common criminal" is striking—so much so that he was the only clear contender for Decrypt Person of the Year, because of how large he loomed in the industry throughout all of 2022. 
How it started
Bankman-Fried got his start in 2013 as an intern at proprietary trading firm Jane Street Capital, a prestigious first gig for the Massachusetts Institute of Technology student. He graduated in 2014 and worked there full-time until 2017, focusing on exchange-traded funds.
After a short stint at the Centre for Effective Altruism, he founded his own trading desk: Alameda Research. It was critical in generating what would become Bankman-Fried's $26 billion fortune and reinforcing his image as a thoughtful, in-it-for-the-ideas, crypto savant. The trading desk gained acclaim for arbitrage trades that took advantage of the "Kimchi premium," or the fact that Bitcoin often sells for more on Korean exchanges than it can be purchased for on U.S. exchanges.
In early 2019, Bankman-Fried was ready to grow his empire, founding international crypto exchange FTX.com in Hong Kong before he moved headquarters to the Bahamas. Up until its collapse, he spent millions on marketing putting his face on the sides of buildings, inking spokesperson deals with NFL quarterback Tom Brady, actor Larry David, and entrepreneur Kevin O'Leary. He spent lavishly on political donations and courting lawmakers.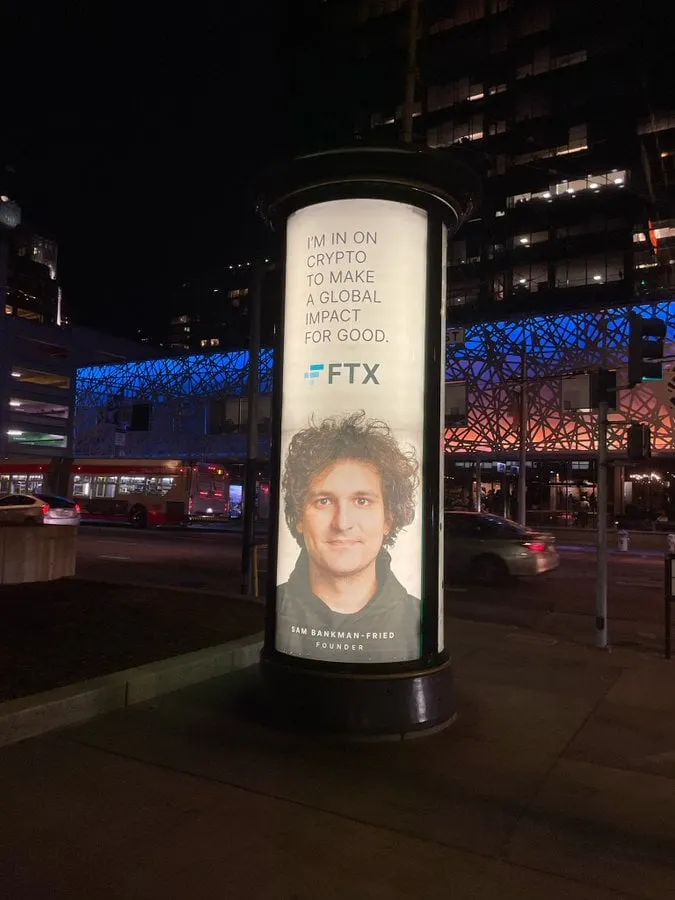 Through it all, he regularly offered up sage-like takes on the market in Twitter threads.
So it was a Shakespearean level twist that on December 12, a month after FTX filed for Chapter 11 bankruptcy protection and Bankman-Fried resigned, Bahamian police arrested him. As of this writing, he's being held in a Bahamian prison pending extradition to the U.S. to face criminal charges of conspiracy, money laundering, and fraud—as well as civil charges from the SEC and CFTC.
"The quirk, the thing that's really something, is that real crooks that aren't in the public and don't speak out loud or anything—they don't register with the SEC or as a broker-dealer to cover 1% or 2% of their assets when 98 or 99% is offshore," Lutzker said. "When you're trying to be under the radar, you don't want to register with the SEC or be testifying in Congress. I mean, he was out there. It's surprising it took this long for it to implode."
How it's going
A huge portion of the chatter, memes, and speculation on social media in the wake of Bankman-Fried's fall from grace comes from people who didn't know him or have a vested interest in his companies. It's telling who doesn't want to talk about the FTX CEO since his arrest. 
Multicoin Capital, an Austin, TX-based venture capital firm that had as much as $9 billion under management in April, participated in FTX's $1 billion Series B round in July 2021, when the company had an $18 billion valuation. In November, the firm, which also led the $20 million investment round in Solana back in 2019, published a lengthy letter (shared on Twitter by pseudonymous trader Soldman Gachs) detailing its exposure to FTX's collapse. 
But when asked for a comment by Decrypt, the firm declined.
Crypto policy think tank Coin Center's director of communications Neeraj Agrawal shared his personal thoughts about Bankman-Fried on Twitter, writing on Monday that U.S. officials were "protecting him by charging him with every possible financial crime all at the same time," sarcastically playing off the conspiracy theories that officials have been coddling him. But he told Decrypt the organization had no official comment on the matter.
Thoma Bravo, founded by billionaire chief executive Orlando Bravo, did not respond to a request for comment on the founder of what it once called "the most cutting-edge, sophisticated cryptocurrency exchange in the world."
There was no answer from early FTX investor and oftentimes rival Binance. The other holdouts include: Early investor Lightspeed Venture Partners; otherwise vocal critic Rep. Maxine Waters (D-CA); and Sen. John Boozman (R-AR), who co-sponsored the Digital Commodities Consumer Protection Act (DCCPA) of which Bankman-Fried was so fond.
For what it's worth, Decrypt was in the process of scheduling its own interview with Bankman-Fried right before he was arrested. Instead, it seemed timely to go through unpublished portions of a 2021 interview when he was being named Founder of the Year, and shared that FTX had increased its headcount faster than he anticipated.
"The thing that drives our company is the actual work, not the management of it. The management can be a really good multiplier on some of that," he said during a December 2021 interview. "But the single most important thing is the actual individual work and we don't want to push management as a form of prestige at the expense of people doing what they're good at and what ultimately brings value to the company."
In the midst of almost every major crypto firm laying off employees or implementing hiring freezes in the wake of Terra's collapse in May, Bankman-Fried wrote on Twitter that FTX has "10% as many employees as others, but when it comes to output, I would take on any of them."
11) We have 10% as many employees as others, but when it comes to output, I would take on any of them.

We built FTX, originally, with two developers. Having 25 today allows us to scale.

Never underestimate what each developer can get done in the right environment.

— SBF (@SBF_FTX) June 6, 2022
He even bragged that some of the developers he hired, "were rejected by another employer" and "now produce more than that company's whole team."
At the time, it sounded like a corporate culture that valued individual contributors over team leads and other forms of middle management. But now it seems to have contributed to what new FTX CEO John Ray III coined the company's "paperless bankruptcy," during a House Financial Services Committee hearing on December 13.
Ray has called FTX leadership, including and especially Bankman-Fried, "grossly inexperienced and unsophisticated."
Effective lobbyist
Bankman-Fried didn't let his inexperience get in the way of anything, really.
Since 2021, he has spent millions on political donations. But he wasn't content to leave it at that—he'd become a regular fixture in D.C., hosting breakfasts for lawmakers and showing up at events to hold court on the crypto industry.
While talking to Decrypt about what it was like operating around Bankman-Fried's foray into lobbying, Blockchain Association Executive Director Kristin Smith was deliberate: FTX was never part of the crypto lobbying group.
"Obviously, Sam personally spent a lot of time in Washington and had a pretty aggressive strategy that, quite frankly, was very different from the way the rest of the industry was approaching things," she said. "And so, you know, from my perspective, it's a little bit of a silver lining that we don't have to deal with him on a regular basis anymore."
Because FTX wasn't officially part of the Blockchain Association, Smith wasn't always in the room when Bankman-Fried was building influence in D.C.—hosting breakfasts with senators, going to happy hour with congressional staffers, setting up one-on-one meetings with individual senators. But she does know that a common theme emerged.
"There was a situation when a group of lobbyists and advocates were meeting to have a strategy session, and he showed up in the middle of that and basically spoke for 45 minutes at us and then left," Smith said. "And so I think my understanding is that a lot of the conversations were sort of one-sided. But at the same time, I think people were very interested in Sam. They thought he was approachable."
Bankman-Fried's brand of approachability veered into something of a spectacle. He famously slept on bean bags in FTX's office and seldom joined calls without simultaneously playing a P.C. game, like League of Legends, spinning coins or shuffling a deck of cards.
Tolerance for his quirks evaporated after FTX. Listeners gave him flak for playing video games during a Twitter Space just hours before he was arrested. 
SBF admitted he is playing video games while on Twitter Spaces right now.

So many people lost so much in his FTX scam, and he is playing video games in the Bahamas while he gives out half-baked answers to some of the most important questions people have.

— Benjamin Cowen (@intocryptoverse) December 12, 2022
Through it all, Bankman-Fried's Stanford University law professor parents have been in the wings to help advocate on his behalf and guide him. A recent New York Times report called Joseph Bankman a paid FTX employee who frequently flew to the company's Bahamas headquarters. Ms. Fried, who built a political advocacy network, accepted donations from her son.
His brother was instrumental in guiding his philanthropic efforts, running the Guarding Against Pandemics lobbying group that he funded. Bankman-Fried also founded the FTX Future and Building a Strong Future funds, both of which have lost their management teams since FTX collapsed.
Besides his family, Bankman-Fried kept a tight inner circle that filled the leadership roles at his companies. For a while, nine friends-turned-executives lived with him in his $30 million Bahamas penthouse. The inner-circle included Nishad Singh, former FTX director of engineering, and Alameda and FTX co-founder Gary Wang. It also included former Alameda Research CEO Caroline Ellison and FTX Digital Chairman Ryan Salame, both of whom are rumored to have been cooperating with authorities since the company's collapse. Ellison and Bankman-Fried were at times romantically involved.
Last year, Singh spoke to Decrypt about the qualities that initially drew him to Bankman-Fried, who convinced him to leave a job at Facebook to join Alameda Research and then FTX. In hindsight, Singh seems to be describing what drew the entire industry to Bankman-Fried before the illusion shattered.
"The parts of him that were there at the time were his sort of undoubtable brilliance, his hyper quantitative reasoning, and his ability to sort of see reality clearly, numerically. And I think that was a really appealing thing for me to see at the time," he said.
During the 2021 interview, Singh went on to describe Bankman-Fried's Excel wizardry and intense attention to detail. 
It all now stands in stark and damning contrast to his more recent insistence in interviews that he didn't knowingly commingle funds, didn't know Alameda Research was borrowing FTX client funds at such a dramatic scale, and just golly-gee-whiz had no idea what was going on at this own companies.