There's a new decentralized exchange joining DeFi. 
After rolling out a whitelisted service for traders on Ethereum over the summer, Bebop is launching on Polygon for all users. 
Though the platform is backed by Wintermute, an institutional-grade market maker in the decentralized finance space, Bebop will be aimed at attracting newcomers to the sector. It's hoping to do this through a few key features. 
First, the exchange's interface is simple, offering users just a few buttons. There are no yield-earning options, and users cannot provide liquidity. That's because Bebop isn't an automated market maker (AMM) like Uniswap or SushiSwap. 
"Bebop sources liquidity via professional market making and will in the future aggregate more types of liquidity, potentially including AMMs," Bebop's head of product Katia Banina told Decrypt.
An AMM lets users earn money by providing liquidity on specific token pairs. This incentive exists so that traders who may want to swap between these two pairs enjoy deep liquidity and limited slippage. Instead of this arrangement, market makers will fill the role to ensure trades are smoothly executed.
"Bebop has access to over 60 liquidity platforms through Wintermute, which currently provides liquidity on the platform. Bebop is planning to connect with more liquidity providers in its upcoming releases," said the spokesperson.
Second, as well as a slick interface, Bebop is also touting zero slippage on the platform. This term refers to the difference in price between an order and the actual execution price. Sometimes, if liquidity is low for a specific token, buy and sell orders can add volatility to a token's price, something that can even occur within the few seconds between when an order is placed and when the tokens arrive in a user's wallet. 
"As a zero slippage platform offering full fee transparency, we are always looking for ways to deliver efficient execution," said Banina. "By DeFi standards, Polygon fees are negligible, which is paramount for delivering this efficiency to all users, for any transaction size."
Finally, Bebop's most unique offerings are "one-to-many" and "many-to-one" trades.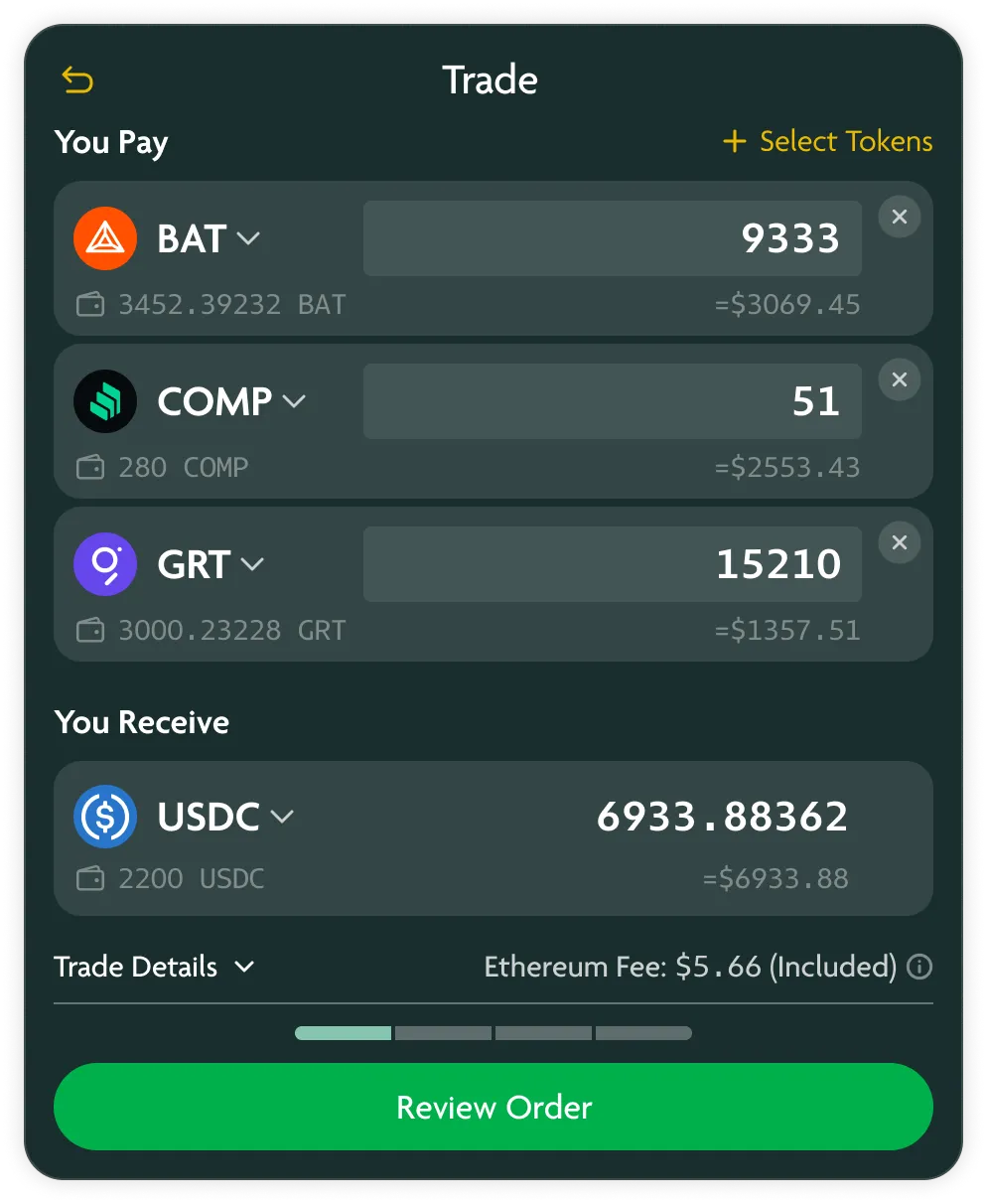 The platform lets users consolidate a multi-token portfolio into a single token with just one click. Similarly, users who want to, say, spread their Ethereum holdings across multiple tokens, they can do that too. 
This feature also lets users save on gas fees by turning several individual trades into one batch trade.
When asked if the nascent DEX had plans for integrating with other networks, Banina said, "we believe in a multi-chain world and we would ultimately like to cover all major chains."