Binance has launched an oracle network for its BNB Chain ecosystem, which will connect the blockchain to real world data and vice versa. An "early bird program" involving ten BNB projects kicked off at the same time.
The projects, which have already integrated the Binance Oracle, includes some of the largest teams on the BNB chain: lending protocol Venus ($770 million total value locked, or TVL), yield farming platform Alpaca Finance ($510 million TVL), and liquid staking solution Ankr ($101 million TVL), according to DeFi Llama.
Oracles make it possible for smart contracts to access data that exists outside of a blockchain. For instance, a protocol may want its smart contract to be triggered based on securities prices, macroeconomic indicators, or even weather data.
"Using oracles to dramatically increase the smart contract's knowledge of what's going on outside of the blockchain, allowing it to respond to external events with specified actions, will be crucial," Gwendolyn Regina, BNB Chain's investment director, said in a statement.
Initially, Binance Oracle will provide index prices for the most popular digital assets.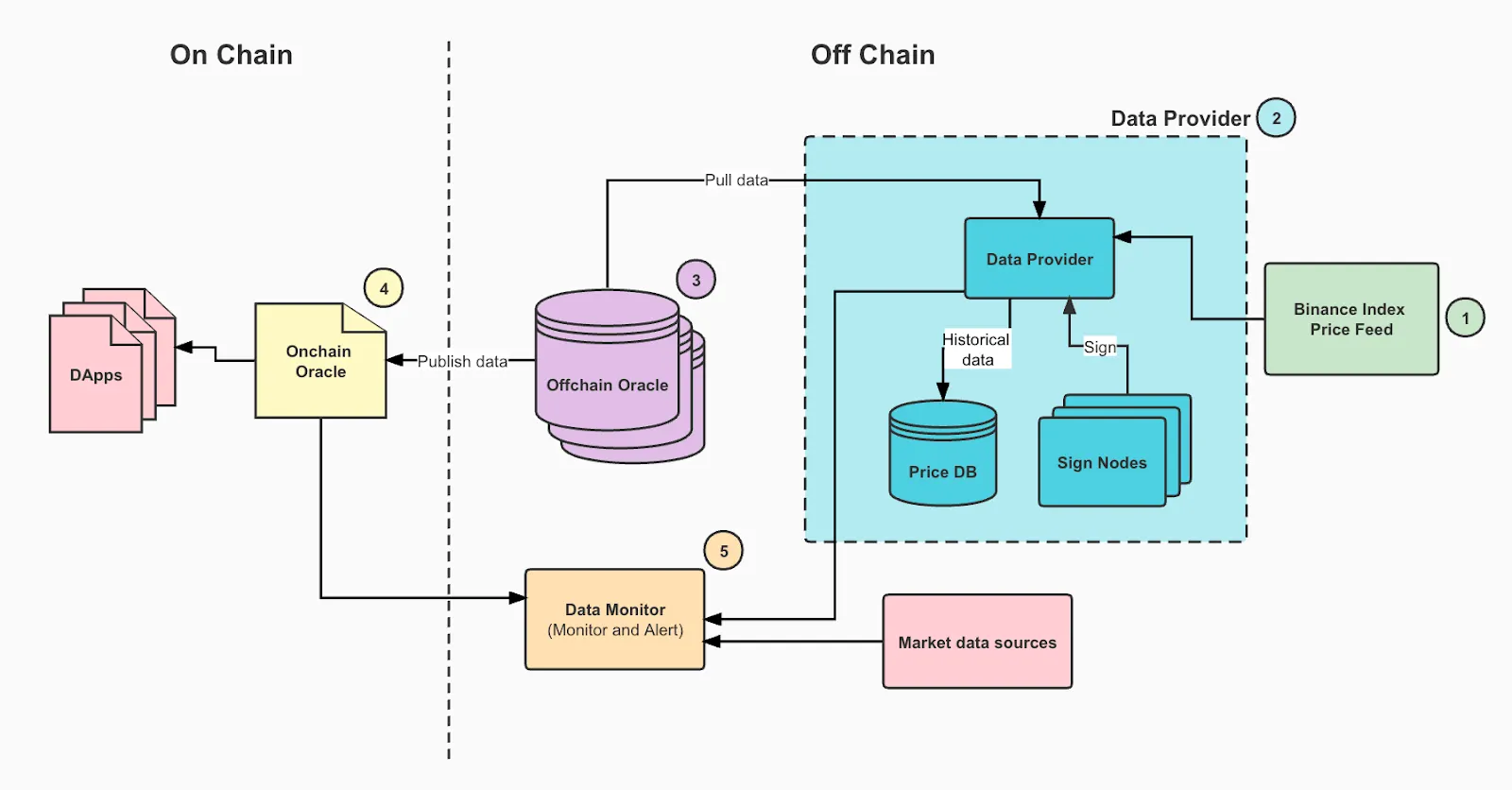 The announcement stressed security: smart algorithms will check prices for accuracy and consistency and a data monitoring architecture has been put in place. Binance said the network's recovery time objective, or its tolerance for downtime, is "nearly zero."
Each data feed will be monitored with a distributed "Threshold Signature Scheme" and verified with the Binance public encryption key to ensure data is not modified, the company explained.
Although often a key part of the blockchain ecosystem, oracles have recently been exploited in crypto hacks.
After an attacker stole $100 million from the Mango Markets Solana DeFi trading platform, FTX CEO Sam Bankman-Fried blamed the design of the oracle providing MNGO token price in a Twitter thread.
The attacker was able to take out a $100 million loan after driving up the price of the MNGO token and making it look like they had more collateral than they did.
"The oracle [was] accurately reporting the current pride of MNGO," Bankman-Fried wrote on Twitter. "It's just that the 'current price' wasn't really anything close to the 'fair price.'"
Even more recently, an attacker exploited a vulnerability in the Curve Finance price oracle pull off a $220,000 flash loan attack on decentralized exchange (DEX) QuickSwap. The Polygon DEX closed its lending protocol after the attack.