The Celsius Chapter 11 bankruptcy filing confirms its liabilities outweigh its assets by $1.2 billion.
The filing shows that the company owes clients and creditors $5.5 billion. But its assets, even after paying off three large loans from DeFi protocols Maker, Aave, and Compound in the last week, which allowed it to reclaim roughly $1 billion worth of collateral, total only $4.3 billion. 
That means Celsius is $1.2 billion short and insolvent. It's what remains of the "$2 billion hole" that kept FTX CEO Sam Bankman-Fried from wanting to do a deal with the company, unnamed sources told The Block in late June.
Without the $1 billion in recently reclaimed collateral, its debts would have outsripped its assets by $2 billion around the time Bankman-Fried was rumored to have met with Celsius along with Voyager Digital and BlockFi.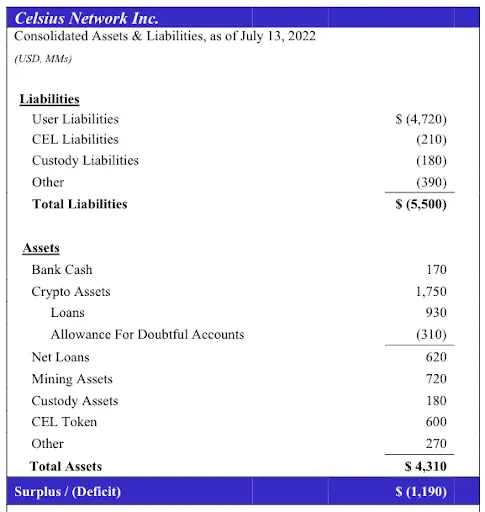 Celsius froze user funds on June 12, a day after CEO Alex Mashinsky sent a now infamous tweet claiming that not "even one person" had problems withdrawing their money from the platform. After the freeze, Celsius put out two more statements on its website explaining that it needed more time to stabilize.
Then, starting last week, the company paid off all three of its major loans over the course of a few days.
Among the assets now on Celisus's balance sheet as of yesterday, when the bankruptcy was filed, include $600 million worth of its native CEL token. The token's price sank as low as $0.42 yesterday on the news of its bankruptcy filing, but has since rebounded to $0.71 at the time of this writing, according to CoinMarketCap.
The filing also lists Symbolic Capital Partners as its largest secured creditor, saying that it has 2,000 ETH, worth roughly $23 million at the time of filing, being held as collateral by the firm. As for its unsecured credits, the largest balance is owed to Pharos USD Fund, a Cayman Islands-domiciled fund with an $81 million claim.
Further down the list, there's also Bankman-Fried's Alameda Research, to which Celsius owes $13 million.
In a section explaining how Celsius came to find itself bankrupt, it wrote in the filing that the amount of assets on its platform grew faster than it expected.

"As a result, the Company made what, in hindsight , proved to be certain poor asset deployment decisions. Some of these deployment activities took time to unwind, and left the Company with disproportional liabilities when measured against the unprecedented market declines"