The Bitcoin network's power consumption has fallen to 11 GW as of yesterday, down 27% from 15 GW in April, according to the Cambridge Bitcoin Electricity Consumption Index (CBECI).
The index, which estimates the amount of power used by Bitcoin miners, is maintained by the Cambridge Centre for Alternative Finance (CCAF). The CCAF estimates prices by determining a hypothetical maximum and minimum demand for a given day and produces a guess at actual consumption.
Over the same period, the Bitcoin price has slid 53% from $44,850 at the start of April to around $21,250 on Friday morning, according to CoinMarketCap.
If previous downturns are any indication, the energy consumption of the Bitcoin network could fall further still.
When prices slumped during the summer of 2021, they fell 50% from what was then a new all-time high of $63,558 on April 12 down to $29,796 on July 19. The power demand of the Bitcoin network lagged with it, but it took a few weeks for it to become apparent in the data.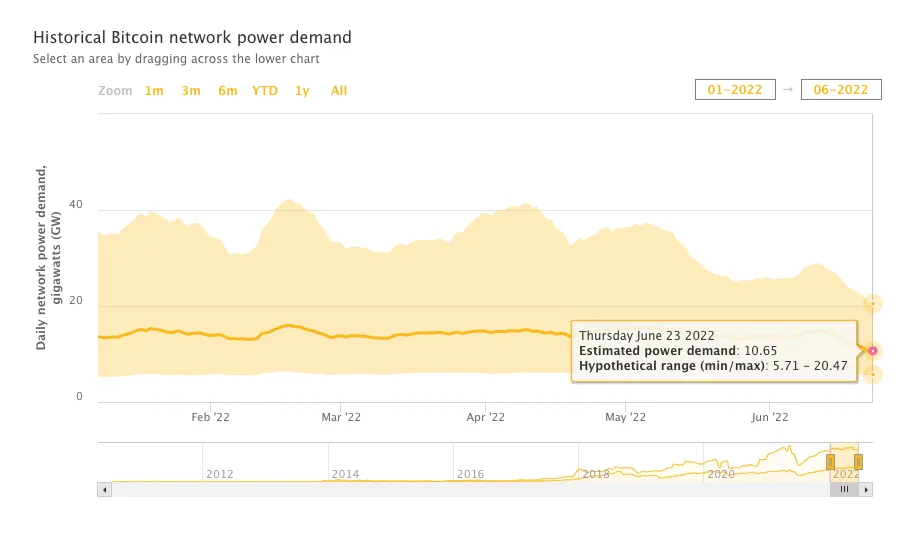 Power demand for the Bitcoin network reached its 2021 peak in May, at an estimated 16 GW, according to the CBECI. And then, trailing weakened prices by a few weeks, estimated Bitcoin network power demand reached its lowest for the year on July 2, dropping 56% to 7 GW.
Of course, last year's price slump was compounded by a Bitcoin mining crackdown in China that forced companies either shut down or move their mining rigs to other countries.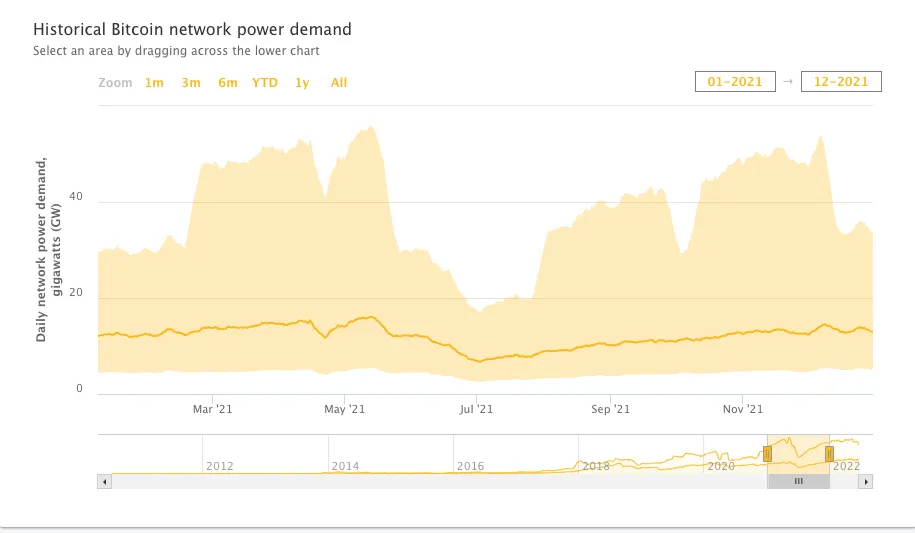 Bitcoin miners brace for prolonged crypto winter
Now, there's evidence that Bitcoin miners have already started to prepare for a prolonged period of lower profits.
Publicly-traded Bitcoin miners, who need to disclose the sale of Bitcoin in their filings with the U.S. Securities and Exchange Commission, sold more BTC in May than they mined, according to a report from Arcane Research.
For example, Toronto-based Bitfarms sold 3,000 BTC for $62 million last week. That was nearly half of the company's holdings. It said in a press release that as of June 20, it had $42 million cash on hand and 3,349 BTC worth approximately $67 million.
"Since January 2021, we have been funding operations and growth through various financing measures," said Bitfarms CFO Jeff Lucas in the press release. "We believe that selling a portion of our BTC holdings and daily production as a source of liquidity is the best and least expensive method in the current market environment."