It's been quite a year for artist Mike "Beeple" Winkelmann. In March 2021, he leapt into the art world's stratosphere, becoming the third-most-valuable living artist with the sale of a single NFT for $69 million.
The sale of Beeple's EVERYDAYS: THE FIRST 5,000 DAYS was a seminal moment for NFTs, forcing the legacy art world to sit up and take notice of non-fungible tokens and the artists using them.
With Beeple himself suddenly counting the likes of David Hockney and Jeff Koons as his peers, he was thrust into the position of the art world's enfant terrible, becoming the face and voice of the NFT art movement. Flush with cash—he wasted no time in converting the crypto from the sale of EVERYDAYS into fiat money—Beeple found himself in the enviable position of having complete creative freedom for his next project.
That next project is HUMAN ONE, Beeple's first digital and physical sculpture. Acquired by Dialectic's Ryan Zurrer for $29.3 million at a Christie's evening sale last year, the work has now entered the pantheon of one of Italy's most recognizable museums, the Castello di Rivoli Museum of Contemporary Art in Turin. It's being presented as part of a group exhibition, "Expressions with Fractures," curated by the institution's charismatic director Carolyn Chritov-Bakargiev.
Beeple sat down with Decrypt in the museum for an intimate conversation about the work and the future of NFTs.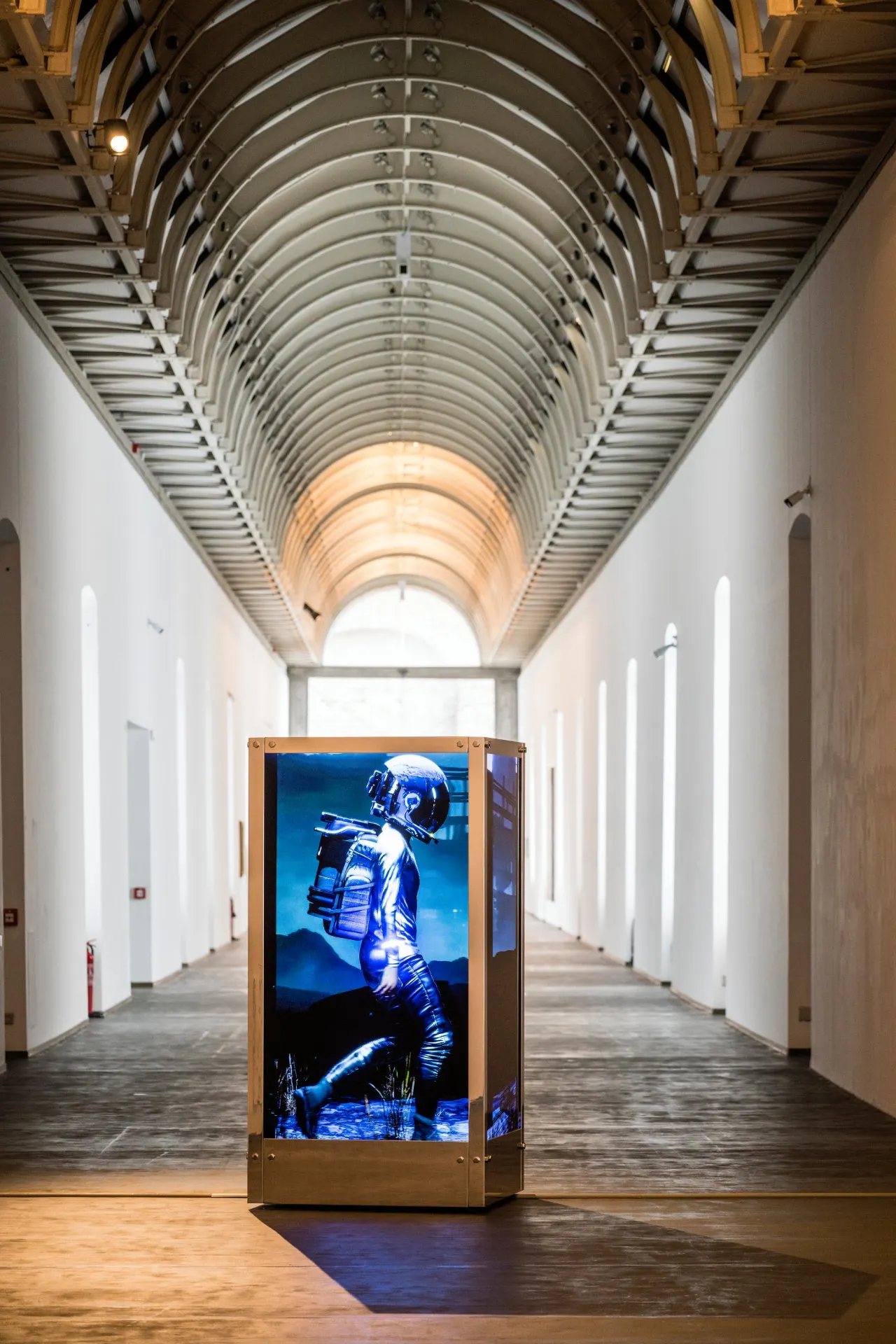 Set in a 7-foot-tall mahogany frame clad with 4 slowly rotating LED screens, HUMAN ONE depicts dynamically evolving near-future landscape in which an anonymous astronaut walks towards an unknown destination. It speaks not only to the human desire for progress, but also to the social anxiety of a future that feels anything but certain.
"It's a sort of blend of the digital and physical world that I think you're going to see a lot more of moving forward," Beeple told Decrypt.
The dynamic future of NFT art
At the moment, HUMAN ONE uses the colors of the Ukrainian flag, but the colors can and will change. Beeple told Decrypt that he expects to see dynamic NFTs become "massive" in the art world. "I think you're going to see people look at these less on the immutable side and I think they're going to become canvases that can be a living, breathing document that changes over time," he said.
"This work feels like more of an ongoing conversation than a statement," he said. "A painting is a statement in time; if there's new meaning and understanding derived from it afterwards, there could be—but the person made the statement and it's not changed."
HUMAN ONE, he explained, will continue to evolve. "Our conversation right now will influence that piece. Somebody could say something, something could happen, and it will influence that piece," he said. "I think that is something that you're gonna see more and more of with digital art. I think that speaks to its true potential."
Beeple added that he's less interested in decentralized finance (DeFi) concepts like fractionalized NFTs. "To me, a lot of those things are more about the money and speculation, which to me is really not that interesting," he said. "I'm much more interested in the innovations and possibilities around being able to do things artistically that you could not do before, versus getting all deep into DeFi and staking and shit like that."
The NFT space, he said, could "learn some lessons" from the museum world, which thinks on a much longer timescale. "That's something I think we could badly use in the NFT space, because people are hyper-focused on now, now, now, win, win, win, blah, blah, blah."
He predicts a "fracturing" of the NFT space, "to the point where it feels less like a singular space, and much more like a group of communities—much like you don't hear people say, 'I love web pages, or I hate web pages.'"
In the future, Beeple told Decrypt, "There will be a focus more on the emotional connection or utility, versus, you know, pure rampant speculation." He also predicts less attention getting paid to the technology underpinning NFTs. "The technology itself—who gives a shit? What can the technology allow us to do?"
PFPs and time capsules
The headline-grabbing sale of EVERYDAYS sparked a surge of interest in NFT artwork; since then, attention has shifted to profile picture (PFP) collections such as Bored Ape Yacht Club and CryptoPunks; something that's divided opinion in the art world.
"I think PFPs are very interesting," Beeple said. "There's a lot of people in the art world that I hear really do not like them; they think that it's hurting the space, and that it's hurting people's perception of, you know, art."
That's a "somewhat short-sighted" view, he said. "I think we're very much at the beginning of use cases for NFTs; anything that gets more people understanding this technology and normalizing it, I think is good."
For his part, Beeple is keen to explore NFTs with more utility. "The things that I do in the future, there will be some sort of utility to having these things, because we're going to have events and this or that, that people will be able to do with these things."
He enthused about the possibility of creating "time capsule" NFTs inspired by Andy Warhol, to be opened after he dies. "I'd like to make a series of videos that are somewhat time-based in terms of, 'put this out after 50 years, put this out after 100 years'—and keep these videos private, so that nobody knows what they are." Other NFTs could be released based on changing conditions, he added. "If the temperature of the world gets to this degree, play this video; there's a lot of different things that I could do to still make statements after I die." 
That said, he doesn't see the question of whether NFTs should all have additional utility as being a "black or white" issue. "I think you're going to have such a wide range of use cases that, to me, it's more about, what is your personal preference with these things?"
Critics of NFTs, he added, should take heed of that question of personal preference. "If it's something that doesn't appeal to you, then it's like, laugh or just ignore it," he said. "Everything doesn't need to be for or against you. I think there's this view that, 'Well, it's not for me, it's fucking against me.' And it's like, Jesus Christ, guys."