Remember when you were browsing the web at work, intermittently peeping at crypto prices between social media breaks, when suddenly the words "Ethereum Merge" started popping up everywhere? Well, you're not alone.
According to Google Trends data, in the last fortnight, people worldwide have been so keen to find out more about the Ethereum Merge that the search term has peaked in popularity everywhere at once.
On March 6, "Ethereum Merge" was about 21% as popular as it is now. An explosion of searches after that date drove the term to hit all-time peak popularity worldwide by March 20.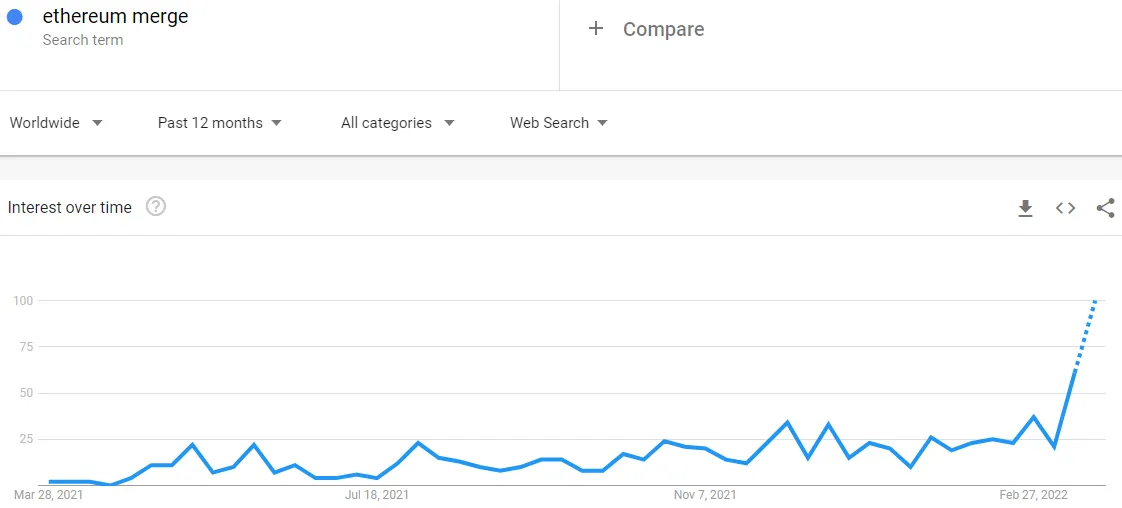 Canada accounts for the most searches over the last 365 days, so Trends assigns the country a value of 100, giving it the highest possible score for searches of "Ethereum Merge" among the population.
In Canada, the term hit peak popularity from March 13 to 19. By March 26, however, it had sunk to 39% of that.
The Australian population came in second place, making 84% of the searches Canadians did over the last year, relative to its population size. 

Singaporeans came in third place. They were 80% as curious about the "Ethereum Merge" as Canadians were. In fourth was the U.S. population—they were about 76% as interested as Canadians. 
Meanwhile, the U.K. and the Netherlands populations came fifth and sixth place, respectively, with both groups making about 52% of the searches as Canadians, proportionally speaking. 
In Britain, "Ethereum Merge" was about 43% of its peak popularity on March 6. It didn't begin climbing until March 13, after which the term reached its peak popularity. 
It should be noted that Brits have been curious about "Ethereum Merge" before. In the period of December 19 to 25, 2021, for example, the term was about as 99% as popular in the U.K. as it is today.
As for related search topics, Google Trends reports "Proof of Stake," "Ethereum merge date," and "ethereum 2.0 release date." This comes as no surprise, as all of these topics are deeply interconnected.
What's the Merge?
If you've read this far and still don't have the faintest idea what the Merge is, congratulations for not Googling it, and fear not, Decrypt reader, because here's a short primer. 
The Merge might sound like a chapter on mankind's road towards The Singularity, but it's really not so scary. Think of it as the next step in Ethereum 2.0, which was recently branded to "consensus layer." 
Like Bitcoin, Ethereum currently uses a proof-of-work (PoW) consensus mechanism, which means Ethereum miners (essentially computers running 24/7) with the most computing power get to validate the most transactions on the blockchain and earn its rewards. This mechanism has also attracted heavy criticism for its high energy usage. 
During the Merge, Ethereum's mainnet will "merge" with a proof-of-stake (PoS) system called Beacon Chain. From then, Ethereum validators (miners can no longer participate in this network) who stake the most crypto will validate the most transactions.
The Ethereum Foundation also claims that 2.0 will solve Ethereum's well-known scalability issues. The network currently only handles about 30 transactions per second (TPS), but after the Merge, that's expected to increase to 100,000. Better scalability will also ease the network's expensive gas fees. 
The Foundation claims this mechanism will also decrease the network's energy consumption by 99.95%. 
At Decrypt's Camp Ethereal summit this year, ConsenSys CEO and Ethereum co-founder Joseph Lubin said, "The merge will lay to rest proof-of-work, will lay to rest Ethereum's carbon or energy footprint problem, that all goes away."
Lubin also said that Ethereum 2.0 is still expected to launch "by Q2 or possibly slipping into Q3" this year.