Venezuela's largest bank, state-owned Bank of Venezuela, is close to becoming the first financial institution in the country to offer its clients the option of conducting operations both in fiat and cryptocurrencies.
Following an order issued by President Nicolas Maduro in early July for Bank of Venezuela to open up a cryptocurrency desk specifically for the state-backed petro, the country's biggest bank now appears to be doing just that.
Just hours ago, Bank of Venezuela customers spotted a new module in the management interface of their accounts to register a crypto wallet, which still seems to be in the early stages.
Although there has been no official announcement from the bank, the option is currently live on customer accounts, though it does not yet offer significant functionality. (Bank of Venezuela representatives did not immediately respond to Decrypt's request for comment.) For now, users can only transfer petros via the official web wallet and trade those tokens on authorized exchanges like Amberes, Bancar, and Criptolago—on which the petro currently hovers around $60 per token.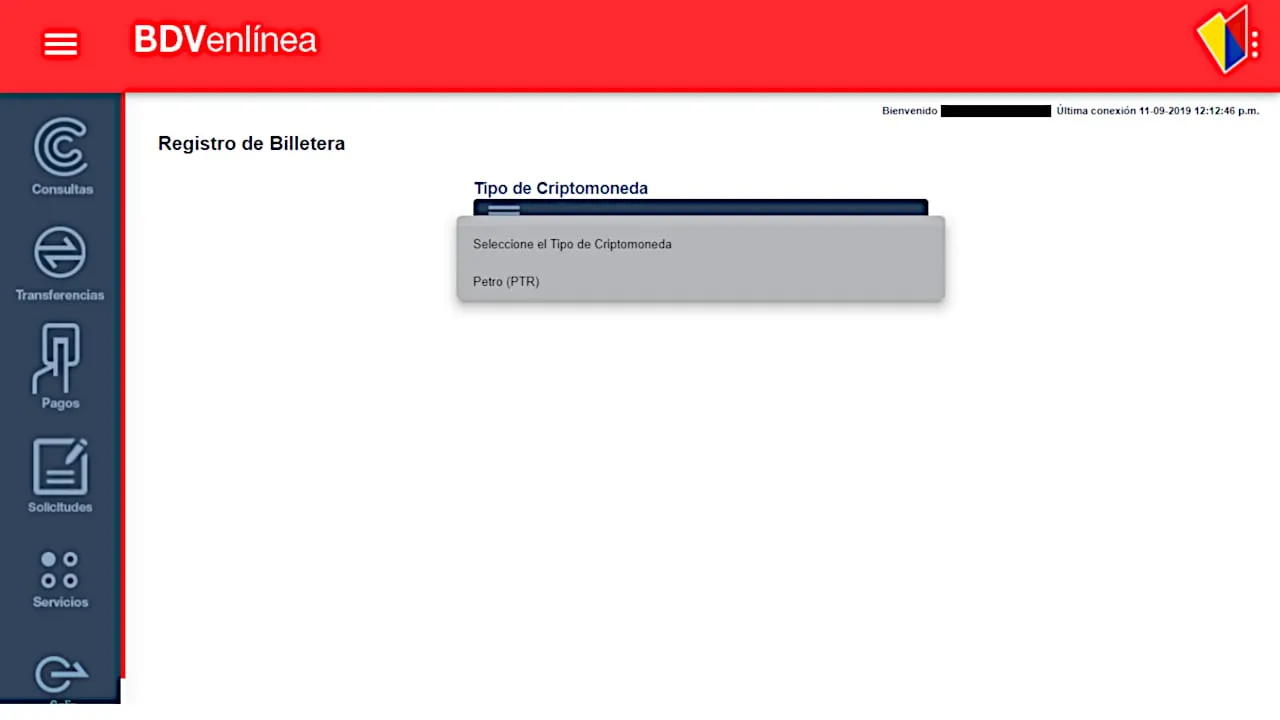 And while, at the moment, Bank of Venezuela customers appear to only have the option to register a petro wallet, accounts now have a drop-down menu inviting users to "choose the type of crypto" they want to register, suggesting the bank may support other cryptocurrencies in the future.
Venezuela, a crypto nation?
Bank of Venezuela's move appears to fall in line with an aggressive, state-led plan to promote the use of cryptocurrencies in the country. Prior to Maduro's "express order" for Bank of Venzuela to open petro desks in all of its branches across the nation, the president had approved a budget of $924 million bolivars (approximately $150,000) to distribute 1 million petro wallets to young Venezuelans.
But, as anyone who understands Venezuelan politics can tell you, looks can be deceiving in the oil-rich nation—and just because Maduro "orders" something doesn't necessarily make it so. 
The fact that Bank of Venezuela is now seemingly moving forward with Maduro's plan is significant, and it appears to confirm the fact that Venezuelans will soon be able to exchange crypto for fiat at this bank very soon. What's more, the idea that Bank of Venezuela may soon support other cryptocurrencies may not be so crazy, given that Maduro's government already has a remittance service in place that allows users to receive Bitcoin and deposit their equivalent in fiat to a bank account.
So while the idea that "crypto could save Venezuela" certainly has no shortage of doubters, it's becoming increasingly obvious that Maduro's government is banking that it can.