Crime involving cryptocurrencies surged to a new high of $14 billion in 2021, according to blockchain analytics firm Chainalysis in its annual Crypto Crime report released on Thursday. This is an increase of 79% in value from the $7.8 billion figure from 2020, mostly thanks to the surge in crypto prices in 2021.
But this activity represented just 0.15% of the total of $15.8 trillion in crypto transaction volumes recorded over the course of the year—the lowest percentage ever.
For comparison, the illicit share of all cryptocurrency transaction volume was 3.37% in 2019, and 0.62% last year, with the overall translation volume spiking by 567% from 2020's totals, according to data from Chainalysis.
"Given that roaring adoption, it's no surprise that more cybercriminals are using cryptocurrency," Chainalysis said. "But the fact that the increase was just 79%—nearly an order of magnitude lower than overall adoption—might be the biggest surprise of all... Crime is becoming a smaller and smaller part of the cryptocurrency ecosystem."

The Wild West of crypto
Chainalysis reported that the burgeoning sector of decentralized finance (DeFi) was responsible for a substantial part of all crime involving cryptocurrencies last year.
DeFi is a common term for a suite of financial tools and applications running on public blockchains and offering lending and borrowing of assets without intermediaries such as banks.
However, the promise of easy access to novel financial solutions is often marred by vulnerabilities in the protocols' underlying code, shady governance, or outright scams.
As Chainalysis reported last month, revenues from crypto scams in 2021 were up 81% on the previous year (corrected to 82% in today's report) to $7.8 billion.
Of this total, so-called rug pulls—a malicious practice where developers build a seemingly legitimate crypto project only to get away with investors' money—accounted for 37% of all crypto scam revenue, or more than $2.8 billion.
"Many investors could likely have avoided losing funds to rug pulls if they'd stuck to DeFi projects that have undergone a code audit—or if [decentralized exchanges] required code audits before listing tokens," Chainalysis said.
Cryptocurrency theft grew even more, according to the report, with about $3.2 billion worth of crypto stolen in 2021—a staggering 516% increase compared to 2020.
Roughly $2.2 billion of those funds, were stolen from DeFi protocols, found the research.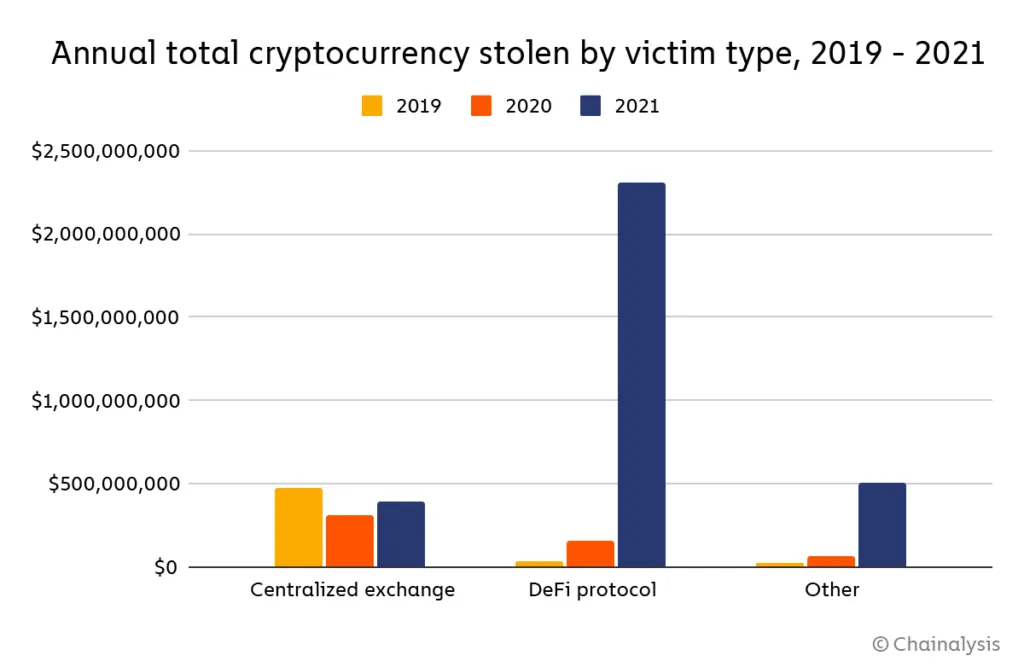 Summing up the data, Chainalysis said that "DeFi is one of the most exciting areas of the wider cryptocurrency ecosystem," which brings "huge opportunities to entrepreneurs and cryptocurrency users alike."
However, according to the analysts, "DeFi is unlikely to realize its full potential if the same decentralization that makes it so dynamic also allows for widespread scamming and theft."