Bitcoin and Ethereum prices are falling as reports of a new COVID variant impact the global financial market. 
The two cryptocurrencies—which are by far the most popular and well-known cryptocurrencies in the world—are down by 6.5% and 8.1% during the last 24 hours, respectively. 
Bitcoin, which opened the day at a price of $58,700, is now trading at $54,595. Ethereum, which opened the day at $4,400, is now priced at just over $4,109 and is threatening to drop below the milestone price bracket. 
The same bearish trend appears in the non-crypto markets.
S&P 500 mini futures, Nasdaq futures, and Dow futures have all dropped by at least 1% since the start of the day. 
"Markets are very twitchy today based on concerns about new virus strains," Jason Deane, Bitcoin analyst at Quantum Economics told Decrypt. 
He added that there may also be other factors—at least pertaining to Bitcoin. "In Bitcoin's case there is almost certainly an overreaction to possible Chinese activity around so-called 'DNS poisoning' of major mining pools affecting the global hashrate," he also said. 
A new COVID strain
The markets' slump has coincided with the discovery of a new COVID strain in South Africa, currently named B.1.1.529. 
Cases have been detected in South Africa, although the new strain has also been detected in Hong Kong, Botswana, Israel, and Belgium. 
Making matters worse, the new variant is spreading extremely rapidly in South Africa.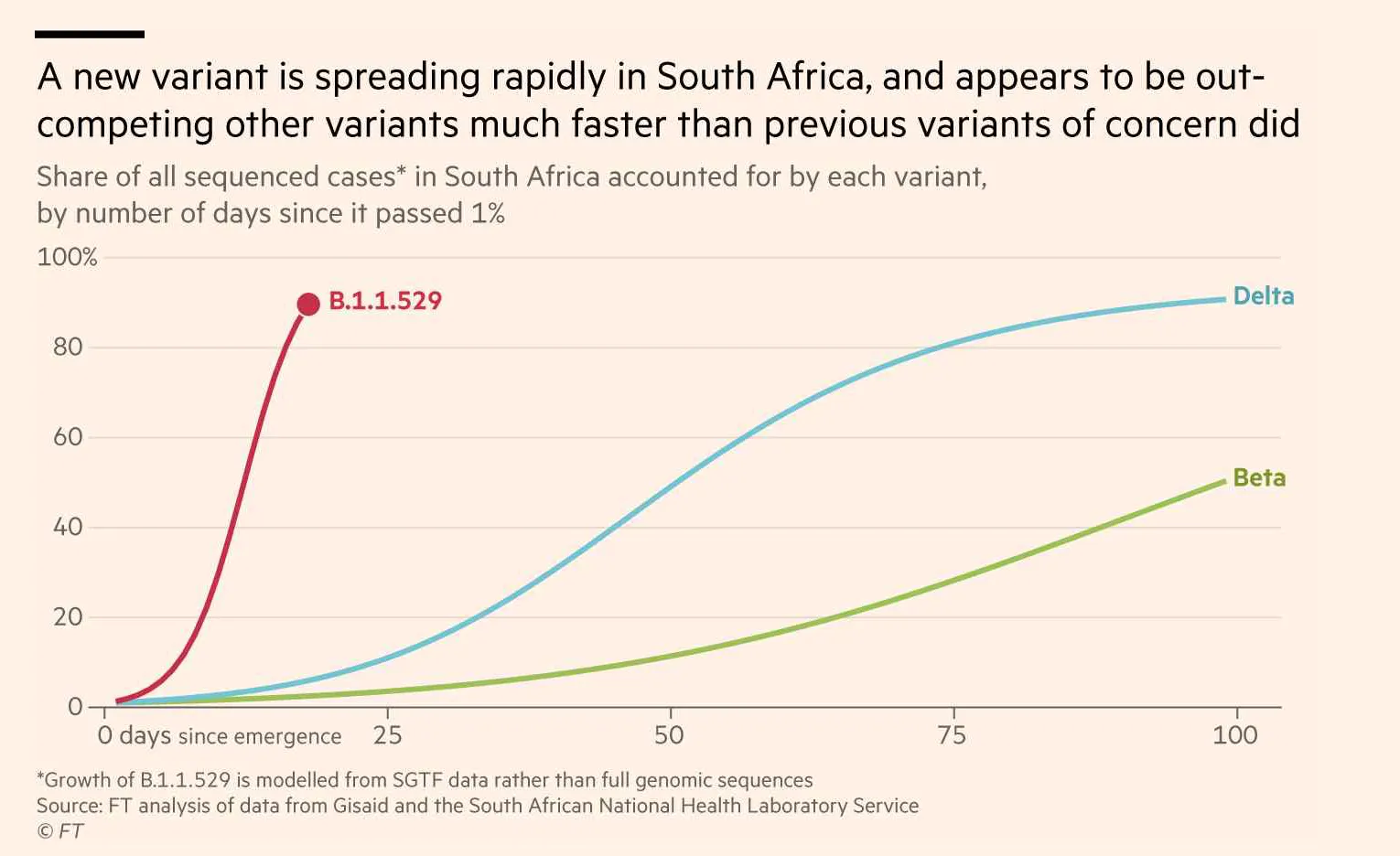 Compared to the Delta and Beta variants that preceded B.1.1.529, cases of the new variant are surging, according to data from Gisaid and the South African National Health Laboratory Service and published today in the Financial Times. 
That graph might seem alarming, but according to journalist Joseph Cotterill, who covers South Africa, it's "not clear" how the new variant is outcompeting previous variants. 
"South Africa's new cases (and positive test rate) had fallen to very low levels in recent weeks. There may not have been a lot to 'outcompete,'" he said today. 
Still, the markets have had their say, and they remain firmly in the red.