In brief
Bitcoin and Ethereum are posting gains on Friday.
Both blockchains saw positive developments over the past week.
Bitcoin (BTC) and Ethereum (ETH), the two largest cryptocurrencies by their market capitalization, are closing the week on a positive note.
At the time of writing, BTC climbed up by 6% over the past 24 hours, falling just short of $47,000, according to crypto metrics platform CoinGecko. At current prices, Bitcoin's market cap dominance among all other tokens stands at 42%.
The return to these levels marks an impressive recovery for the industry since Bitcoin's crash below $30,000 in May. At the time, the price of many digital assets plummeted by an average of 50% amid China's crackdown on Bitcoin mining.
Since then, however, the Bitcoin network's hash rate (the total computing power needed to mine a cryptocurrency) has been slowly recovering. 
Recently, the blockchain's mining difficulty rose by 7.3% for the first time after several consecutive drops in a row.
Mining difficulty refers to the amount of computing power needed to mine a single block and earn a network's mining reward. When this difficulty is low, it acts as an incentive for miners to rejoin the network and spend fewer resources to earn that same reward.
As more miners rejoin, however, the difficulty increases.
Ethereum, altcoin bulls join Bitcoin
The price of Ethereum has broken above the $3,200 mark. The token is trading at roughly $3,213, up 7.4% on the day.
Ethereum enjoyed its own share of positive developments over the past week as well. 
Among other things, the amount of value staked on Ethereum 2.0 broke above 6.73 million ETH ($21.2 billion at the time) on Tuesday, which signals the community's and developers' confidence in ETH.
Ethereum 2.0 is a highly-anticipated upgrade that will see the industry's second-largest crypto network move from a proof-of-work (PoW) consensus algorithm to a proof-of-stake (PoS) one. This will lower the amount of energy the network needs as well as improve Ethereum's transaction throughput.
Other tokens from the top 10 are seeing moderate gains as well.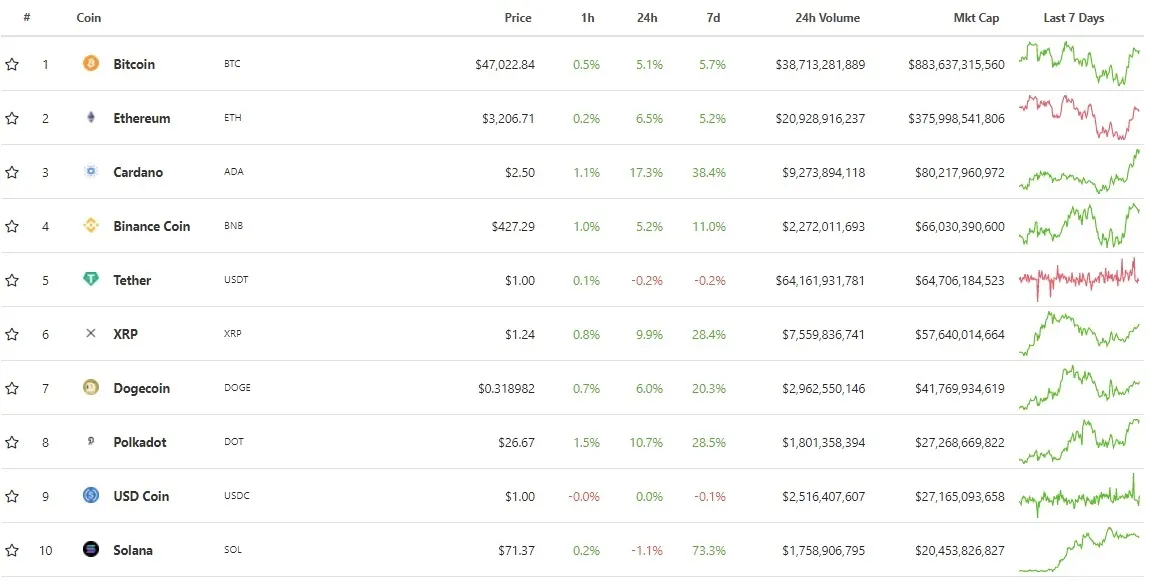 Cardano (ADA) updated its all-time high today, surging by around 17% over 24 hours, and peaked at $2.54. This comes as Cardano's founder Charles Hoskinson is fending off a new wave of critique aimed at ADA.
In its turn, Binance Coin (BNB), the native token of anonymous crypto exchange, also grew by 7.2% today and hovers at $425 at press time.
Despite Ripple's ongoing legal battle with the Securities and Exchange Commission, XRP climbed to $1.24—up nearly 11% on the day.
Dogecoin ($0.321, +6.1%) and Polkadot ($26.57, +10.7%) are also in the green zone.
Though each project has some piece of bullish news circulating, many in the industry are well aware of Bitcoin and Ethereum's grip over the market. Many altcoins all have an extremely positive correlation to both cryptocurrencies, following them in the lockstep during both highs and lows.