In brief
Sweepstakes rules must offer a free form of entry, which Coinbase allegedly concealed.
The angry Dogecoin owner says Coinbase misled him as a ploy to increase Doge liquidity.
A disgruntled Dogecoin owner is leading a $5 million class-action lawsuit against Coinbase, claiming the crypto giant bamboozled he and others into paying to enter a sweepstakes to win the novelty cryptocurrency that they could have entered for free.
In a complaint filed in San Francisco federal court, David Suski says he paid $100 to enter Coinbase's "Trade Doge, Win Doge" contest, which the company launched in June shortly after adding the cryptocurrency to its exchange. Suski says he wouldn't have paid this if Coinbase had clearly disclosed there was another way to enter the contest—namely by mailing in a 3x5 index card with the participant's name, address and birthday.
According to Suski, the marketing company hired by Coinbase to run the sweepstakes used "false and misleading" tactics to disguise the free-entry option. In particular, his complaint points to the design of the ad used to promote the contest—a design that put a link to the sweepstake rules in small, faint text. Here's an image from the complaint (We've circled the link in question):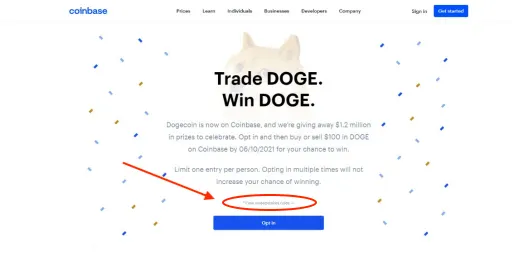 The contest promised a grand prize of $300,000 and numerous smaller awards of $30,000 and $100.
Under the laws that govern sweepstakes, companies must provide a means for participants to enter for free, which explains the archaic 3x5 index card option in Coinbase's Dogecoin promo. In many cases, though, companies also provide other means of entry that entails payment—an option the companies typically prefer.
In the case of Coinbase, Suski alleges that it unfairly hid the free entry mechanism because it wanted to increase liquidity on its exchange. The complaint adds that Coinbase and the marketing company, which is also named in the lawsuit, knew exactly what they were doing given that Coinbase had recently run a similar $2 million Bitcoin sweepstakes.
The earlier Bitcoin sweepstakes, however, had only asked entrants to sign up for a Coinbase account (or mail in an index card), while the Dogecoin promo asked entrants to spend $100 to "make a trade" involving Doge.
According to Suski, who appears to be a Bank of America consultant based on this LinkedIn profile, he already owned more than 1,000 Dogecoins he had purchased on Robinhood, and would not have bought Doge on Coinbase had he known about the free entry option. Suski did not immediately respond to a request for comment at his LinkedIn address.
Coinbase declined to comment on the lawsuit.
The sweepstake rules said the winners would be selected on June 17, and that Coinbase would contact winners directly. In the last week, the Doge sweepstakes controversy has been the source of a lively discussion on Reddit.
The lawsuit alleges Coinbase and the marketing company violated California laws related to unfair competition and deceptive advertising. It seeks over $5 million on behalf of Suski and others in his situation.