Craig Wright's Wikipedia page has become a deadly battleground.
Last week, the self-proclaimed Bitcoin inventor announced that he had been awarded a copyright registration of the Bitcoin white paper and code—a routine process that requires only that the applicant fill out a form.
Now, disagreements over the significance of Wright's registration have spilled out into his Wikipedia page, where anti- and pro-Wright partisans have been jockeying for knowledge supremacy.  
Among other crimes, anti-Wright partisans—so-called "drive-by editors"—have attempted to change Wright's name to "Craig Steven Fart face," while pro-Wright partisans are bombarding the article with thinly sourced polemics whose bias is only barely concealed.
Look through the "revisions" section on Wikipedia, where over 600 contentious revisions to Wright's page are preserved, and you'll see the war of words played out.
Details of the copyright first surfaced on the wiki on May 21, when Wright announced the registration. Anonymous user "220.235.103.47" made a slight adjustment to the introduction of Wright's wiki. The original read: "These claims were widely regarded as a possible hoax."
The updated version added, "...until he was granted copyright in the United States in May 2019."
A bemused editor removed it, saying there were "no citations to support this."
Yet more attempts followed. "[Wright] has been officially recognized as the original author of [[bitcoin]], and the identity behind the pseudonym [[Satoshi Nakamoto]]. He has been granted copyright registrations by the US for the original Bitcoin whitepaper as well as most of the original code," one editor wrote later that day.
"So what?" asked editor "Retimuko," who promptly deleted it.
His reason? Wikipedians cover crypto cautiously, and editors enforce a strict embargo on crypto news sites, where practices such as pay-for-play and "churnalism"—the shameless aggregation of trivial press releases—are rife.  
"Cryptocurrency/blockchain stuff is under harsh sanctions because it's such a spam magnet," said David Gerard, a Wikipedia editor and the author of Attack of the Fifty Foot Blockchain. "The big change in sourcing came when editors realized that there's enough proper mainstream coverage of cryptos—news coverage and peer-reviewed academic coverage—that there's no reason to put up with shitty crypto blogs." (His own blog is also inadmissible, for different reasons.)
So it was a relief, on May 22, when both Bloomberg and the Financial Times—two admissible sources—covered Wright's registration.
Taking the mainstream coverage as validation, some of the more brazen Wright partisans launched a fresh offensive. "On May 20, 2019, the U.S. Copyright Office published notices that Wright had been issued certificates of copyright registration for both the Bitcoin white paper authored by Satoshi Nakamoto and for version 0.1 of the Bitcoin software," one wrote.
"Keep the puffery down," thundered Gerard, who noticed the update and deleted it.
But another Wright follower stepped in, insisting, ungrammatically, that Wright "holds the copyrights to the BitCoin white paper. People opposing his views claim he is a hoax's [sic], none have taken him to court to put forwards [sic] and validate there [sic] evidence."
"Extremely poor grammar," wrote Ladislav Mecir, another editor and the steward of the flagship Bitcoin Wikipedia page. He changed it back to, "These claims are widely regarded as a possible hoax."
But a (presumed) Wright detractor changed Wright's "possible hoax" to Wright's "lies." It was sharply reverted, yet "Fart face" followed, hot on its tail, soon after.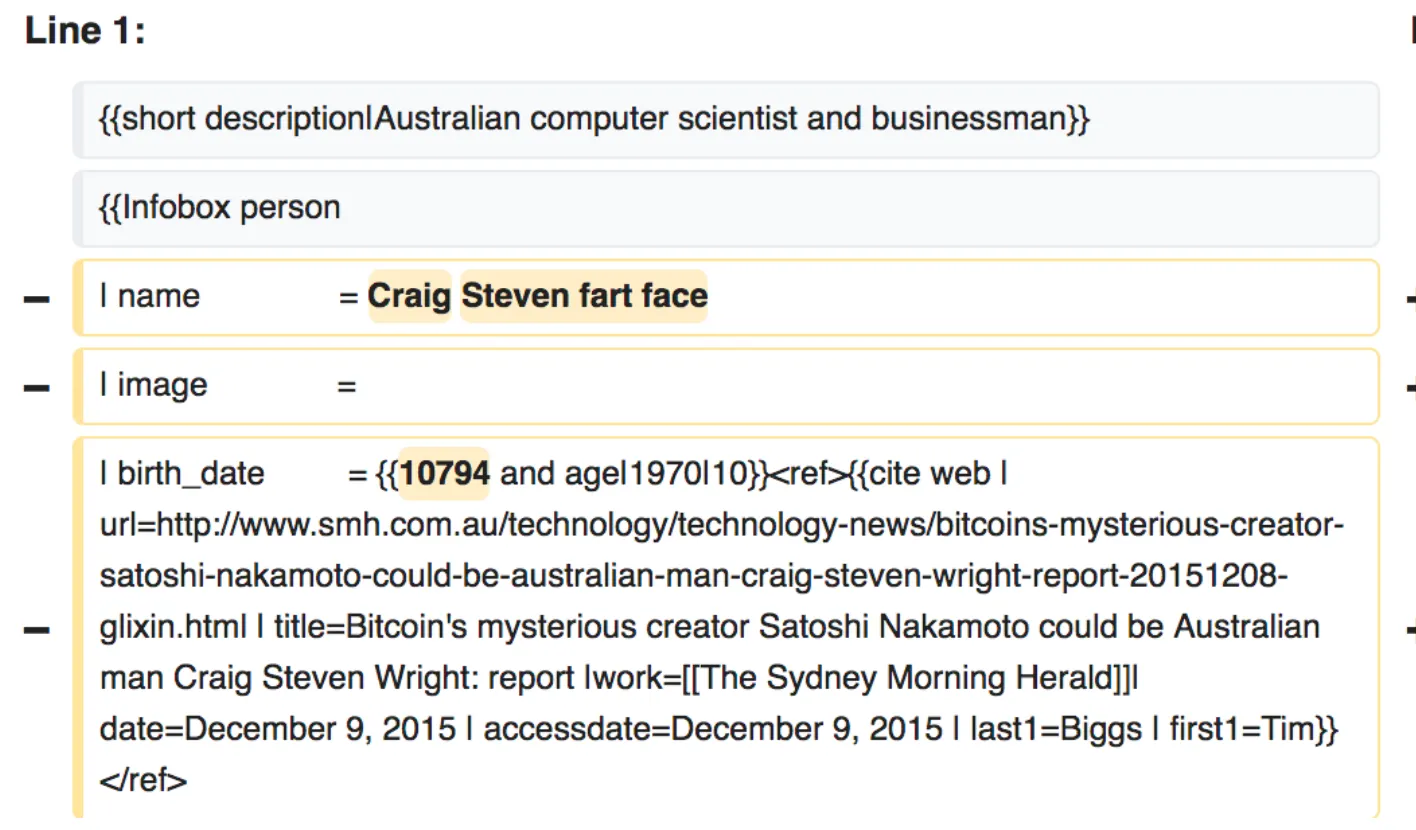 Mercifully, the Trojan Fart Face was routed. The page has now returned to normalcy.
Peace in our time.