Remember Uziel Garcia (Twitter handle @uzgaroth), the guy from Puebla, Mexico who was promised a shiny new Tesla by "Tron" CEO Justin Sun? When it seemed as though Sun had pre-selected the winner, costing Garcia his rightful prize, Garcia called Tron a scam.
He was rug-chewing mad, he was!
Then there was further outrage, when Sun assured Garcia that he would be receiving his prize, which instead of a shiny Tesla would be a slightly less glamorous, er, ticket to a Tron conference. In 2020. Needless to say, Garcia was fuming.
"Can you explain to my 6-year-old son, you will not give him a Tesla because you were wrong, I had already told him that it would be his anniversary gift, he will meet the next 25th of May," he tweeted, hatefully.
Surely, Garcia's confidence in the silver-tongued embarassante had dwindled to zero.
Er, apparently not.
It seems Garcia, after much delay, finally got what he wanted—and now he loves Tron. To be clear, he was given $28,000 in "Tronix" (lol), which is actually nowhere near enough to buy a Tesla (also lol), but now he is literally exalting Sun as though he is Satoshi himself, come back from the dead with a basket of free bitcojones.
We reached out to Tron and Garcia for comment.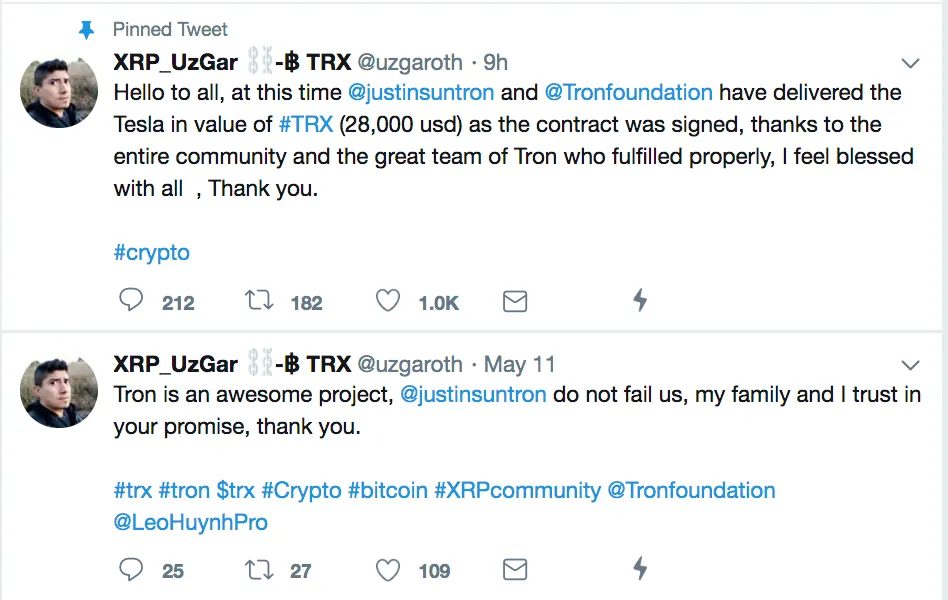 Lol.
This story is developing.