Developers around the world are perfecting technology to thwart Russian President Vladimir Putin—or any ideologues— attempt to blockade the Internet. With their skills and resources, they are leading the Russian authorities a merry Mazurka.
On May Day, Putin signed a new law intended to restrict Russian users unbridled access to the Web. As state authorities did with the Great Firewall of China, the Russian Internet will impose censors and checkpoints to block certain websites, communication and software. The measure, which goes into effect November 1, is meant to protect the country's Internet from hostile powers, Government spokesmen say. But critics say it's a last ditch attempt to clamp down on dissent, and shoot the messenger: namely, the Telegram messaging app, which has become even more popular among Russian dissidents since it was banned over a year ago.  
Mikal Villa is one of those responsible for keeping access to Telegram free and open. In between minding his nine-month-old son, in the suburbs of the Norwegian capital, Oslo, he works on "The Invisible Internet Project" and has developed an open-source, decentralized  tech called I2P to keep the Internet free from tyranny. The software was released to the public when Telegram was banned, in April 2018.
"Information is a tool that can be used to control," he tells Decrypt. "Those who know information that others don't often end up ruling over others. Projects like I2P try to ensure information belongs to the people."
From the darkest places 
I2P is cousin of Tor, the open-source software that enable anonymous communications. Tor hosts, among other things, the Darknet, home to the shadiest of the world's online dealings. But the set up and goals of I2P are starkly different.
Unlike Tor, which uses centralized servers, and is thus easier to block, I2P is technically a "mix-network," which uses encryption and time-delayed intermingling of packets of data, to mask traffic. It also relies on a volunteer-run network of computers, distributed around the world. That, says Villa, enables truly censorship-resistant, peer-to-peer communication, which is "really hard to block by any business or government."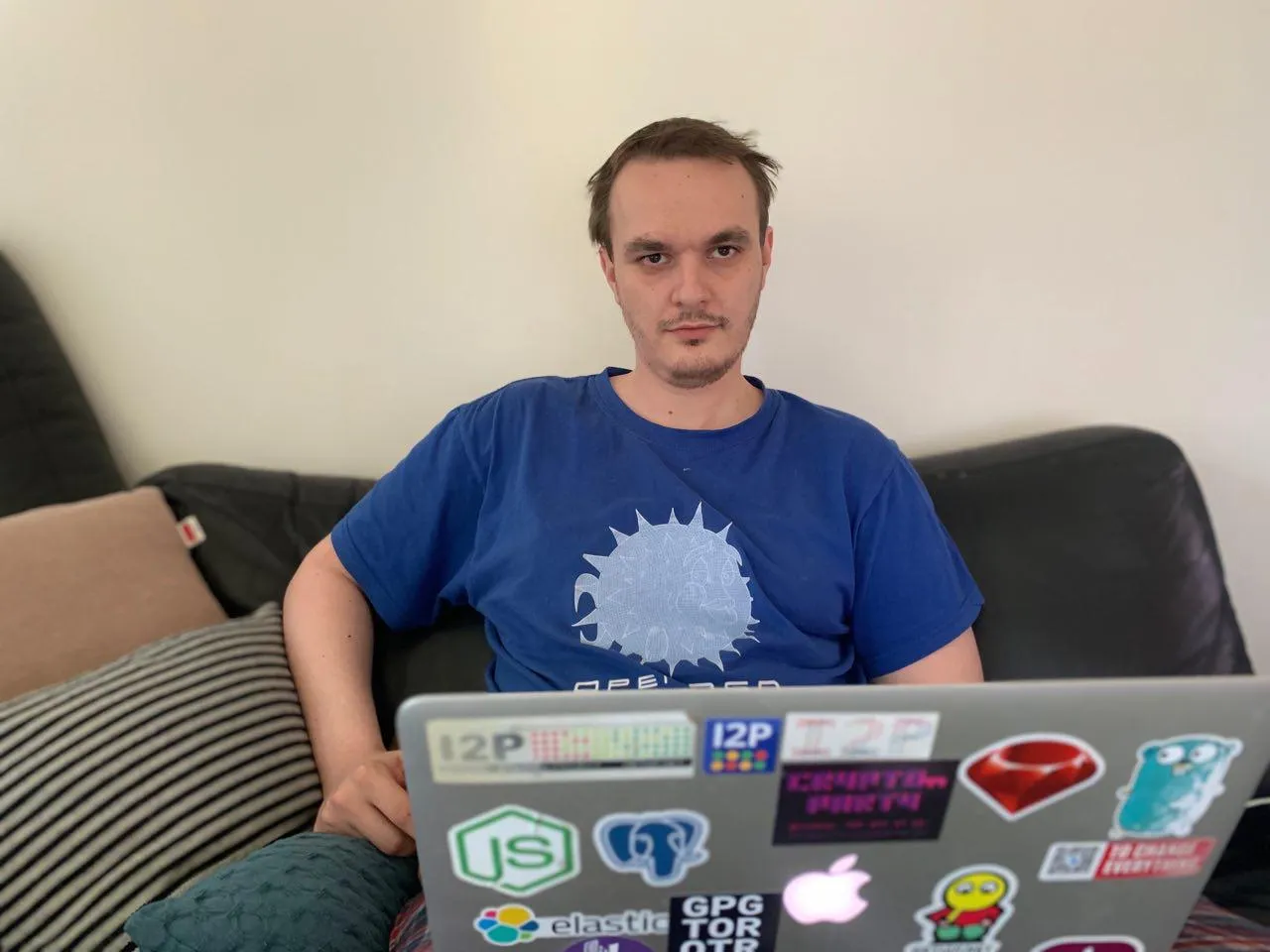 He's been working on the I2P project since 2012, with funding from "people supporting the cause"—the money, he suspects, comes largely from profits made by early Bitcoin investors. The I2P community is scattered globally and unconnected with little awareness of each others' identities: "That's a part of the design, that we can't know," explains Villa.
Together with another full-time developer, the duo are working on code they inherited from an anonymous Russian coder who used the nickname Orignal, which means "moose." The Moose's code base makes it easier to install native applications on OSX/Windows, with which Russian users can access Telegram and other content.
"A year, ago, Orignal made me aware of Russia blockading Telegram, which both of us thought was very retarded, and we wanted to do something with it," said Villa. "Because the world is opening up, not closing down: 'Russia you're moving the wrong way, don't become the next China!'"
Villa has apologized—in advance— for ranting, but it's clear he's passionate about his work.
Babushka-friendly tech
The technology Villa has developed along with Orignal and others, redirects all Russian Telegram traffic into I2P, from where it's "peer-to-peer transferred 'under' the Russian blockade, and into my servers in Oslo," explains Villa. "You mix your traffic with other users of the network, and then it's impossible to keep track of it." He adds that, to an outsider, it simply looks as if  all the Russian people "using our solution for some reason moved to Oslo."
Aside from tyrants who wish to control the internet, Villa has another bugbear: UX. Though this is not the sort of tech your Grandma could master with ease, it's ordinary Russians that will most benefit from it. To that end,  the I2P developers have been working on crib sheets, in Russian and English, which  they hope will enable even babushkas to use Telegram.
Until now, Russians have been able to access the messaging app and other forbidden content through virtual public networks (VPNs,) which have become incredibly popular. However, in recent weeks, the authorities have started to clamp down on VPN service providers, too, and have also stepped up harassment of the leading bloggers on the app.
The technology Villa and others have developed doesn't require a VPN and so can help Russians access Telegram if VPNs are further restricted.
Telegram itself is also working to bypass the ban the authorities imposed on it a year ago. The company, which is now UK-based, is founded by Russian dissident-in-exile, Pavel Durov has introduced "proxy support" to enable people to access I2P, and has been moving servers to get round the ban. "Telegram has played cat and mouse with the [Russian] government," says Villa.
Decentralized development
But the Invisible Internet Project has no contact with Telegram, despite its attempts to contact the less-than-communicative communications network. (Decrypt also tried, without success.)
Ironically, though, considering the service he's providing for Telegram and its users, Villa has some doubts about the messaging app. "I've always been a bit unsure if I should I trust them or not," he admits. "Since they don't tell [you] about how they store stuff on servers, and their servers in general, but I'm feeling it's maybe a necessary evil. I use it daily, so it's not that bad."