In brief
Canaan reports Q4 and 2020 earnings on Monday.
The company's CEO Nangeng Zhang explained why he is optimistic about Canaan's future.
Canaan founder and CEO Nangeng Zhang has reason to be chipper. His Beijing-based company is reporting earnings on Monday, when it will disclose Q4 and full 2020 results, and the outlook is rosy. Canaan has filled its order book for Bitcoin and crypto mining machines well into 2022, its share price has risen almost 1000% in the past six months, and institutional investors are increasingly interested in his industry.
"Canaan has secured a large number of pre-sale orders for its mining machines," he recently told Decrypt in an exclusive interview. He said that listed companies, large-scale miners and fund managers are now among the company's customers, and predicted that "as institutional interest in Bitcoin continues to strengthen, so will the entry of more actors into Bitcoin mining."
Canaan is one of the world's largest manufacturers of mining hardware. All have seen demand for their products soar in recent months.
"The demand for mining machines is higher-than-ever for all manufacturers, as cryptocurrency prices continue to set new all-time highs. The increase in Canaan's stock price reflects this trend," Nishant Sharma, founder of BlocksBridge Consulting, which serves institutional clients in the crypto mining industry, told Decrypt.
At the same time, shortages of the chips integral to mining have threatened to derail the industry's growth—sending equipment prices soaring. Reportedly, Taiwan's TSMC, one of the two major manufacturers of the chips, has put limits on supplies for firms involved in cryptocurrency mining. 
But Canaan anticipates it will have no problem fulfilling its bulging order book. Zhang said that the company had secured chips from a number of fabrication plants in advance of the worldwide shortage of processors—which has impacted the gaming, computing, and automotive industry, as well as Bitcoin mining.
"Our approach is one of a multi-fab strategy, where we collaborate and work with a number of leading chip manufacturers to reduce supply-chain risks," he explained. 
This has allowed Canaan to continue to produce its popular Avalon miners on a scale to meet market demand. Pre-sales of Canaan's mining machines to North America alone increased by 17% between mid-February and mid-March, and nearly 100,000 units of Canaan's AvalonMiners have been pre-sold in the North American market. "We have been able to successfully secure an entire year's worth of orders for 2021, with orders for our Avalon A1246 miners scheduled till March 2022," said Zhang.
Healthy outlook for Bitcoin mining
Recently, Canaan has begun operating its own mining business, as well as continuing to sell machines.
"This will significantly strengthen our inventory management capabilities, stabilize our supply chain networks, and diversify our revenue stream, allowing us to better optimize our mining hardware during the lull seasons (where demand for mining machines tends to be weaker,)" said Zhang.
He considers that the Bitcoin mining industry is "in a healthy state," and pointed out that the mining hash rate has increased by more than 50%, compared to the same period last year. Meanwhile, the industry is developing more powerful and efficient mining technologies, while a shift is underway towards renewables and more sustainable machines—in answer to increasingly strident calls about crypto's energy footprint.
The increase in production will help to ensure that "Bitcoin's entire network of computing power [is] constantly hitting new highs, pushing the mining industry into a historic bull market," said Zhang. 
He noted that at least 10 institutions—including Marathon Patent Group and Argo—have ordered additional Bitcoin miners since 2020. When they become fully operational at the end of 2021, this will further boost the mining hashrate—a key security metric, bolstering the health of the network, and its overall resistance to attack.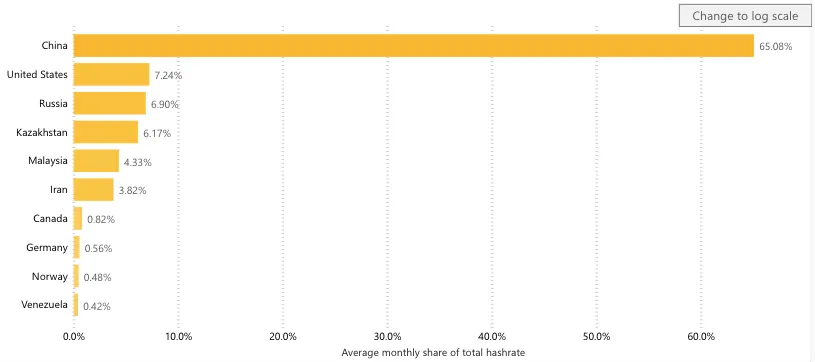 China, with 65.08% of the world's crypto mining capacity, still dominates Bitcoin mining—which some believe undermines the health of the crypto mining industry, and impacts the geopolitical landscape as a whole. However, Zhang pointed out that the growth rate of computing power in North America has reached 31%, according to data from the Cambridge Centre for Alternative Finance, and the U.S. alone now accounts for 7.24% of the global rate. US-based miners include publicly-listed Riot Blockchain and Marathon Patent Group. Meanwhile, Russia and Kazakhstan also grew their share of mining capacity, marginally reducing Chinese dominance. 
"These countries all have two things in common," said Zhang: "mining cost advantages and ready access to funds (made available with institutional support)."
The broadening interest in Bitcoin mining is likely to benefit Canaan, which intends to produce "at least one new model each year," according to Zhang. Its newest machines, the energy-efficient A1246 and the "cost-effective" Avalon Immersion Cooling Miner—both launched in 2020—are designed with the overseas market in mind.
But Sharma of BlocksBridge Consulting is not as enthusiastic. He views the Canaan machines, which have been designed for the most popular cryptocurrencies, including Bitcoin, as "not the most competitive in the market." 
However, with a dearth of equipment available in the current red-hot crypto mining climate, it's a seller's market, and even older machines have been in demand. 
The crucial factor is that this may not always be the case, as the price of mining equipment is based not only on supply but is linked to demand for cryptocurrencies themselves—a demand that is extremely volatile.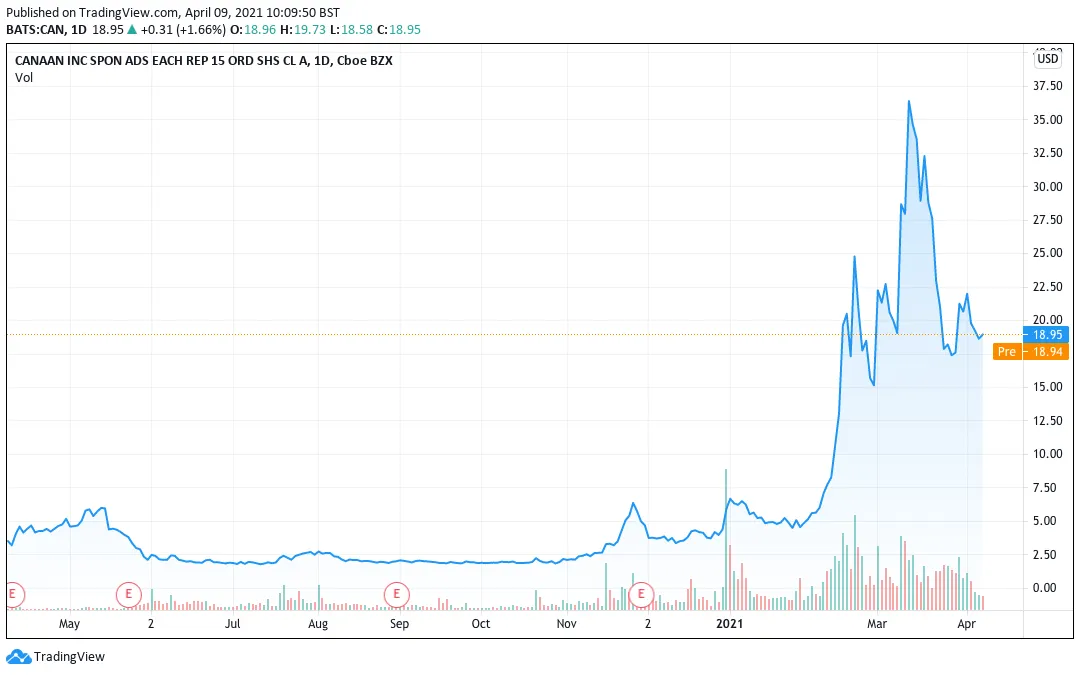 Partly in a bid to counter this, Canaan recently branched out into manufacturing chips for the artificial intelligence market, and Zhang states he is "cautiously optimistic" that the new enterprise will bring in $10 million by the end of 2021.
Canaan's share price has also proved highly volatile. After hitting an all-time high of approximately $39 in March, the stock has recently been trading around half that price.