The petro is at once the technological savior of Venezuela's economy and the biggest fraud ever perpetrated by President Nicolás Maduro's socialist government, depending on which news outlet you read.
It's easy to sacrifice nuance given the petro's highly politicized nature: the petro is, of course, Maduro's pet "cryptocurrency," while opposition leader and self-appointed interim president, Juan Guaidó, has called it an outright scam and "illegal" under his government.
But regardless of the political stand-off, and who's really in control of Venezuela's government, the truth is Venezuelans are slowing beginning to trade petros. They're doing it on state-sanctioned exchanges and informally among themselves. And they're doing it for reasons ranging from the practical to the political.
Amberes is one such crypto exchange in Venezuela where petro trading has come alive. Currently, the Venezuelan government only allows the purchase of petros (PTR) through an authorized exchange, using BTC or LTC, or directly from its Sunacrip offices with fiat. A spokeswoman for Amberes, however, tells Decrypt that the exchange is currently the only one that has "enabled the PTR/BTC [trading] pair."
The spokeswoman for Amberes would not provide precise figures but says trading volume for the petro is on the rise, despite the PTR/BTC pair only having been activated two weeks ago. Crypto trading, in general, has been "increasing year after year" in Venezuela, she says, "which has opened a door in this field to Venezuelans seeking new alternatives to generate income. And trading is definitely one of them."
Speculating on the price of the petro is certainly one reason for crypto-curious Venezuelans to take the plunge on the state-backed coin. Amberes's orderbook shows that the petro is currently priced at around 0.0059 BTC (roughly $30 USD), well below the "basket of commodities" peg stipulated by the government.
Other than designating it an official "unit of account," Maduro's government isn't yet making use of the petro—or buying the token back from its citizens. This is providing pragmatic traders an opening—the ability to "invest" in the petro, just as they would on any other shitcoin with low volume. They can currently accumulate the token at meager prices in the hopes of making a profit when the government expands petro trading and starts buying tokens.
Others, it appears, are buying the petro for the sheer novelty: "I made the first purchase to find out what it was like. More than anything, out of curiosity," says a Venezuelan trader who prefers to remain anonymous, possibly for fear of political repercussions since trading petros is sanctioned by the U.S. government.
The trader adds that while he's personally unsure if the petro will ever become a "nationally accepted crypto," the coin currently "works as comfortably as a bank to bank transfer." He says he plans to swap his petros for bolivars—Venezuela's national fiat currency—once trading on Amberes "becomes more dynamic."
But the fact that the petro is gaining genuine traction among Venezulan traders, even if still in low numbers, hasn't yet entirely removed the shroud of mystery that envelops Venezuela's official "crypto."
A second Amberes user tells Decrypt that while more than 300 petros have already been sold on the exchange, there is currently no way to track the transaction history for any of the token pairs that it lists.
"Someone comes in, buys and that's it—almost all buyers are takers," he says. "Any purchase order that they put below the sale order is immediately grabbed. But [the transaction history] cannot be seen. I sold a portion [of PTR] and have no way to see it," says the trader.
Yet even before petro trading went live on Amberes, Venezuelans who purchased the token directly from the government's National Superintendency of Crypto Assets and Related Activities (Sunacrip) had already begun to trade the coin via informal "over-the-counter trading" groups on Telegram.
One such group, Petro Exchange, is specifically dedicated to promoting and facilitating trades and sales in petros. The group's users post an ad offering petros in exchange for bolivars, dollars, or other cryptocurrencies, and the interested counterparty responds through the group—never in private—so there is evidence and witnesses to the sale. Petro Exchange users can even opt to pay a small fee the group's administrator to act as an escrow.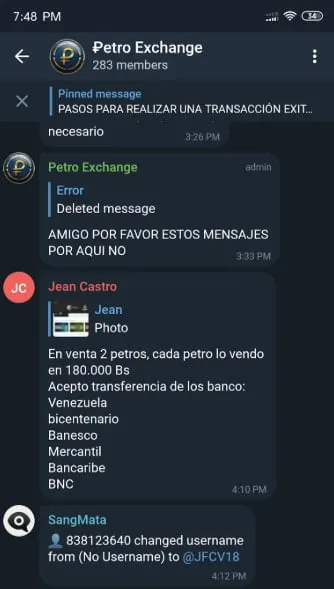 Informal commerce is, of course, nothing new for Venezuelans. Frequently faced with nationwide product shortages, social networks have become a valuable tool for locals to get what they need. On Facebook, for example, "perolero" groups (which roughly translates to "yard sale" groups) are a way for Venezuelans to obtain food, medicines, or other basic necessities.
It makes sense, then, that such groups would also form for trading crypto—even one as dubious and politicized as the petro.
The petro had a rough start, to put mildly—its credibility was put into question from the moment Maduro first announced it. But sudden and inexplicable changes to its whitepaper; unfulfilled promises of major listings on top exchanges; and unexplained shutdowns of the platform have all done more to damage the petro's credibility than any critic of the president ever could.
Maduro, of course, launched the petro as an explicit means of bypassing sanctions imposed by Donald Trump against Venezuela's government, and so the buying and trading of petros will likely always remain deeply and inescapably political.
In the end, the petro is loved and hated in Venezuela—but not for any tech-related reason. In a country where citizens must weigh the political consequences of choosing which friends to invite to a barbecue, where to live, or even which products to buy at the supermarket, the lives of Venezuelans are dominated by politics.
And they don't escape that reality when choosing which token to trade, either.