In brief
Justin Sun almost won a record-breaking bidding war for a digital artwork.
The NFT collection by Beeple eventually sold for almost $70 million.
Crypto artist Beeple made history yesterday with the sale of an NFT collection of digital art for $69.3 million. The sale of EVERYDAYS: THE FIRST 5000 DAYS at Christie's auction house is the third most expensive piece of artwork sold by a living artist—and Justin Sun, founder of cryptocurrency platform TRON, narrowly missed out on winning the bidding war. 
Sun's final bid—at least, the final bid received by Christie's—was just $250,000 short of the winning bid. "My final effective bid was $60 MIL (plus fee $69 MIL). However, was outbid by another buyer in the last 20 secs by $250k," Sun said in a tweet. 
1/12 I participated in the @ChristiesInc #NFT auction for Everydays: the First 5,000 Days by @Beeple. My final effective bid was $60 MIL (plus fee $69 MIL). However, was outbid by another buyer in the last 20 secs by $250k. Difference was less than 0.3% of the total price.

— Justin Sun🌞 (@justinsuntron) March 12, 2021
But Sun almost walked away winning the auction itself. He revealed an email discussion with the auction house that shows another bid—which would have won Sun the auction and the NFT collection—did not go through in the closing seconds of bidding on the artwork.
"We wanted to make a bid for $70 million during the last 30 seconds of the extension but the system didn't allow us to execute without explanation," Sun said, adding, "I lost the bid due to these two very issues from Christie's."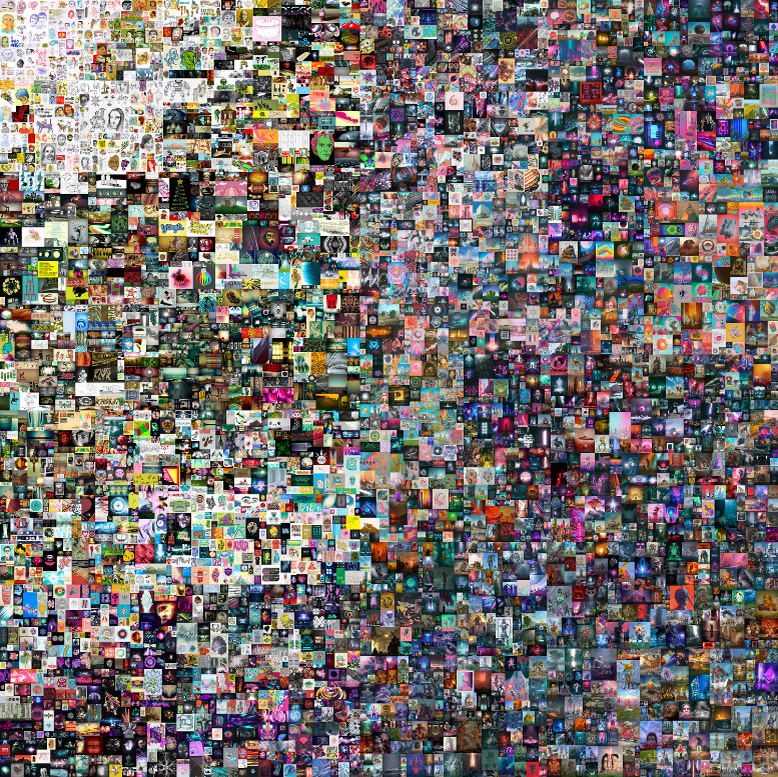 In response, Christie's confirmed that Sun's final bid of $70 million was not registered. "Unfortunately your bid did not reach our bidding system in time prior to the lot closing. I do sincerely apologize if this has caused any issues." 
"To avoid these types of disputes in the future, ALL bids should be transparency and utilizing blockchain technology would satisfy this requirement," Sun said, adding, "This way, every bidder gets an equal chance to bid and everyone gets to see all the transactions transmitted." 
Sun also offered his own support to Christie's if the auction house ever did decide to incorporate blockchain technology into its auctions. And while there's no guarantee that will ever happen, this NFT sale has put a wide audience on notice that crypto art is growing. 
The value of digital art
EVERYDAYS: THE FIRST 5000 DAYS represents a collage bringing together work from Beeple's career to date. It's the first piece of purely digital art to be sold at Christie's, and has made headlines the world over.

So much so, that Beeple recently appeared on the BBC's Tech Tent to Beeple tried to disprove some myths about the NFT industry. 
On the podcast, it was suggested that buyers aren't really getting anything of value when they buy an NFT, because the digital art it represents is easily replicated. In response, Beeple compared the NFT industry to traditional art. 
"That's a common misconception," the artist—real name Mike Winkelmann—said. "It's not about restricting access to work, it's about proving ownership of work. I look at the Mona Lisa, if you were to go and take a picture of the Mona Lisa and share it online, do you think the Mona Lisa would become less valuable because you did that?"
To add to his point, Beeple suggested that the value of any art is subjective, whether it is digital or not. "Artwork is some stretched canvas with some paint splotches on it, what gives that value? It's that it connects with people and brings some emotional attachment to them. Digital art is really no different than that," he said.