Decrypt rating: 3/5 stars
Supported cryptocurrencies: Bitcoin, Ethereum, XRP, Litecoin, Bitcoin Cash, ZEN and GUSD.
Ease of use: The wallet is easy to set up and quite straightforward to use.
Security: There are numerous small issues and a couple of big questions.
Aesthetic: The card looks great and is a snazzy piece of technology.
There are currently two main types of cryptocurrency wallets. Hardware wallets, where you store coins offline on a USB-stick-like device, and software wallets where coins are stored in an application on your phone or computer. The Cool Wallet S tries to find a middle ground between the two.
It is a hardware wallet but it's also designed for everyday use. This means it's an offline storage device, but one you can carry around with you and use to make transactions, alongside a corresponding app on your phone. This is quite a unique approach and one I'm interested to try out.
So, let's give it a whirl.
Cool Wallet S: Design and build
The wallet comes in a compact, smart case which looks like a jewellery box. Inside is the Cool Wallet S—a small card that resembles a debit card without a PIN, a small charger with a slit in it and a USB cable for the charger. It is quite unlike any hardware wallet I have seen before as most resemble USB sticks.
The wallet itself is a very neat bit of kit. On one side it shows a generic pattern with the Cool Wallet logo. On the other side it has a couple of connectors, for charging, a physical button and an E-paper display which mimics the look of ink on paper. The button feels clickable and the screen is easy to read. Yet the device is just a millimetre or two thick.
The case also contains a 'recovery card' where you can write down your secret phrase—more on that later. It directs you to go the Cool Wallet website to set up the wallet. It's an unusual move for a crypto wallet, and somewhat controversial. If the website was hacked and the instructions changed, this could compromise the security of the wallet—as a new user might be told to upload their secret phrase or go to a phishing website, for example.
Cool Wallet S: Set-up and getting started
But first things first. I download the Coolbitx Crypto Wallet app and hope Google Play has stopped allowing phishing apps to roam around the Play Store. I let the app turn bluetooth on but I don't give it my location—as that would seem like a bad idea.
The instructions tell me to stick the card in the charger and then pair them. I get the card charging and nothing happens. I try turning it on and the screen says, "please pair." Nothing comes up on the app though. I'm at a loss what to do.
I try it a few times and the device still doesn't appear on my phone, so I can't connect to it. At a loss, I allow the device to access my location. Only then does the wallet appear on my phone. Looks like I have to sacrifice my security in order for it to work—not a good look.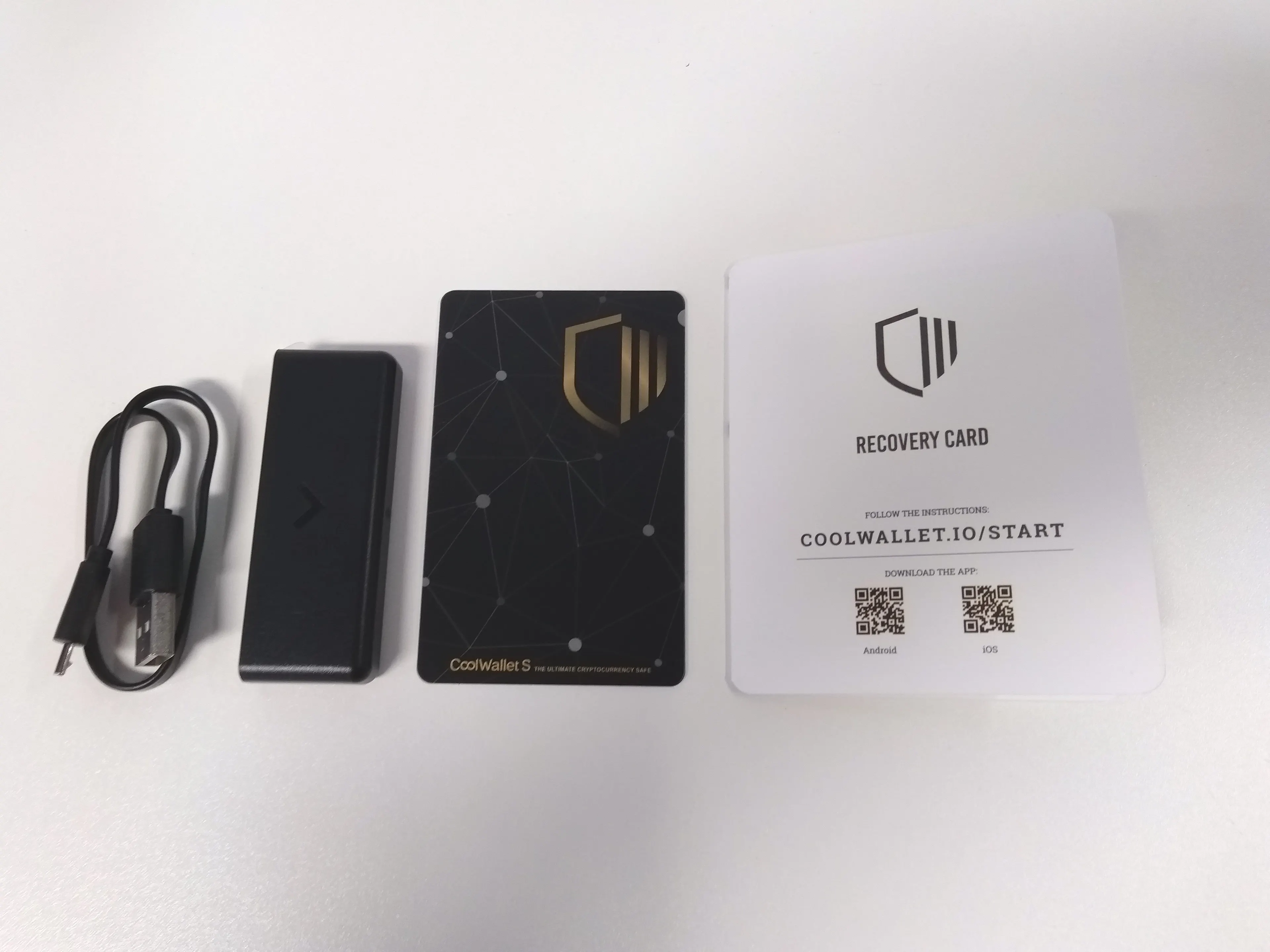 The app tells me it needs to update. I start it running, but a few minutes in it stops, telling me it failed to update. I try it a few more times to no avail. So, I skip the update. Hopefully it doesn't contain any important security updates.
Cool Wallet S: Creating a new wallet
Now I can create the wallet. I can choose the length of my secret phrase from 12 words to a maximum of 24—for greater security. This is what keeps my coins secure, so I go for 18 words. The app creates my seed for me. This is where I hope both the app and my phone haven't been compromised because, if either of them was, then any coins I hold in the wallet could be stolen.
The screen shows two options. I can either write down the seed and verify it or I can save it as an image file. I go for the first option, because the second one could lead to all my coins being stolen if someone had access to my phone—or the images stored on it, which regularly get saved in the cloud.
I use the paper card provided to write down my seed phrase. It's quite convenient, although if a crypto-literate burglar raided my house it would be a bit of a giveaway—the words may be safer written in some random notebook or on an unidentifiable piece of paper. The app checks my seed phrase and tells me I managed to recite it correctly.
Cool Wallet S: Making a transaction
Now the wallet appears in the app on my phone showing me the list of cryptocurrencies it supports. The app has a streamlined design, which I like, as it makes things much easier for new users. The only part that is a bit complicated is the "receive" page. It features a QR code and a copy-to-clipboard image, which I find easy to do—but, if I wasn't a crypto native, I wouldn't have a clue. There are also no warning signs about sending cryptocurrencies to the right addresses, which are good practice to have.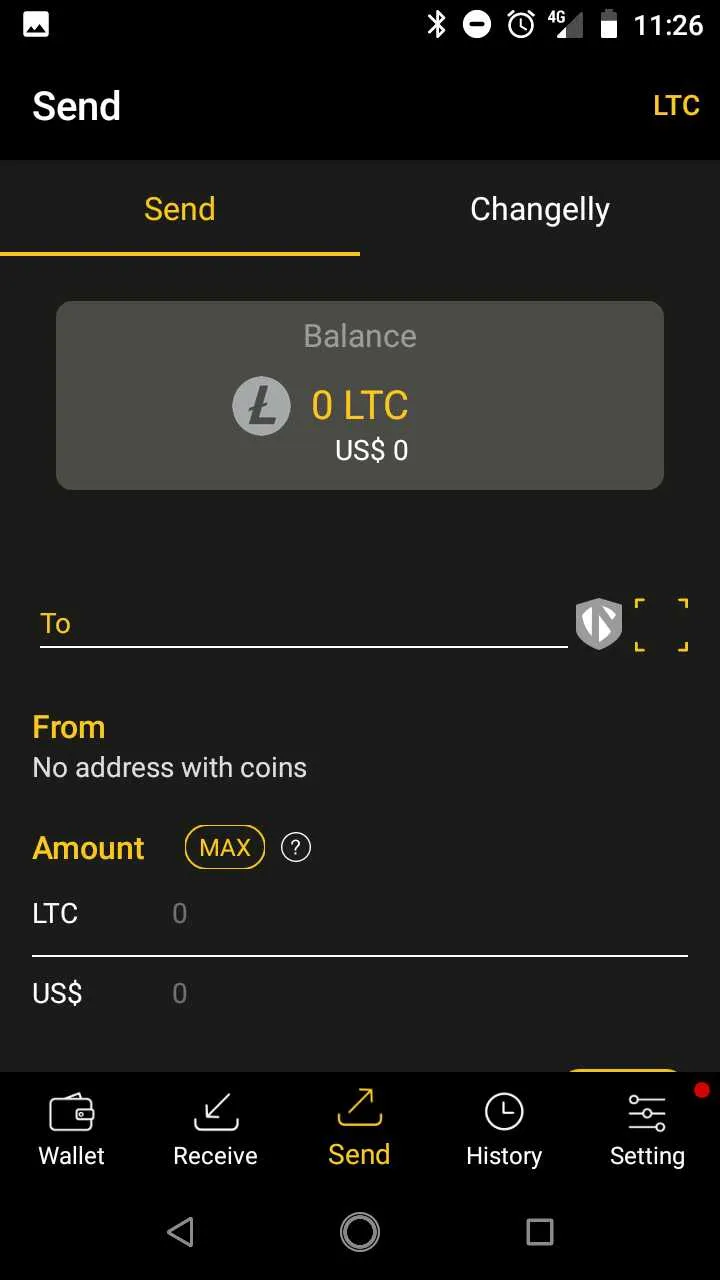 I send a small amount of Ethereum to the wallet from a separate software wallet. It appears in the app after a short while. I notice there's a nifty in-built exchange using crypto exchange Changelly that lets you swap one crypto for another. I go to swap the Ethereum for some Litecoin. Usually, software wallets perform this in-house but, as Cool Wallet S is a hybrid, perhaps that's why this facility is outsourced. The swap worked fine but it could do with an auto-fill function as I have to type out the amount of ETH myself. I soon have some Litecoin.
In the app, I then send the Litecoin back to my own software wallet. At least this time, there's an auto-fill function. I like that it has a sliding scale so you can choose how expensive you wish the transaction fee to be. This provides flexibility without being too complicated. I then have to switch on the Cool Wallet S card, which I left charging. A prompt appears on my phone and I confirm the transaction by pressing the physical button on the card. This was easy enough to do.
Cool Wallet S: Verdict
Setting up the card was relatively straightforward and it's easy to use once it's paired and ready. But there were a number of security issues throughout the process. These included having the instructions on a website rather than printed out with the device itself. The app also required my location which isn't ideal, in case Cool Wallet S is storing this data. These issues cast some doubt on the execution of the product.
I also struggle to understand its purpose. Hardware wallets are normally designed as place to store the majority of your crypto funds, so you tend to keep them in a safe place. With this wallet, you carry it with you, increasing the chances of losing it—meaning it's probably safer to use it for your daily spends. Except that it's not that easy to use, as transactions are slightly fiddly to do and you could use a software wallet instead for small, daily amounts. But, if you want a portable hardware wallet, then this will work well for you.
In short, the Cool Wallet S is a nice piece of technology but the whole process—from setting up the device to receiving a transaction—needs better execution. When it comes to hardware wallets, safety is paramount.