On January 27, an Ethereum fan known as "Cryptopathic" sent a message to his friend and well-known crypto Twitter personality Crypto Cobain—named for his resemblance to the late songwriter Kurt Cobain—about an upcoming artwork sale. Known as Hashmasks, they would feature thousands of pieces of original digital artwork and, just maybe, they might become the next craze.
"I was excited about the idea and thought it would at least be fun, and comparable to cryptopunks," Cryptopathic told Decrypt, referring to the earliest form of NFTs—featuring small, pixelated faces, which now sell for hundreds of thousands of dollars.

Crypto Cobain read the message, shrugged his shoulders, and figured he would spend $100,000 of his personal cash to invest in Hashmasks. Why not?
"Why did I spend $100,000 on fucking hashmasks FUCK," he tweeted, before throwing in yet another $100,000.
In less than a single week, Crypto Cobain's reckless impulse was vindicated. Thousands of buyers poured in, snapping up the 16,384 artworks for a grand total of $16 million. They also pumped the price of the NCT token that was given out with each one—putting the value of his investment at $426,000 in addition to the value of his Hashmasks themselves. At a bare minimum, his investment grew 113% in five days.
But though this art sale hit the Ethereum community like a sudden tidal wave, it had been gradually building up momentum over a number of years.
The birth of Hashmasks
One Hashmask creator—who wanted to remain anonymous, so we'll call him David—told Decrypt he began working on the launch of a project involving NFTs in the fall of 2019, without a clear idea of what it would become.
Back then, Hashmasks was just a vague and distant goal. In fact, when David first teamed up with his similarly anonymous partner—who we'll call John—to launch an NFT, they could do nothing but disagree.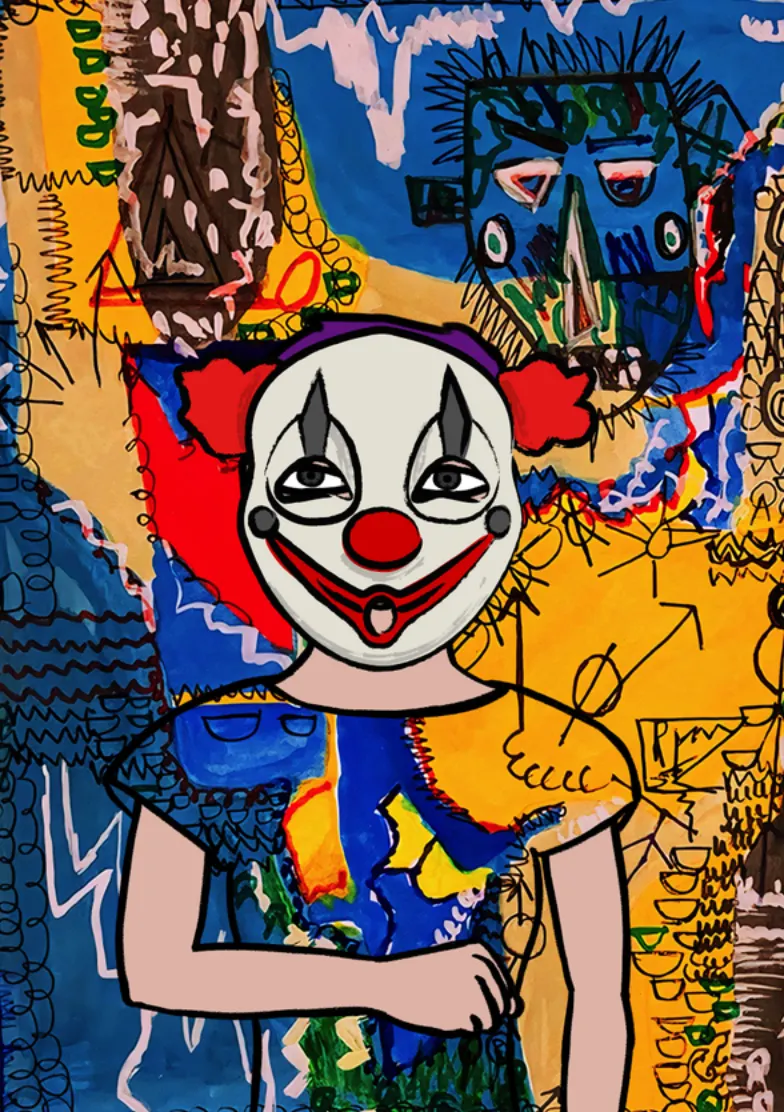 On one side, David stubbornly wanted there to be a large number of Hashmasks because he wanted to share as many with his target market as possible. On the other side, John fought back, arguing for there to be a select number of Hashmasks, making them rarer and more valuable.
In the end, John won the battle and the two visionaries settled on creating 16,384 pieces of art. 
Those 16,384 pieces of art became known as Hashmasks, a digital art collection that—for the first time in NFT history—allowed each collectible to be named by the buyer, meaning each collectible's value was determined by the art's creators, as well as its consumers. 
Each individual collectible presents a human-like figure—some more extraterrestrial than others—carrying a unique combination of traits like skin and eye color. They are wacky, bizarre and ultimately fascinating.

Apart from the unique traits visible to the eye, each Hashmask gains its rarity by its name, which is handpicked by the consumer instead of the artist. That's where the NCT, or Name Changing Token, comes in. Each artwork has its own associated NCT that lets you choose the name. This was a key part of their plan.
But to build such a massive project, they were going to need a small army of diligent artists.
Recruiting an army of NFT artists
The two took to social media to seek burgeoning crypto artists who had talent. They also figured they could get a lot of art done via Fiverr, where artwork starts as low as $5. But with dirt cheap prices came exceptionally poor results.
"We had to take out lots of artists because they didn't pass quality control," David said.
The two kept plugging at it until they managed to find enough people who could deliver on their high expectations. But even when the two had recruited a 70-strong army of digital artists, their work was far from over. 

The two founders commissioned the artists to create specific parts of Hashmask collectibles—those parts that give each Hashmask a unique rarity, like eye color, skin colour, and the masks themselves—rather than the whole pieces. Then the creators took it among themselves to fit the pieces together like a puzzle. 
"In the end when we collected all of those artists, my partner and I created the whole piece—the masterpiece—of which most were made using an algorithm, and about 20% were made by hand," David said.
"We are the artists of artists," he added. 
Once every single Hashmask was ready to hit the market, the collection was set to quietly launch online on January 28, 2021. 
"We were quite confident that it would grow. My partner and I are our exact target audience; we are the exact people we are building products for," David said. 
Doubts before the weekend auction
The big day arrived and the Hashmask artwork collection was ready for launch. 
One key element of the Hashmasks sale was a sliding scale of purchase prices. The earlier you bought them, the cheaper they were. They started as low as 0.1 ETH ($130 at the time) and rose all the way up to 100 ETH ($130,000) at the time. This helped encourage more people to buy them.

But would anyone take up the offer? As the Hashsmasks team counted down the hours to launch, a mere handful of people were liking their tweets. 
"What happens if after 14 days there are still Hashmasks to be sold?" one Twitter user asked.
Hashmasks' race to massive sales
The doubters were quickly proven wrong. Just over six hours in, over 3,000 pieces of rare, unique digital artwork had been sold. "I need a break," tweeted the Hashmasks Twitter admin, seemingly overwhelmed by an unexpectedly successful first day. 
3,136 #Hashmasks sold after the first 6 hrs 41 min.

I need a break. Maybe I will leave the group unmoderated for a while. I mean they do what they want anyways.

— Hashmasks (@TheHashmasks) January 28, 2021
12 hours later, that number had risen to 4,000 pieces that had been sold. New buyers were struggling to come up with unique names for their masks, and the pessimistic voices on social media had been well and truly silenced.
The rapid growth of Hashmasks took the creators by surprise. "We didn't expect Hashmasks to grow so fast," David said. 
By January 30, Hashmasks were trading hands for enormous sums of money. The first collectible called Hashmask 1—which was originally sold for 0.1 ETH on January 28—had been flipped for a 100,000% profit, going for $130,000. Others were trading for around 0.9 ETH ($1,600). Phil Jacobson, vice president of product and operations at creative marketing platform Hashtag Paid, was fascinated by the momentum the collection had gathered so far.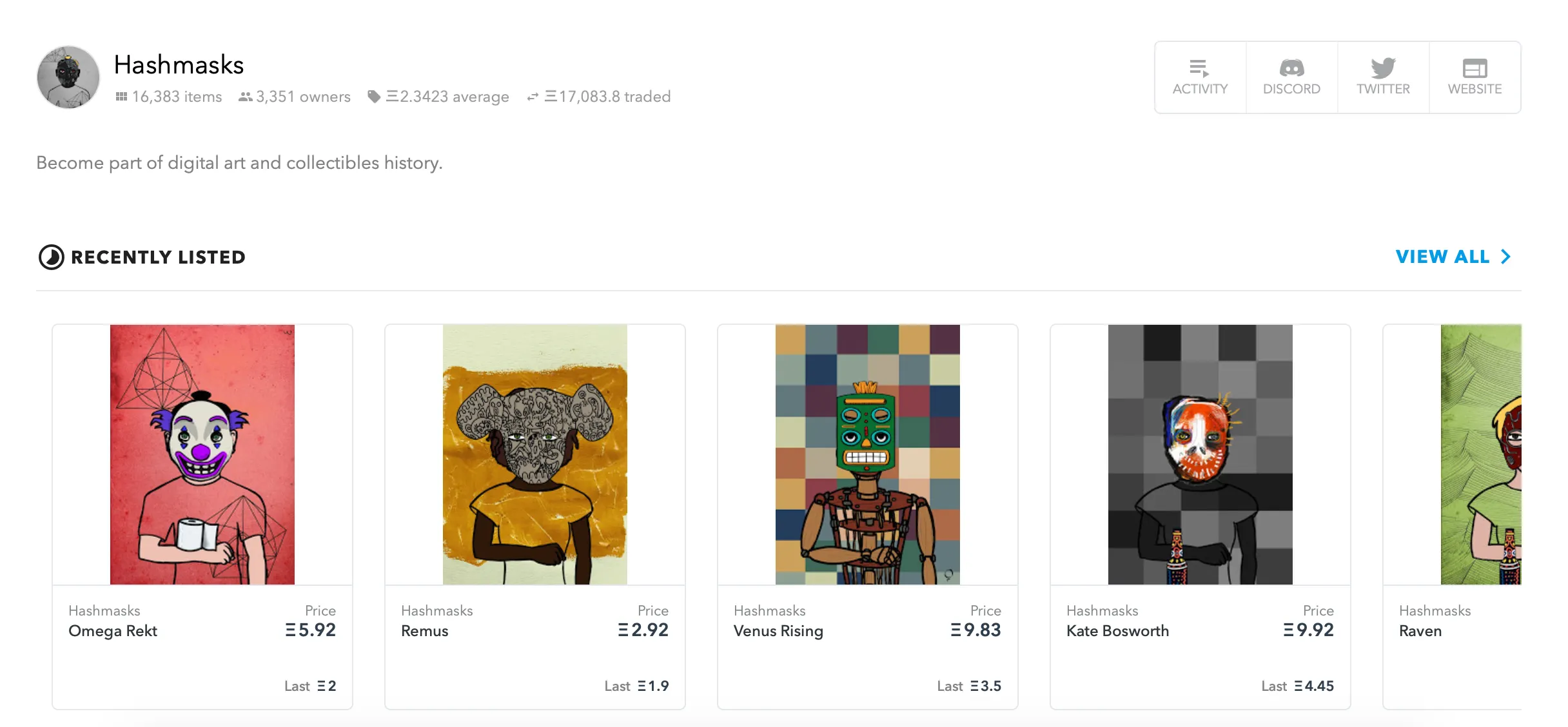 "Once they sold out on Monday February 1, my Twitter feed was dominated by all things Hashmasks," Jacobson said. "People sharing what they got, bartering with each other, trying to figure out what was and wasn't rare, and beyond."
And buyers were loving it. Some were describing their purchases as the "coolest thing they had done in crypto" that week. 
In total, the Hashmask collection generated over $16 million in sales. Then the community started to find the surprises hidden in the artwork.
The devil is in the detail
Many of the Hashmask collectibles may have been put together by an algorithm, but that doesn't mean their creators didn't put their own stamp on the artworks. Some Hashmasks carry messages that are hiding in plain sight, waiting to be discovered. 
Twitter sleuths were first to spot the hidden messages. On January 31, before the initial Hashmask sale was even over, Twitter user Jon McIntosh realized that some collectibles—those with numbers belonging to the Fibonacci sequence—all shared Fibonacci symbols hidden from the naked eye.
Found a pattern hidden within @TheHashmasks Hashmasks # 0, 1, 1, 2, 3, 5, 8, 13, 21, 34, 55, 89, 144, 233, 377, 610, 987, 1597, 2584, 4181, 6765, 10946 all contain fibonacci symbols, because they are all part of the fibonacci sequence.

— Jon McIntosh (@JonnyMacMedia) January 31, 2021
MyCrypto CMO Jordan Spence, meanwhile, figured out that different collectibles could be pieced together like a puzzle.
Twitter user Tom Fields said he had gone through hundreds of Hashmasks, adjusting different properties to discover hidden content, and eventually unearthing a dark figure on a yellow background, carrying Plato's philosophical classic "Republic."
Adjusting the levels in the image, Fields dug up what appeared to be a QR code spread over the cover of the book. He then spent an hour running through multiple photo programs, until he was able to isolate the QR code and post the revised picture on his Twitter feed. 
Crypto Twitter gathered on Fields' tweet to let him know the QR code was an elaborate Rickroll, an Internet prank that directs unwitting users to the video of Rick Astley's famous 1980s hit. The name of the Hashmask? "Never Gonna Give You Up."
The Real and the Unreal
According to Twitter user Trentelme, not all Hashmasks are unique. 
In fact, crypto Twitter is already wising up to the hidden hands behind Hashmask collectibles. Twitter user Cap_Plantain said that he found all the greatest Hashmask secrets in just five minutes. Using stenography, the practice of finding hidden messages in imagery, Cap_Plantain actually discovered that the presence of rare traits changed images entirely. 
The extra metadata found in images with different traits led Cap_Plantain to a discovery. Super rare traits were added by the artists themselves, using Adobe Photoshop. 
Twitter user Trentelme scrolled for 15 hours straight through the entirety of the Hashmask collection. "By the third or fourth hour, my eyes were trained to detect the smallest anomaly - and I've found many of which I believe the community remains unaware."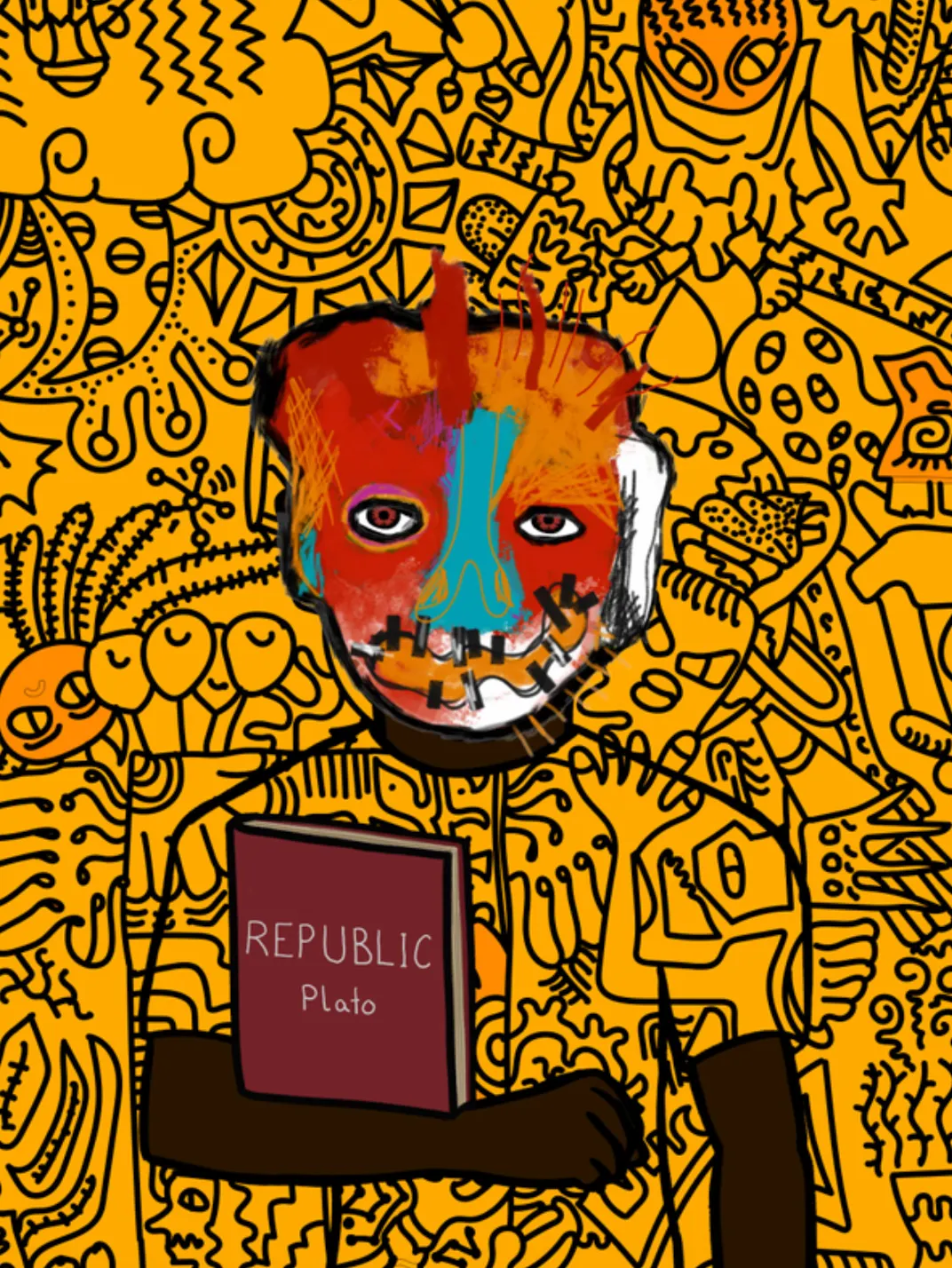 Trentelme identified two collectibles—suitably named The Real and The Unreal—that are clones of one another. Hashmask 3350 and Hashmask 9934 both contain a small sanskrit message running vertically on the left hand side of the artwork. 
Trentelme believes David and John tried to play this off as an accident. "They were genuinely freaked out when I told them," he tweeted, but he remains happy to have his hands on The Real Hashmask. "It's particularly sweet that I own it not due to luck of the draw or massive investment, but pure obsession," he added.  
Others may have stumbled across hidden messages by chance, but none has seemed to spend as many obsessive hours as Trentelme in their search. 
What's next for Hashmasks?
The Hashmasks have all been sold, but their legacy promises to influence the NFT industry in the weeks and months ahead.
For one thing, there's already an established secondary market for the crypto collectibles, which has so far notched up $16 million in sales, with individual Hashmasks selling for anywhere between $1,700 and $17,000. 
But as far as David and John are concerned, their job is done. The needle of innovation has been moved forward, and—much like Bitcoin's unknown inventor Satoshi Nakamoto—the minds behind Hashmasks are not going to get involved anymore.
"We are not going to interfere," David said, adding, "The mystery is part of the magic."