Bitcoin got within touching distance of the elusive $20,000 mark earlier today when its price suddenly fell $900 in less than 10 minutes.
BTC trading opened at $19,695 on Binance today, after which Bitcoin's price continued to grow, reaching as high as $19,888. However, the coin then suddenly dropped to $18,886—today's lowest so far.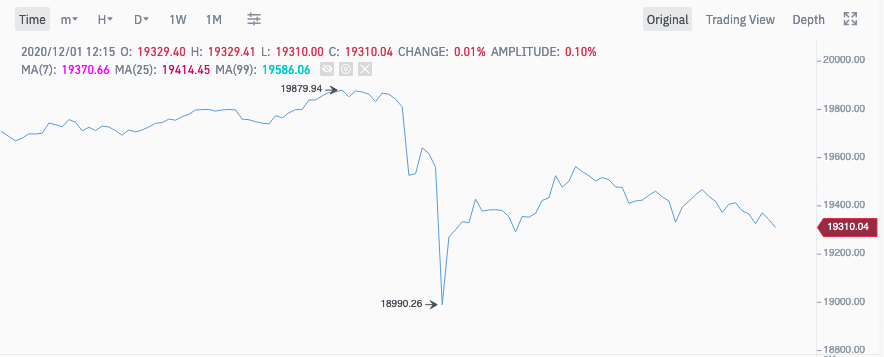 As Decrypt reported, Bitcoin trading closed at the highest monthly price ever yesterday—just after its price set a new all-time high record.
But this is not the first time Bitcoin has stumbled during its current bull run. Last week, BTC price flash similarly dropped by $3,000 in minutes. Over the following days it then recovered to hit new highs.

This time, Bitcoin's price has recovered nearly as fast as it dropped. At press time, BTC is trading at around $19,450 on Binance, up 4.5% on the day. But it was certainly impacted by the big drop—likely due to a large sale.

Experts noted last week that such sudden drops could've been caused by the historic—and psychological—significance of the $20,000 level.
"Today's drop seems to be a temporary correction from the $20,000 price level and was likely caused by the fear, uncertainty and doubt created by today's news," Igor Runets, founder and CEO of BitRiver, told Decrypt after the last crash.
Whatever the case may be, perhaps some turbulence should be expected as Bitcoin makes history again. For nothing's that easy.