The number of active addresses on the Bitcoin blockchain hit 1.18 million yesterday, reaching similar heights to those seen during Bitcoin's 2017 bull run.
As pointed out by Hans Hauge, head of quant strategy at Ikigai asset management, yesterday's spike was the seventh highest number of active addresses in Bitcoin's history. He was referring to data from crypto data site Coin Metrics.
"Wow, there were a lot of BTC Active Addresses in use yesterday. 1,188,873 to be precise. That's the 7th highest of all time. In fact, the number of sending addresses did hit an all-time high of 836,08," he tweeted today. 
In fact, the number of active addresses was only 101,000 lower than Bitcoin's all-time high of 1.29 million addresses, seen on December 14, 2017—three days before Bitcoin's price peaked at nearly $20,000.
Hauge added that the number of addresses sending Bitcoin actually did hit an all-time high yesterday, at 836,000 addresses. This is possible because one Bitcoin address can send BTC to multiple addresses.
Despite this activity, Bitcoin transaction fees have remained low. While fees spiked at the start of this month, the average fee is $6.7. That's a far cry from 2017's peak fees, which briefly rose as high as $55 per transaction.
Bitcoin holders are in the green
Not only is the Bitcoin network becoming more active, but the rising price has put many Bitcoin holders in the green. According to Coin Metrics, on November 4, 98% of Bitcoin addresses were in profit—at around the $14,000 price mark. Since the current price is even higher, at $15,200, that statistic may now be heading toward the 99% mark.
"On November 4th the percent of BTC unspent transaction outputs (UTXOs) in profit topped 98% for the first time since December 2017," Coin Metrics wrote, in its weekly email.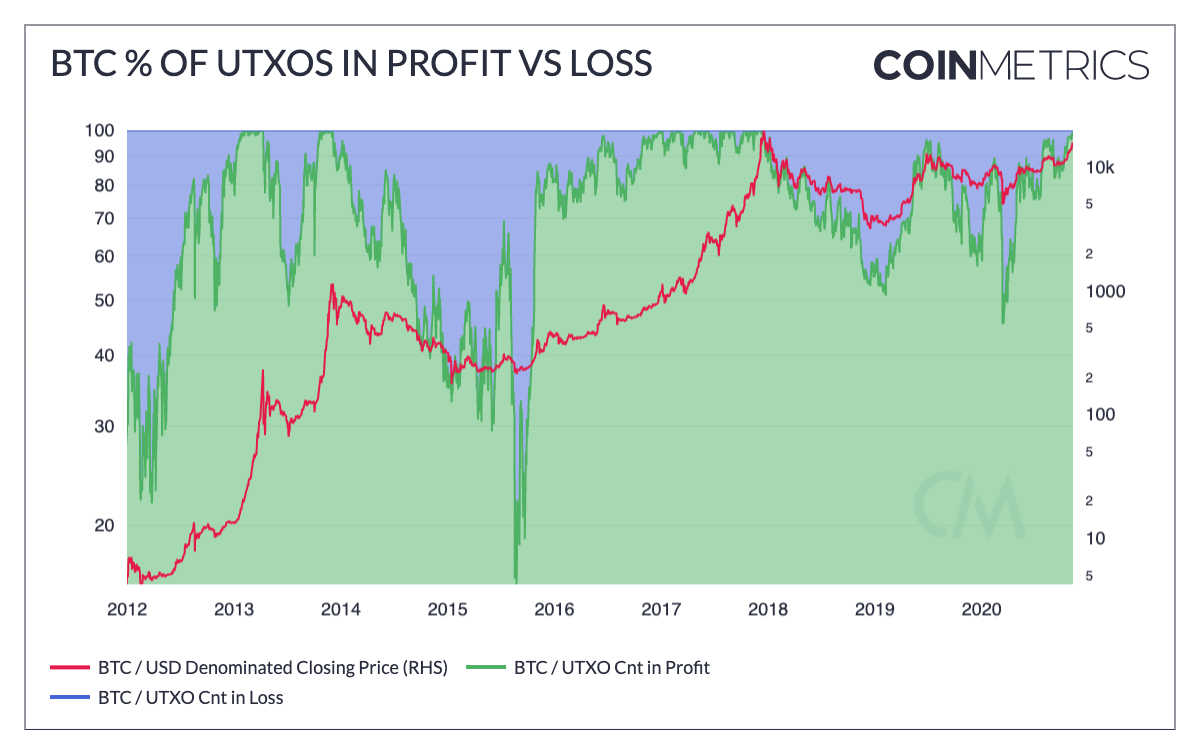 This metric looks at the price of Bitcoin when BTC was moved in the past, compared to the current price now. And it could show some indication of whether holders are planning to sell.
"A high percentage of UTXOs in profit potentially signals that there is relatively low sell pressure, since there's low risk of capitulation. But conversely it could signal that some investors may soon start taking profits if the potential gains become too good to pass up," it added.
Either way, the network is seeing both activity and prices not seen since the 2017 bull run. And holders are nothing but bullish.